Regular price
Sale price
$63.52 USD
Unit price
per
Sale
Sold out
Our 120 Day Weight Loss Subscription pack provides you with all you need to meet your weight loss goals. The pack includes six different tablets to cover 120 days or 3 months' supply; Alpha Lipoic Acid powder, Caffeine, Capsicum, Chitosan powder, Garlic extract and Green Tea extract.
Alpha Lipoic Acid Powder
Alpha Lipoic Acid may be known as ALA, α-Lipoic Acid or Thiotic Acid. ALA is an antioxidant that is found in every cell of the human body. The nutrient is an essential fatty acid that plays a role in aerobic metabolism, acting as a co-enzyme to aid B vitamins. This aids energy production in the mitochondria, the 'powerhouse' of the cell. Increasing energy leads to a reduction in fatigue, producing more energy for exercise which leads to a reduction in excess weight gain. This pack contains 100g of Alpha Lipoic Acid powder.
Caffeine
Caffeine has played a part in our world for thousands of years, including in food products, beverages and herbal medicines. Caffeine is an alkaloid that targets the autonomic nervous system, the part that is unconsciously controlled. Caffeine causes increased heart and blood flow to the muscles, promoting both mental and physical alertness. The substance is a natural stimulant that boosts energy levels which is beneficial during exercise. Caffeine is best taken before exercise. This pack contains 120 Caffeine tablets.
Capsicum
Capsicum is a genus of pepper, commonly known as the bell pepper in UK supermarkets. Our Capsicum is extracted from the Capsicum frutescens. Capsaicin, Capsaicinoids and Capsinoids are the active compounds in Capsicum which provide the health benefits. Capsicum improves the health of both the gastric and digestive systems, increasing Dietary Induced Thermogenesis. This is the amount of energy we expend due to food metabolism. Increasing the level of Dietary Induced Thermogenesis causes an increase in energy burned while digesting your food. This pack includes 120 Capsicum tablets at a strength of 1,000mg.
Chitosan powder
Our Chitosan powder is formed from the exoskeleton of shellfish, such as crab, lobster and shrimp. The powder is an indigestible fibre. This means that the substance bulks up the contents of the stomach to increase feelings of satiety. Chitosan also binds to dietary fats to prevent their absorption, inhibiting the storage of excess fat which is usually stored around the stomach, hips and thighs. Chitosan is most effective when taken before a meal high in saturated fats, such as cakes, biscuits and processed meats. We recommend not taking this powder before a meal high in unsaturated fats, such as avocados, oily fish and nuts. In addition to these functions, Chitosan is thought to reduce sleep disturbances which aid appetite regulation. This pack contains 500g of Chitosan powder.
Garlic extract
Our Garlic is extracted from the bulb of the Allium sativum, a plant that has been used for a gift to the gods, an aphrodisiac, medicine, food source, magic potion and even money. Allicin is the active ingredient in Garlic which contributes to the balance of blood sugar levels. When we are full, our blood sugar levels are at their highest. Our blood sugar levels drop when we begin to feel hungry and need food. By maintaining blood sugar levels, you should feel less inclined to eat large quantities. This promotes weight loss. This pack includes 120 tablets at a strength of 2,000mg.
Green Tea extract
Green Tea has been given the colloquial term of a 'superfood' in recent years. Green Tea is extracted from the Camellia sinensis plant which has been used in traditional medicine for millennia. This product contains catechins which contribute to weight loss via the maintenance of fat metabolism. The catechins in Green Tea also support thermogenesis, the process of heat production. Thermogenesis expends energy, increasing the number of calories burned and promoting weight loss. This pack includes 120 tablets at a strength of 3,500mcg.
Please note - Our Chitosan powder is not suitable for vegetarians and vegans - our Chitosan derives from shellfish. 
If you are pregnant, breastfeeding or taking medication, we advise you to contact your health practitioner before use.
Garlic may interact with particular medications, including anti-coagulants and anti-hypertensive medication. Garlic supplements should not be taken alongside these or similar medications.
This product does not include a scoop and this supplement requires the use of 0.00g scales which are able to measure milligrams.

View full details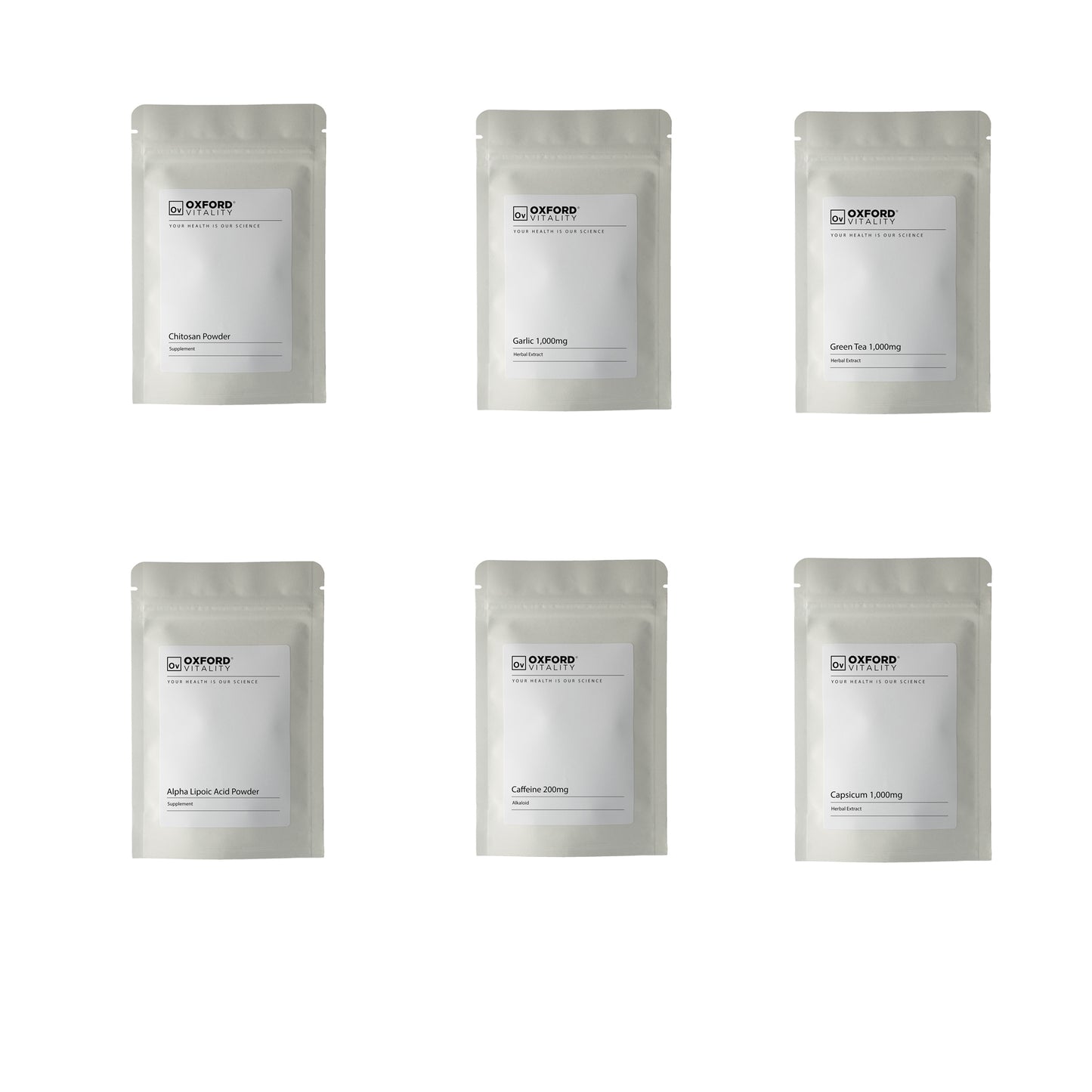 Fantastic product
Because of my work in China, I know Cordyceps Sinensis. In the past it was used to keep the Chinese emperor healthy. I am using this now more than 20 years and it gives a lot of energy and also keep me healthy. I feel great and when I dont use it, I start feeling the difference. The pure cordyceps sinensis cost per kilo more then gold and is already scientifically recognised in Europe by leading institutions and universities. The quality from Oxford is good and I like that they have tablets instead of capsules. Keep up the good work Oxford Vitality, I really like your product and will keep ordering it. As I just did again,
Collapsible content
Shipping & Returns

Shipping is via Royal Mail 1st Class We dispatch orders on weekdays up to 5 pm. Royal mail quote delivery times 1-2 days for 1st class and 2-3 days for 2nd class. Delays can happen, If delivery takes more than 5 working days for a UK order - please contact us immediately. For Europe, orders can take 10-14 Days. We are sorry but we do not dispatch our products to the rest of the world. We apologise for this lengthy period of time, unfortunately, express courier services are uneconomical to use with low priced products.

Please note, we DO NOT quote shipping. We will only make refunds where refunds are due. We apologise this process can not be more simple. Customs Declarations: We declare the value of all products as £15 - This is our average order cost and should not cause import duties or tax by your customs. All orders will be labelled generically as "Dietary Supplements".

To return an item, please dispatch it in its original wrapping and accompanied by a note outlining your name, address and reason for return. If you do decide that you would like to return your item, please have a look under the " terms and condition" page.