Regular price
Sale price
$10.69 USD
Unit price
per
Sale
Sold out
Collagen 
Collagen is the most abundant protein in the human body. Relatively one-third of the protein found in the body is collagen. It is the main constituent of bones, muscles, tendons, and skin, and is also present in teeth and blood vessels. The word "collagen" originates from the Greek word "kólla," which means glue.
More than 16 types of collagen have been identified in the body. Type I collagen, which represents about 90% of the collagen in the body, serves as a main structural unit of skin, bones, tendons, fibrous cartilage, and teeth.
Although collagen is naturally produced by the body, its production gradually declines with age. It has been suggested that an unhealthy diet, smoking, and exposure to UV light can damage collagen or impair production in the body. In contrast, Vitamin C supports normal collagen formation.
Vitamin C
The history behind Vitamin C is one of the more well-known stories of all the vitamins. Scurvy is a Vitamin D deficiency disease that causes swollen and bleeding gums. Scurvy was first accounted for in 1550 BC when the Ebers Papyrus (an Egyptian medical book) assigned treatment as the consumption of onions. In 1535, a French ship was stranded in Canada. Native Americans provided the crew with a liquid concoction consisting of soaked bark from a local tree, which cured the scurvy outbreak amongst the crew onboard. But it wasn't until 1747 when James Lind, a British naval surgeon, conducted a study on 12 men onboard a ship suffering from scurvy. Lind gave the men various additions to their diet and those given citrus fruits recovered remarkably. Albert Szent-Györgyi was awarded the Nobel Prize in 1937 for his discovery of Vitamin C, having isolated the vitamin from plant juices and animal tissues in 1928.
What are the benefits of vitamins?
Collagen formation: 
Vitamin C contributes to normal collagen formation for the normal functioning of blood vessels, bones, cartilage, gums, skin, and teeth.
Metabolism: 
Vitamin C plays a role in normal energy-yielding metabolism.
Nervous system and psychological functioning:
Vitamin C supports the normal functioning of the nervous system and normal psychological function.
Immune function:
Vitamin C supports the normal functioning of the immune system.
Protection against oxidative damage:
Vitamin C contributes to the protection of cells from oxidative stress.
The feeling of tiredness:
Vitamin C contributes to the reduction of tiredness and fatigue.
Absorption of minerals: 
Vitamin C increases the absorption of iron.
View full details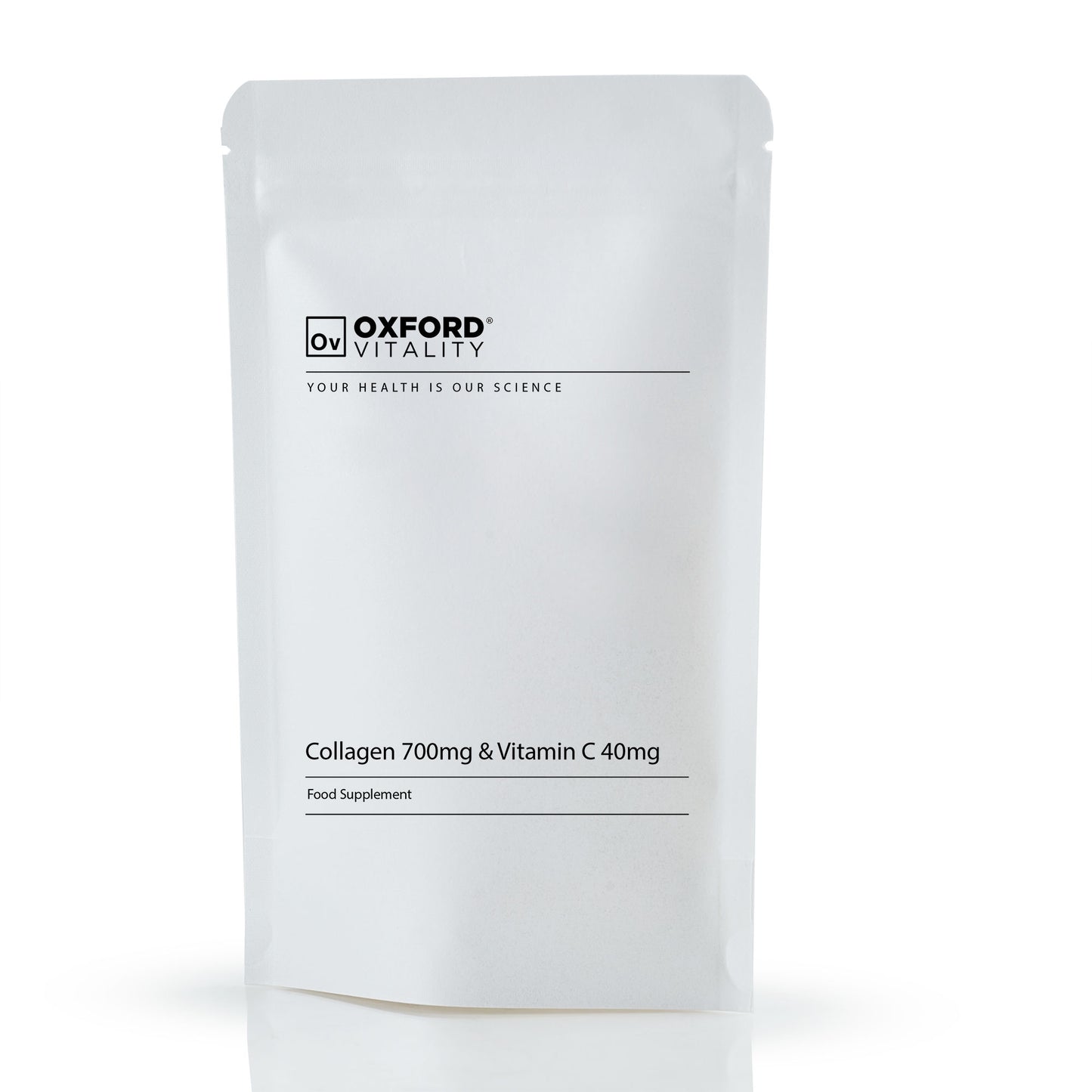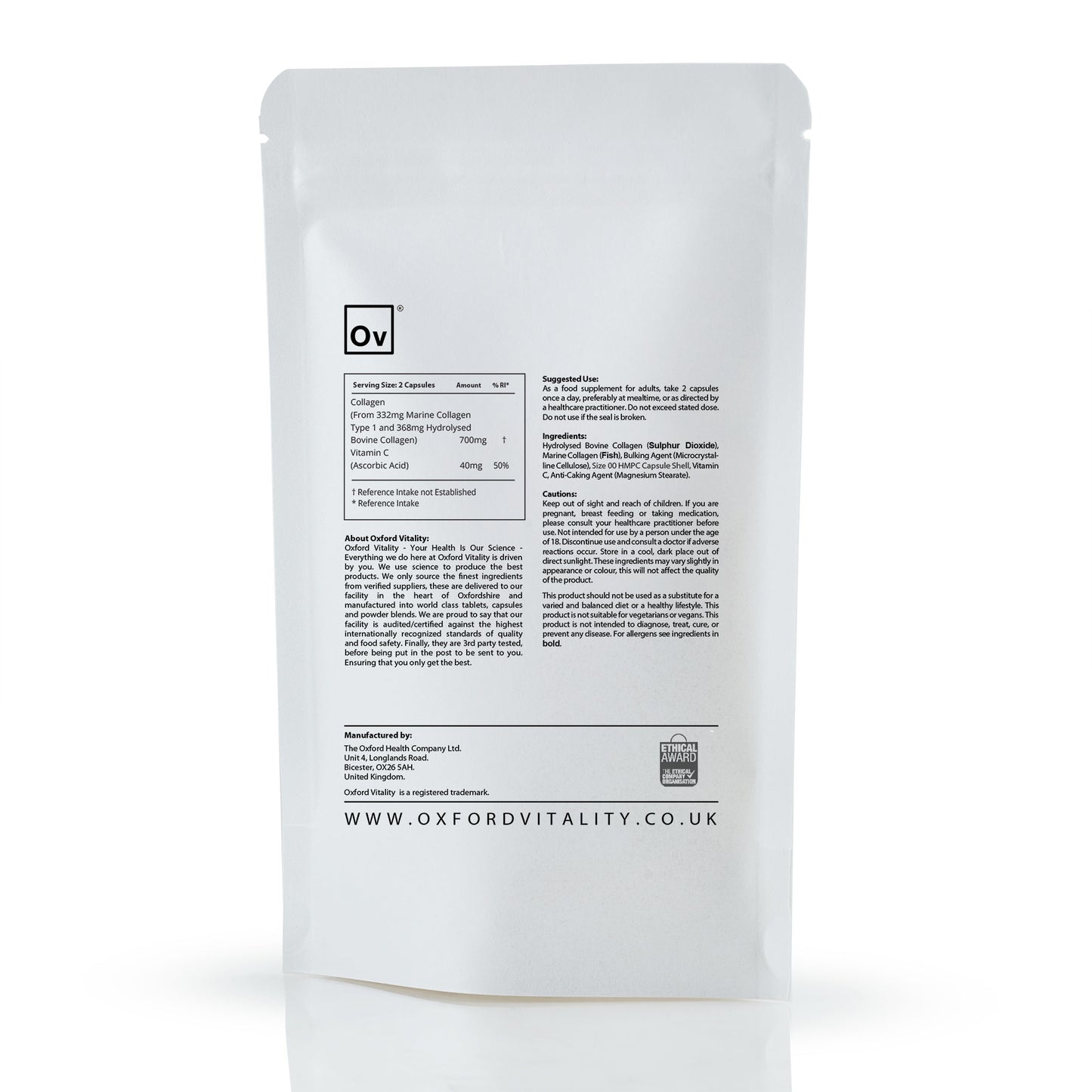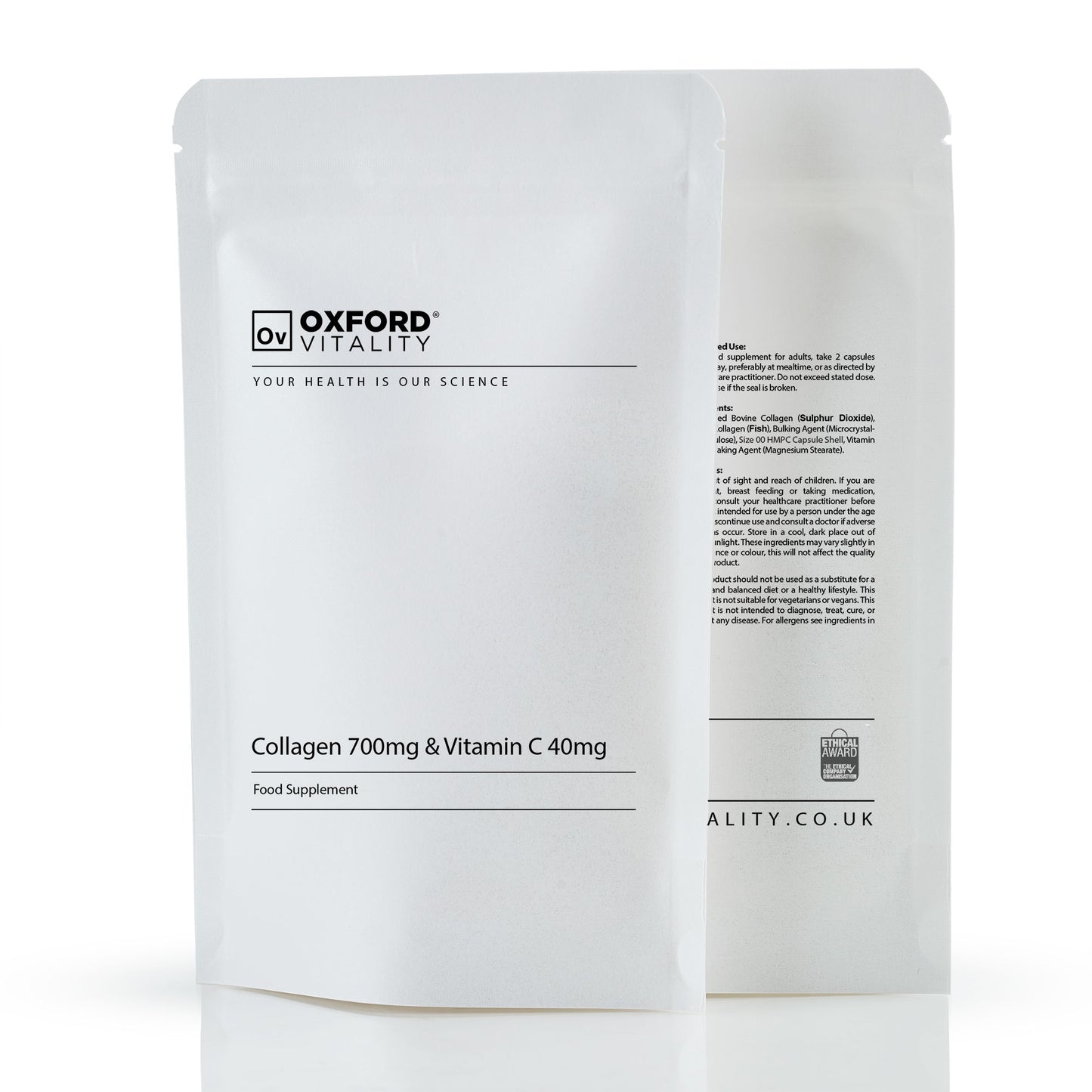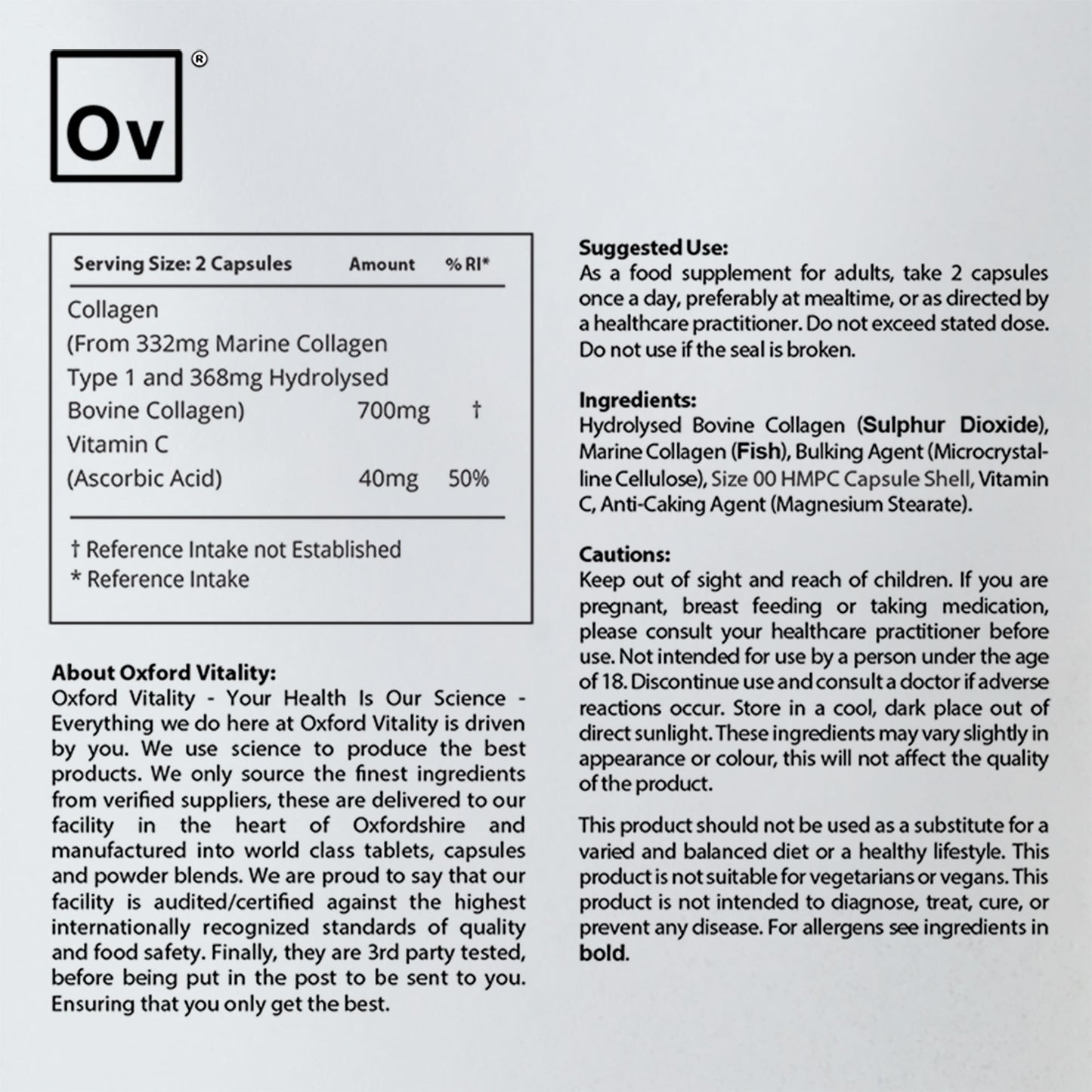 Collagen and Vitamin C Capsules
I don't see result of taking it yet. Price was good. Shame that it's not all in 1 capsule (you have to take 2 daily).
Worthwhile
The effectiveness of supplements is really a personal subjective test. We use the Oxford Vitality range because it is a reliable, quality service, competitively priced and a UK product. Happy customers over several years.
Collapsible content
Shipping & Returns

Shipping is via Royal Mail 1st Class We dispatch orders on weekdays up to 5 pm. Royal mail quote delivery times 1-2 days for 1st class and 2-3 days for 2nd class. Delays can happen, If delivery takes more than 5 working days for a UK order - please contact us immediately. For Europe, orders can take 10-14 Days. We are sorry but we do not dispatch our products to the rest of the world. We apologise for this lengthy period of time, unfortunately, express courier services are uneconomical to use with low priced products.

Please note, we DO NOT quote shipping. We will only make refunds where refunds are due. We apologise this process can not be more simple. Customs Declarations: We declare the value of all products as £15 - This is our average order cost and should not cause import duties or tax by your customs. All orders will be labelled generically as "Dietary Supplements".

To return an item, please dispatch it in its original wrapping and accompanied by a note outlining your name, address and reason for return. If you do decide that you would like to return your item, please have a look under the " terms and condition" page.