Regular price
Sale price
$48.37 USD
Unit price
per
Sale
Sold out
The nutritional needs of a woman vary greatly over an entire lifetime. What women need for optimal health in their 20's is particularly different from what women require in their 60's. This pack is designed for women from the ages of 50 to 99+ years, containing seven different tablets which have been collaborated to benefit the nutritional requirements of women over the age of 50 years. This pack contains one month's supply of the following tablets: Copper, Sage, Cranberry, Calcium and Vitamin D3, our Skin, Hair and Nails formula, our OV Vision Care and our Joint Support tablets.
Copper
Copper is a trace element, essential for the body but only required in small amounts. Copper promotes the production of energy which reduces feelings of fatigue. Some women over the age of 50 years report feeling more tired than usual which can be due to a number of environmental factors. Copper also maintains the connective tissues that support, bind and link other tissues or organs. Lastly, Copper is responsible for the pigmentation of the hair and skin. This pack contains 30 tablets of Copper.
Sage
Our Sage is extracted from the leaf of Salvis officinalis, a herb that is native to Southern Europe. Sage has been used throughout history from as early as 812D when it was used to produce an aromatic tea. Sage is a common culinary herb and is often supplemented for therapeutic use, including its use to reduce the symptoms of menopause. This includes regulating hormonal fluctuations which reduce sweating and hot flushes. Additionally, Sage is rich in antioxidants and benefits the immune system. This pack contains 60 tablets of Sage extract.
Cranberry
The Cranberry is a vibrant red berry that belongs to the Ericaceae family. The berry has been used since the 1500s as a source of food, drink and therapeutic remedies. Cranberries have been cultivated since 1816 and are well-known for its appearance at Christmas. Many don't realise that cranberries are a rich source of Vitamin A, Vitamin C and Vitamin K. Vitamin C has antioxidative properties and regenerates other antioxidants, such as Vitamin E. Vitamin K aids blood clotting in open wounds and assists the absorption of Calcium. Vitamin A contributes to normal vision and benefits Iron absorption to prevent fatigue. This pack contains 60 tablets.
Calcium and Vitamin D3
Calcium and Vitamin D work in synergy, enhancing the effects on each other. Calcium can't be absorbed without the presence of Vitamin D. The two nutrients contribute to a reduction in the loss of bone mineral in post-menopausal women, typically from the age of 50 years onwards. As we age, our bone density decreases. This increases the risk of osteoporosis and, ultimately, the risk of bone fractures due to weak bones. This pack contains 30 tablets.
Skin, Hair and Nails
These tablets contain 4 ingredients; Grape Seed extract, Selenium, Vitamin C and Vitamin E, all of which offer antioxidative properties. Antioxidants prevent oxidative damage caused by free radicals, highly reactive particles. These free radicals can damage our DNA, proteins and lipids, and antioxidants can protect the skin from ageing and disease.
OV Vision Care
Our OV Vision Care tablets contain a formula of Bilberry extract, Grape Seed extract and Lutein. Good eye health is beneficial to all, particularly as you age - research shows that vision loss increases with age, especially in those aged 50 years and older. The three nutritional ingredients in this tablet aid the micro-vasculature, the fine vessels that surround the eye. The ingredients also offer antioxidative properties and stimulate the circulation of fluid. This pack includes 60 tablets.
Joint Support
These tablets consist of four nutritional ingredients which benefit the joints; Vitamin C, MSM, Chondroitin and Glucosamine. Joint stiffness and aches are common in those aged 50 years and older. This is because as we age, the protective layers and fluids at the end of our joints become less lubricating and less shock absorbent. The ingredients within these tablets stimulate the production of cartilage and synovial lubricating fluid to soften and strengthen the joints. This pack contains 30 tablets. 
Please note - Both our Calcium and Vitamin D3 tablets and Joint Support tablets are not suitable for vegetarians and vegans.
If you are taking medication, we advise you to contact your health practitioner before use. Vitamin D3 may interact with particular medications, including cholesterol and diabetes medications. Please beware that Vitamin D3 supplements should not be taken alongside these or similar medications.
View full details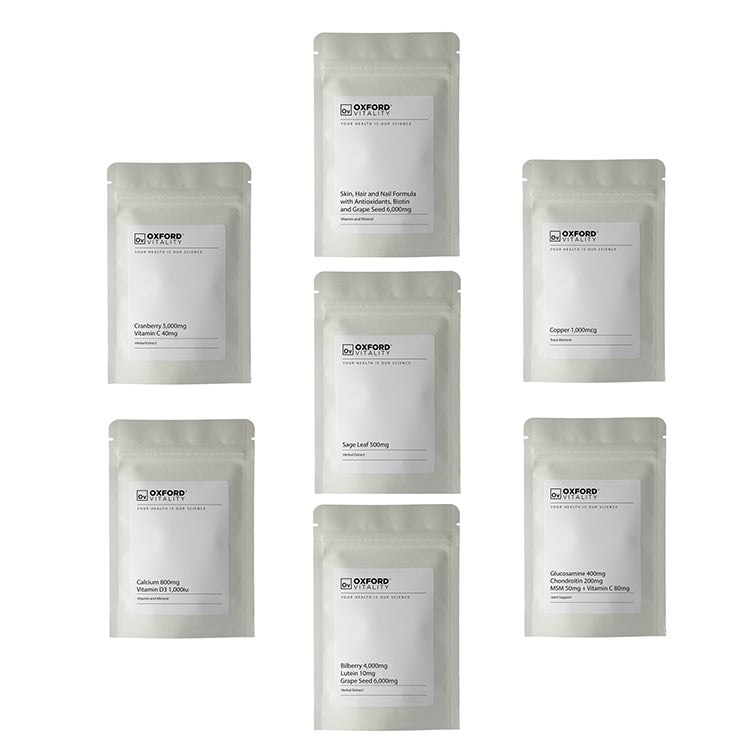 Collapsible content
Shipping & Returns

Shipping is via Royal Mail 1st Class We dispatch orders on weekdays up to 5 pm. Royal mail quote delivery times 1-2 days for 1st class and 2-3 days for 2nd class. Delays can happen, If delivery takes more than 5 working days for a UK order - please contact us immediately. For Europe, orders can take 10-14 Days. We are sorry but we do not dispatch our products to the rest of the world. We apologise for this lengthy period of time, unfortunately, express courier services are uneconomical to use with low priced products.

Please note, we DO NOT quote shipping. We will only make refunds where refunds are due. We apologise this process can not be more simple. Customs Declarations: We declare the value of all products as £15 - This is our average order cost and should not cause import duties or tax by your customs. All orders will be labelled generically as "Dietary Supplements".

To return an item, please dispatch it in its original wrapping and accompanied by a note outlining your name, address and reason for return. If you do decide that you would like to return your item, please have a look under the " terms and condition" page.