Regular price
$84.40 USD
Sale price
$54.52 USD
Unit price
per
Sale
Sold out
It's so easy to think that we don't need to worry about our health when we are young, but taking care of our health should be a priority throughout life, not just when we begin to feel our age or when problems arise. Our health requirements vary greatly between the ages of 18 - 99+. The tablets in our Complete Health Pack for Women Under 50 have been specifically collaborated by a nutritionist, taking in to account all dietary and health needs. This pack includes one months' supply of the following: Maca, Sea Kelp, Iron, Folic Acid, our Skin, Hair and Nails complex, Vitamin B complex, Biotin, and our Calcium and Vitamin D3 tablets.
Maca
Our Maca originates from the root of the Lepidium meyenii plant, an ancient plant used by the Inca Warriors in the Andes mountain range to promote strength and endurance during battle. Maca is deemed a 'superfood' and acts as a natural energy boost, containing high quantities of protein, fibre, Vitamin C, Copper and Iron. The root extract is widely used to balance reproductive hormones and contribute to energy levels, stamina and athletic performance, contributing to bone strength and cognitive performance. This pack contains 120 tablets.
Sea Kelp
Sea Kelp is a good natural source of Iodine, an essential mineral that aids cognitive function, energy production and the functioning of the nervous system. Iodine also maintains the skin and is required during pregnancy for healthy foetal growth. Sea Kelp is the largest type of seaweed, with origins dating back to 600 BC. As well as Iodine, Sea Kelp is also a natural source of several of the vitamins and minerals, such as Vitamin A, Vitamin C, Copper, Calcium and Zinc. This pack contains 60 tablets.
Iron
Iron is essential for women's health due to their menstrual cycle. This is because the menstrual cycle leads to a loss of blood every month, including the loss of Iron. Women require 14.8mg Iron each day which is just less than double what men require - it is quite common for a woman to be slightly anaemic due to the increased requirement. We need Iron for the formation of red blood cells which carry oxygen around our blood. The mineral also helps with energy production to reduce feelings of fatigue, plays a role in cell division and contributes to cognitive function. This pack contains 60 tablets.
Folic Acid
Folic Acid is a vital nutrient and all women are recommended to supplement the nutrient once their menstrual cycle begins. The B vitamin reduces the risk of Neural Tube Defects (NTDs) in children, such as Spinda Bifida. Supplementation of this vitamin is even more crucial as the body can't store or produce large quantities of the nutrient. Women are recommended to take 400mg of Folic Acid supplements each day. This pack provides 30 tablets.
Skin, Hair and Nails
Beauty is an important factor for many people, including the skin, hair and nails. Our Skin, Hair and Nails tablets are a complex of four ingredients; Grape Seed extract, Vitamin C, Vitamin E and Selenium. Each of these nutrients have antioxidative properties, protecting DNA, lipids and proteins from oxidative damage. This includes the skin and hair which both contain cells that are prone to oxidative damage. This pack contains 30 tablets.
Vitamin B Complex
These tablets are packed full with a mix of eight essential vitamins, including the following; Vitamins B1, B2, B3, B5, B6, B7, B9 and B12, in addition to Inositol. This complex promotes normal energy production to reduce fatigue and enhances the functioning of the nervous system, blood flow, Iron metabolism and the digestive system. These vitamins also help maintain the skin and hair which goes hand in hand with our Skin, Hair and Nails tablets. The B vitamins provide a range of health benefits which women under the age of 50 benefits from. This pack contains 30 tablets.
Biotin
Biotin is a water-soluble vitamin, also known as Vitamin B7. Originally known as Coenzyme H or Vitamin R, Biotin contributes to the maintenance of normal hair, skin and mucous membranes. Additionally, the B vitamin supports energy and macronutrient (carbohydrates, protein and fat) metabolism, normal functioning of the nervous system and normal cognitive activity. Biotin is particularly recommended for those who are pregnant. This pack contains 30 tablets.
Calcium and Vitamin D3 tablets
These two nutrients are combined in one effective tablet, working in synergy as Calcium can only be absorbed in the presence of Vitamin D. Vitamin D3 is a type of Vitamin D, specifically the form that is produced by the action of sunlight on the skin. Both nutrients promote the health of the bones and teeth to reduce the effects of weak bones. This pack contains 120 tablets, to be taken three times a day.
Please note-  be aware that our Calcium and Vitamin D3 tablets are not suitable for vegetarians and vegans. 
If you are taking medication, we advise you to contact your health practitioner before use. Vitamin D3 may interact with particular medications, including cholesterol and diabetes medications. Please beware that Vitamin D3 supplements should not be taken alongside these or similar medications.
View full details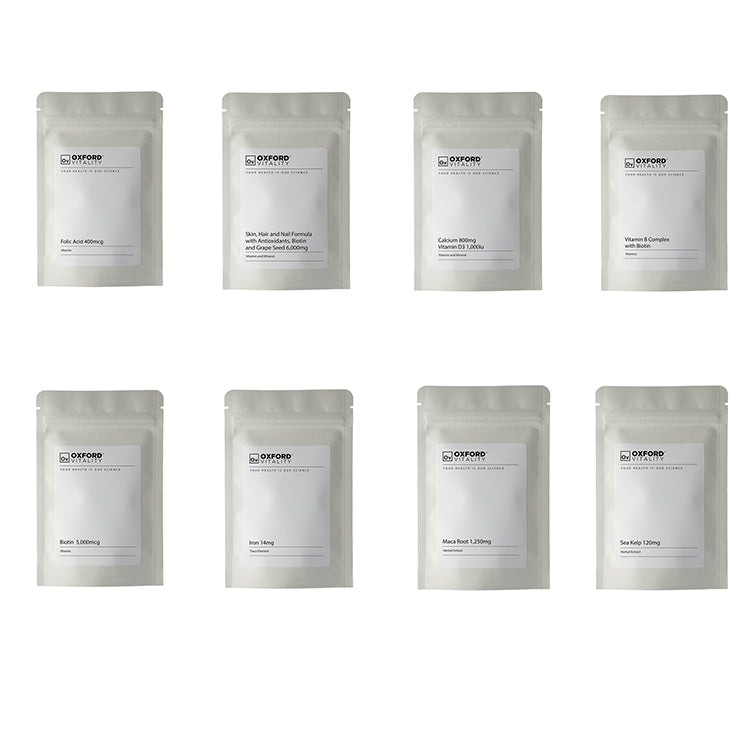 Collapsible content
Shipping & Returns

Shipping is via Royal Mail 1st Class We dispatch orders on weekdays up to 5 pm. Royal mail quote delivery times 1-2 days for 1st class and 2-3 days for 2nd class. Delays can happen, If delivery takes more than 5 working days for a UK order - please contact us immediately. For Europe, orders can take 10-14 Days. We are sorry but we do not dispatch our products to the rest of the world. We apologise for this lengthy period of time, unfortunately, express courier services are uneconomical to use with low priced products.

Please note, we DO NOT quote shipping. We will only make refunds where refunds are due. We apologise this process can not be more simple. Customs Declarations: We declare the value of all products as £15 - This is our average order cost and should not cause import duties or tax by your customs. All orders will be labelled generically as "Dietary Supplements".

To return an item, please dispatch it in its original wrapping and accompanied by a note outlining your name, address and reason for return. If you do decide that you would like to return your item, please have a look under the " terms and condition" page.