Regular price
Sale price
$9.66 USD
Unit price
per
Sale
Sold out
We have combined four natural ingredients in a specific formula to reduce symptoms of digestive and gastrointestinal discomfort, and improve overall digestive health.
Ginger
Ginger is extracted from the root of the Zingiber officinale plant. The spice was considered a luxury 5,000 years ago, particularly after the fall of the Roman Empire. The Zingiber officinale plant is native to Southern Asia and belongs to the Curcuma family. Ginger is mainly used for its anti-inflammatory properties, although it is also antiseptic and anti-allergenic. The golden root plays a role in vascular health which leads to improved health of the cardiovascular system and digestive tract, as well as for settling the stomach during feelings of discomfort.
Turmeric
Tumeric is extracted from the root of the Curcuma longa plant and as its name suggests, belongs to the same family as ginger. Turmeric is highly valued in India where it is used for rituals and other ceremonial occasions, or the dyeing of cow skins during festivals. Turmeric became very fashionable in the 19th century, providing colour to bandanas in the form of yellow or red spots. The root is thought to provide health benefits to the liver and joints, but its main role is within the digestive system. Turmeric stimulates and maintains appetite when feelings of hunger are low, particularly when the stomach is unsettled. Turmeric supports digestion by contributing to the production of digestive fluids to prompt feelings of appetite.
Papain
Papain is an enzyme present in the leaves, latex, roots and fruit of the papaya plant, botanically known as the Carica papaya. The plant is an evergreen that can grow to heights of 10m in optimal conditions. The tree is native to Mexico and Central America. Papain may be taken for its anti-inflammatory properties.
Bromelain
Bromelain is an enzyme found in both pineapple juice and the pineapple stem. The pineapple grows on the Ananas comosus plant which isn't a tree, contrary to popular belief. The name Ananas originates from the Guarani word nana meaning 'fragrant excellent fruit'. The fruit was highly valued in the 18th and 19th century in Britain for its exotic aesthetics and was purchased by those who could afford the fruit and wanted to show off their social status. Like papain, bromelain may be supplemented for its anti-inflammatory properties to reduce swelling.
Our Ginger, Turmeric, Papain and Bromelain tablets
Each tablet is 9mm in diameter which is a very manageable size. We offer four product quantities to suit your purchasing requirements. 
Turmeric is often used as a food dye and has the ability to stain, please take care when handling
Please note- we advise you to contact your health professional if you are pregnant, breastfeeding or taking any medications, before use of this product. Certain medications may interact with turmeric, including those for acid reflux and diabetes, and anti-coagulants. Turmeric supplements should not be taken alongside these medications.  Please discontinue consumption after 3 months usage for at least 2 months. People with bile duct pathologies and liver pathologies should avoid taking this supplement.
We recommend that both the 500 and 1,000 tablet options are more suitable for use by more than one person. This is to ensure that you are receiving full use of the product before its expiry date. For one person's use, we recommend the 120 or 240 tablet options.
View full details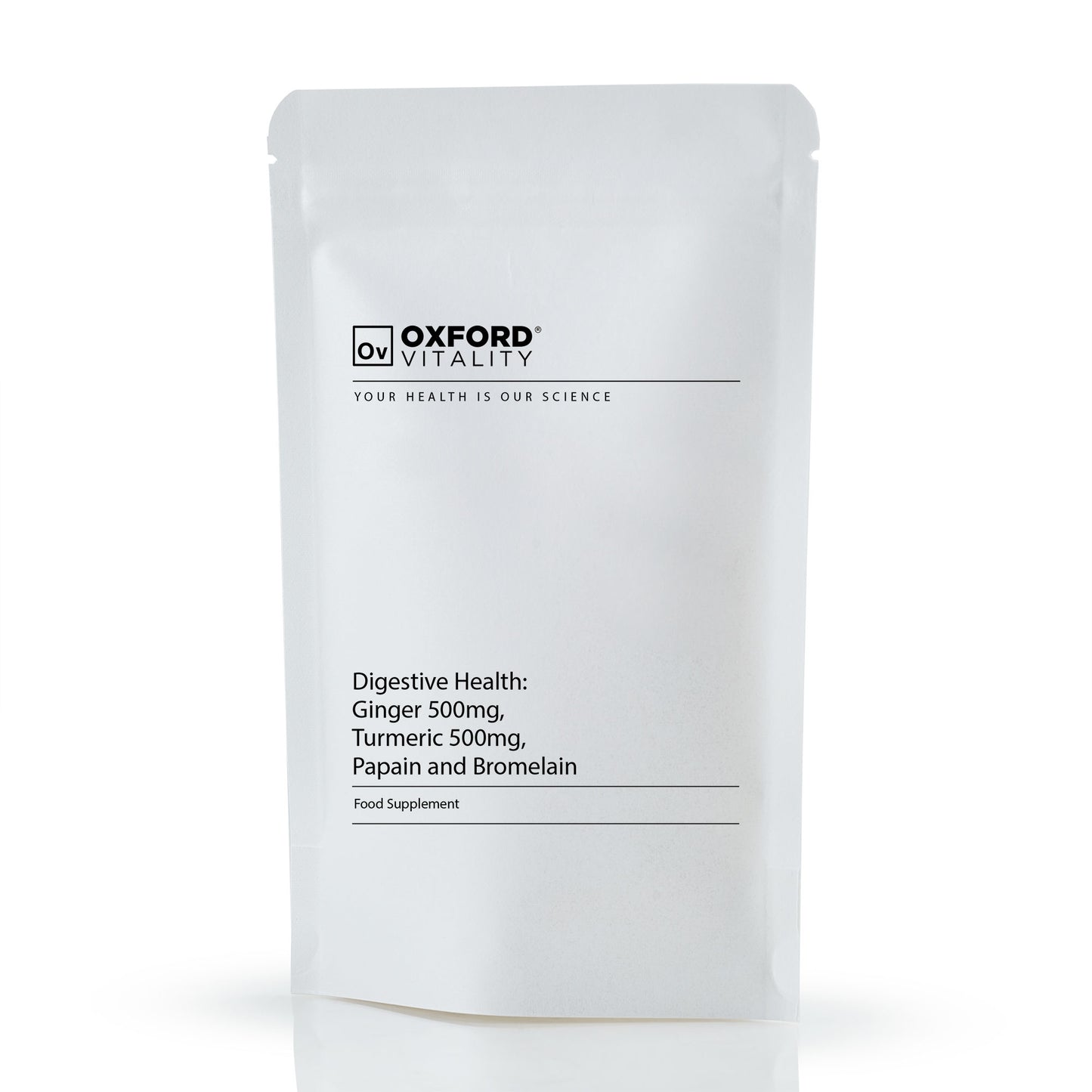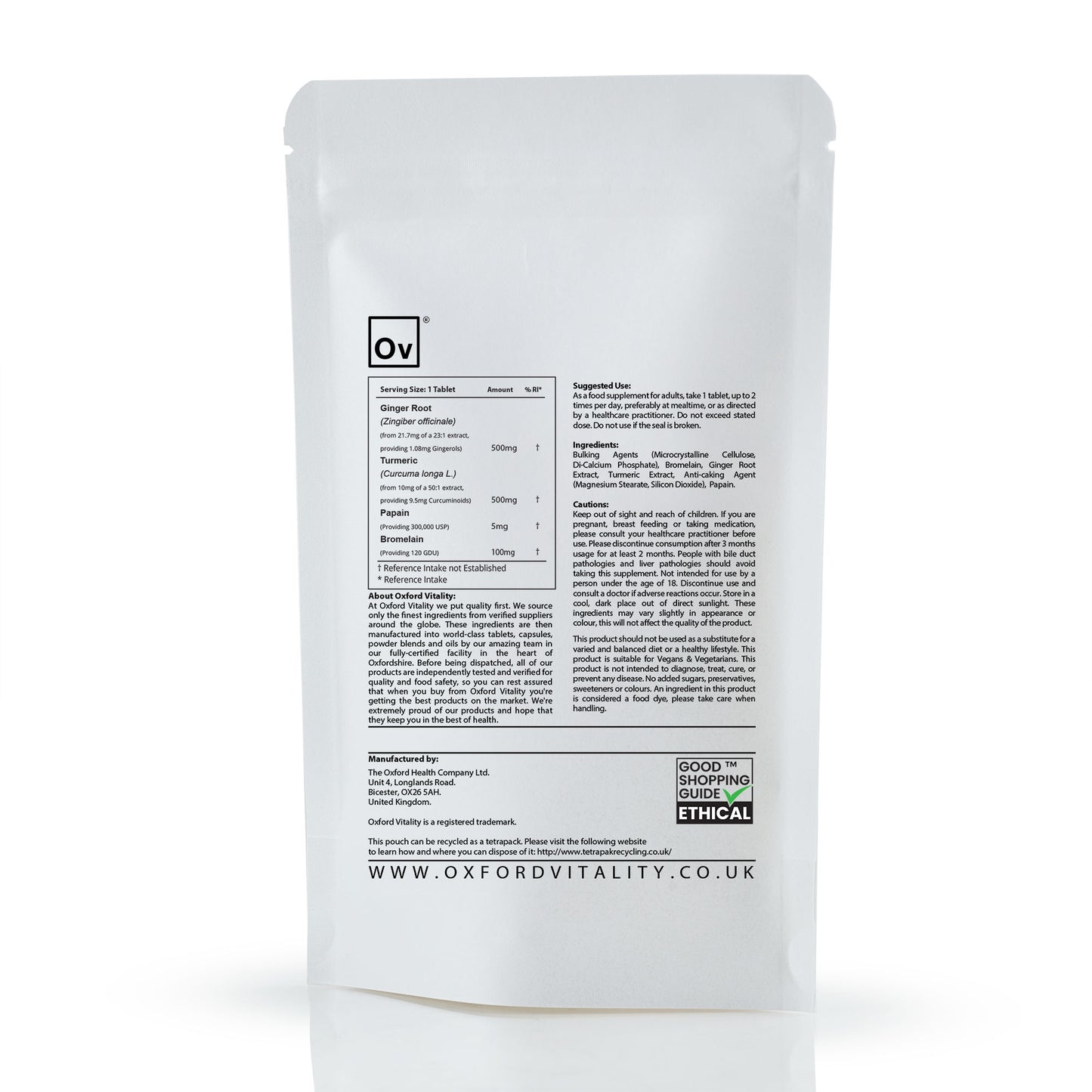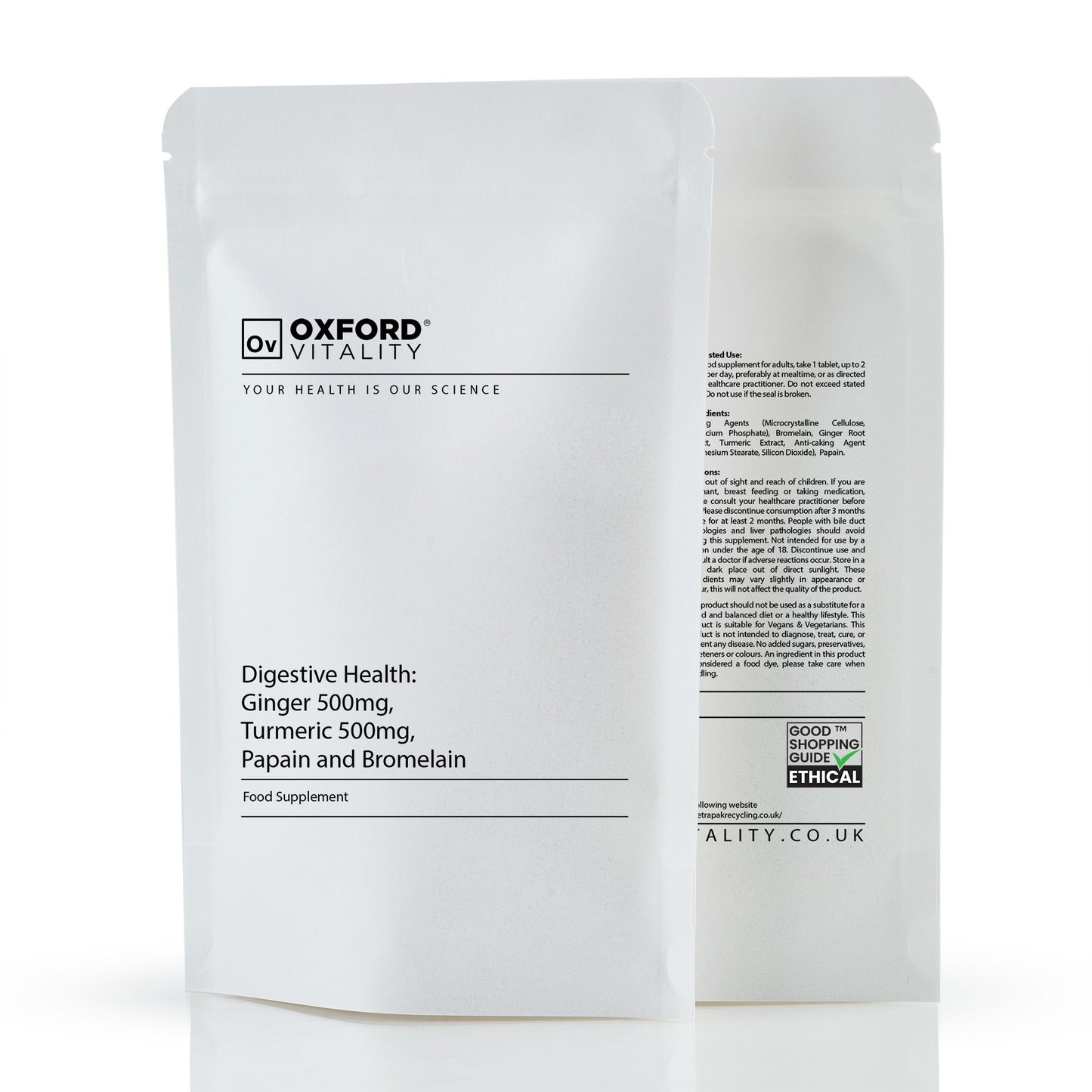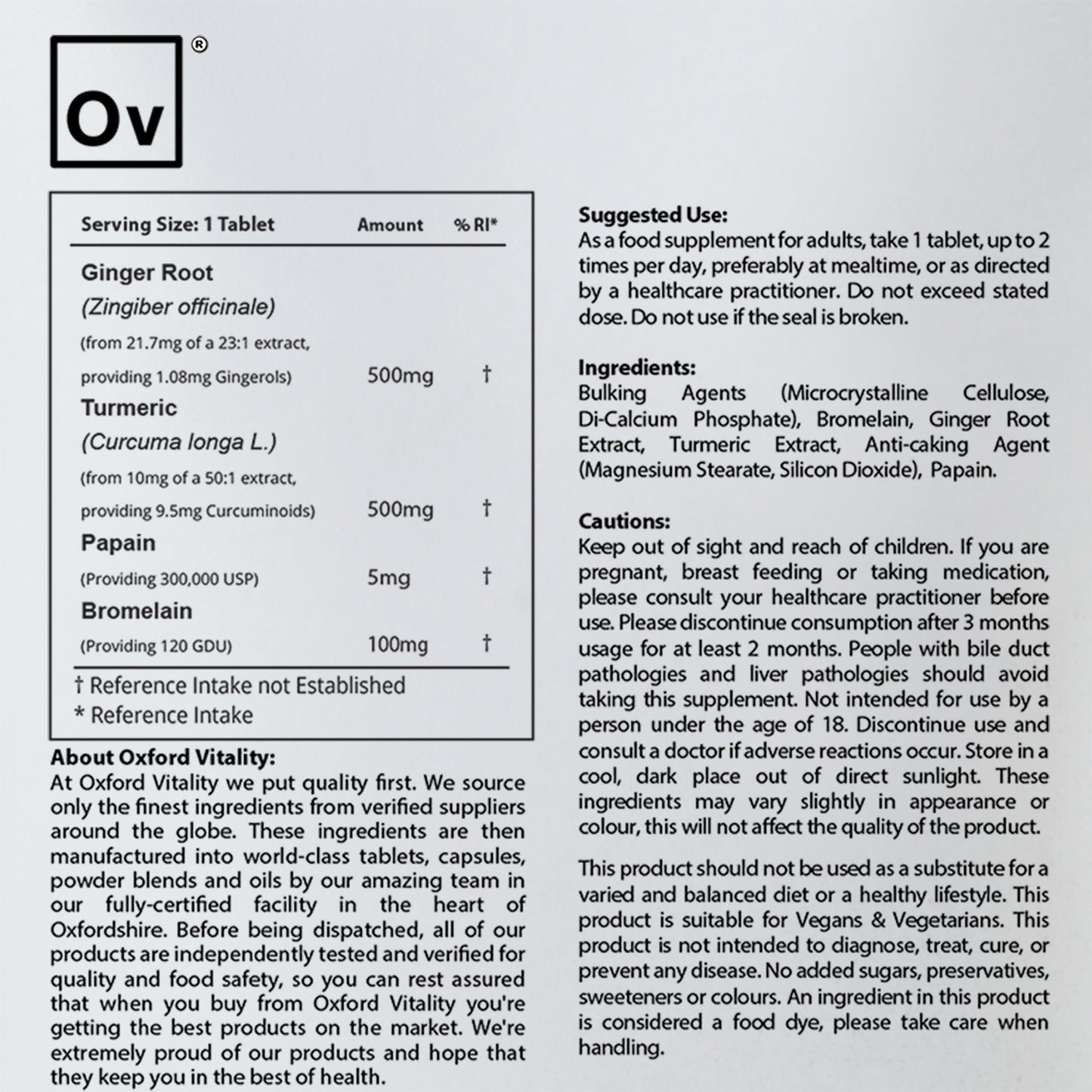 Product is new to me!
I've only been talking the product for 10 days so can't give a positive review at this stage .I have to give the supplements at least another 8weeks to see if they are making a difference!
Too Drying for Some
Although the ingredients in these tablets are surely of good quality to help digestion, when I tried it for two days, I was extremely thirsty. There is a difference made in Oriental medicine between dried ginger, which presumably what was used for these tablets (which is heating and drying) and fresh, which is tolerable for everyone.
It does what I says on the pack.
Very good tablets seems to work for me.
Work well for me but…
I find these help greatly with my painful heels and thumbs . You need to give them a chance to work though, it took 1-2 months for my pain to reduce significantly. Worth the wait though!
My only criticism is the shape of the tablets which sometimes get stuck when I'm trying to swallow them.I would much prefer a lozenge shape or at least rounder edges on the existing shape
Collapsible content
Shipping & Returns

Shipping is via Royal Mail 1st Class We dispatch orders on weekdays up to 5 pm. Royal mail quote delivery times 1-2 days for 1st class and 2-3 days for 2nd class. Delays can happen, If delivery takes more than 5 working days for a UK order - please contact us immediately. For Europe, orders can take 10-14 Days. We are sorry but we do not dispatch our products to the rest of the world. We apologise for this lengthy period of time, unfortunately, express courier services are uneconomical to use with low priced products.

Please note, we DO NOT quote shipping. We will only make refunds where refunds are due. We apologise this process can not be more simple. Customs Declarations: We declare the value of all products as £15 - This is our average order cost and should not cause import duties or tax by your customs. All orders will be labelled generically as "Dietary Supplements".

To return an item, please dispatch it in its original wrapping and accompanied by a note outlining your name, address and reason for return. If you do decide that you would like to return your item, please have a look under the " terms and condition" page.