Regular price
Sale price
$12.82 USD
Unit price
per
Sale
Sold out
What is Glucosamine?
Glucosamine, also often referred to by its chemical name of Glucosamine Sulphate, is a primary amino sugar that is one of the main structural components in shellfish exoskeletons. Moreover, this is a natural substance found in the body. We naturally produce Glucosamine Sulphate from sugar (glucose) and an amino acid, Glutamine. The production and storage of Glucosamine is significantly limited and thus, it is suggested that the intake of Glucosamine is increased in times of intense work, repair or damage to a joint.
Benefits of Glucosamine
The benefits of Glucosamine relate to the health of bones and joints. The combination of glucose sugar and Glutamine prompts the body to produce glycosaminoglycans, a carbohydrate which acts as a base for the repair of damaged tissue. Glucosamine has been shown to aid the production of synovial fluid (the lubricating oil) in the joint, promoting increased fluidity in the range of movement in the joint. This benefits both the general population looking to enhance the health of their bones and joints, and athletes, particularly those who participate in high impact sports.
Our Glucosamine tablets
Our Glucosamine tablets are provided in our statement large torpedo shape. These are fairly large and we advise against purchasing this product if you have trouble swallowing. We offer a range of tablet quantities to tailor to your purchasing needs.
Please be aware that these tablets are not suitable for vegans and vegetarians. Our Glucosamine tablets are also not suitable for those with a shellfish allergy.
Please note - we recommend that both the 500 and 1,000 tablet options are more suitable for use by more than one person. This is to ensure that you are receiving full use of the product before its expiry date. For one person's use, we recommend the 120 or 240 tablet options.
If you have any questions about this, or any other products please contact us.
View full details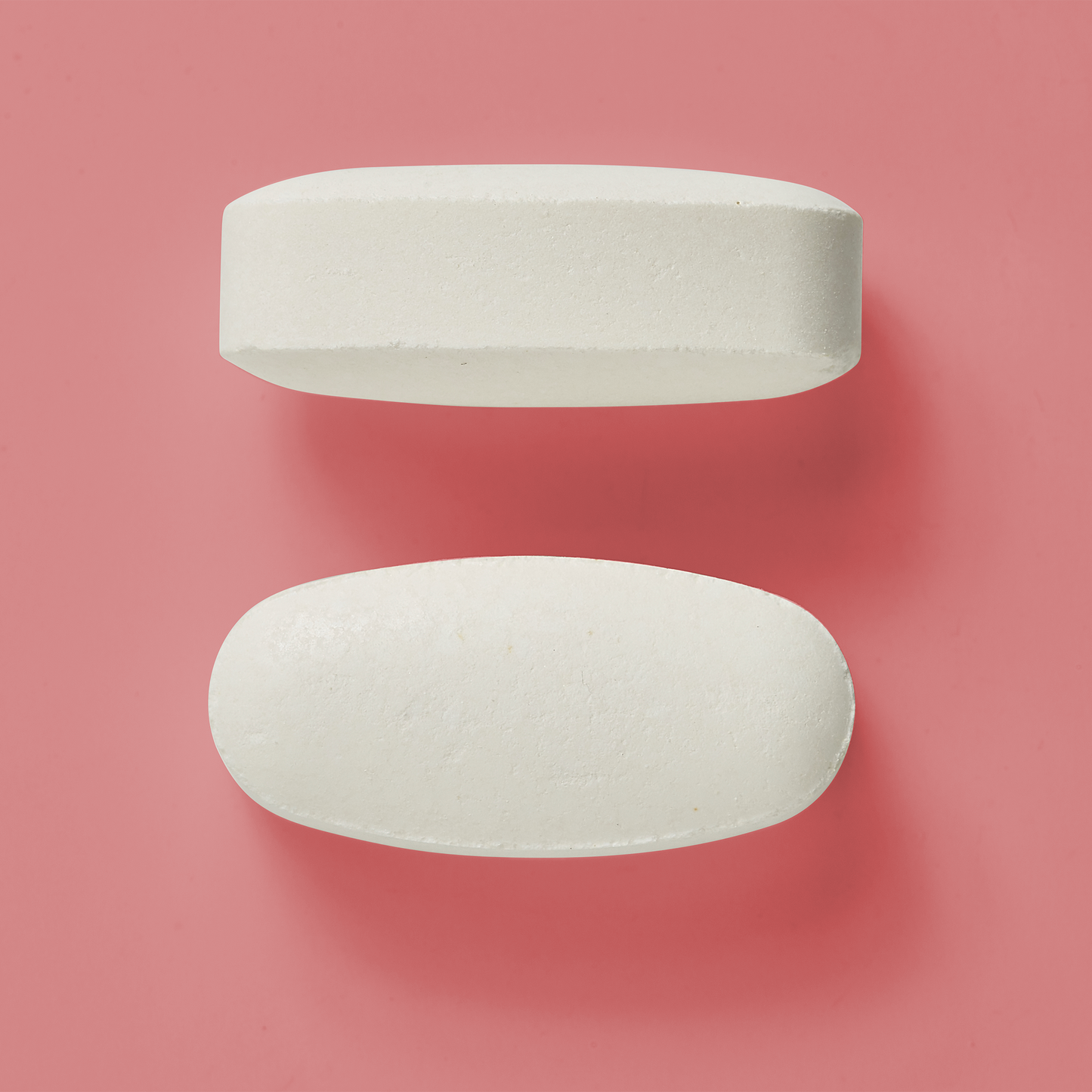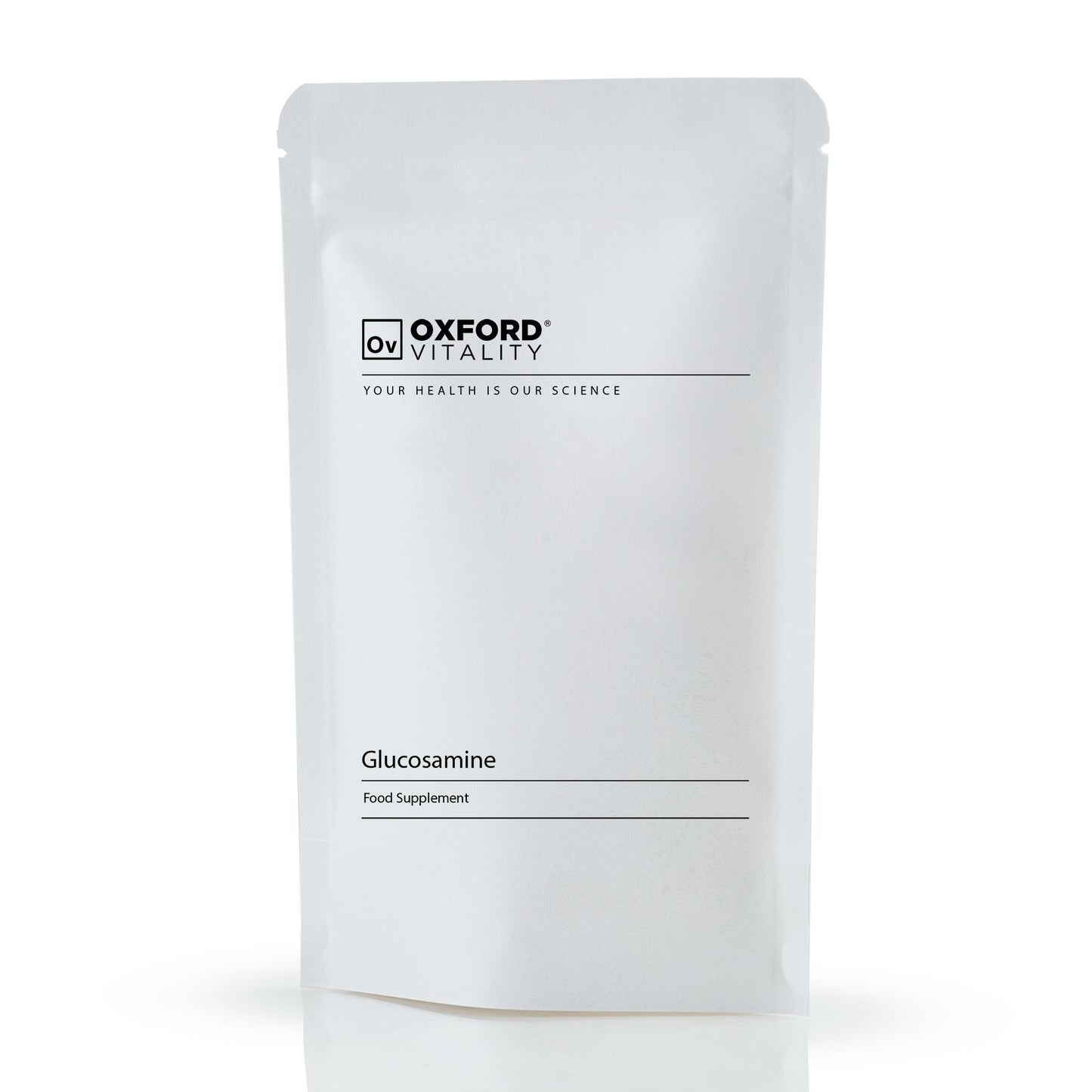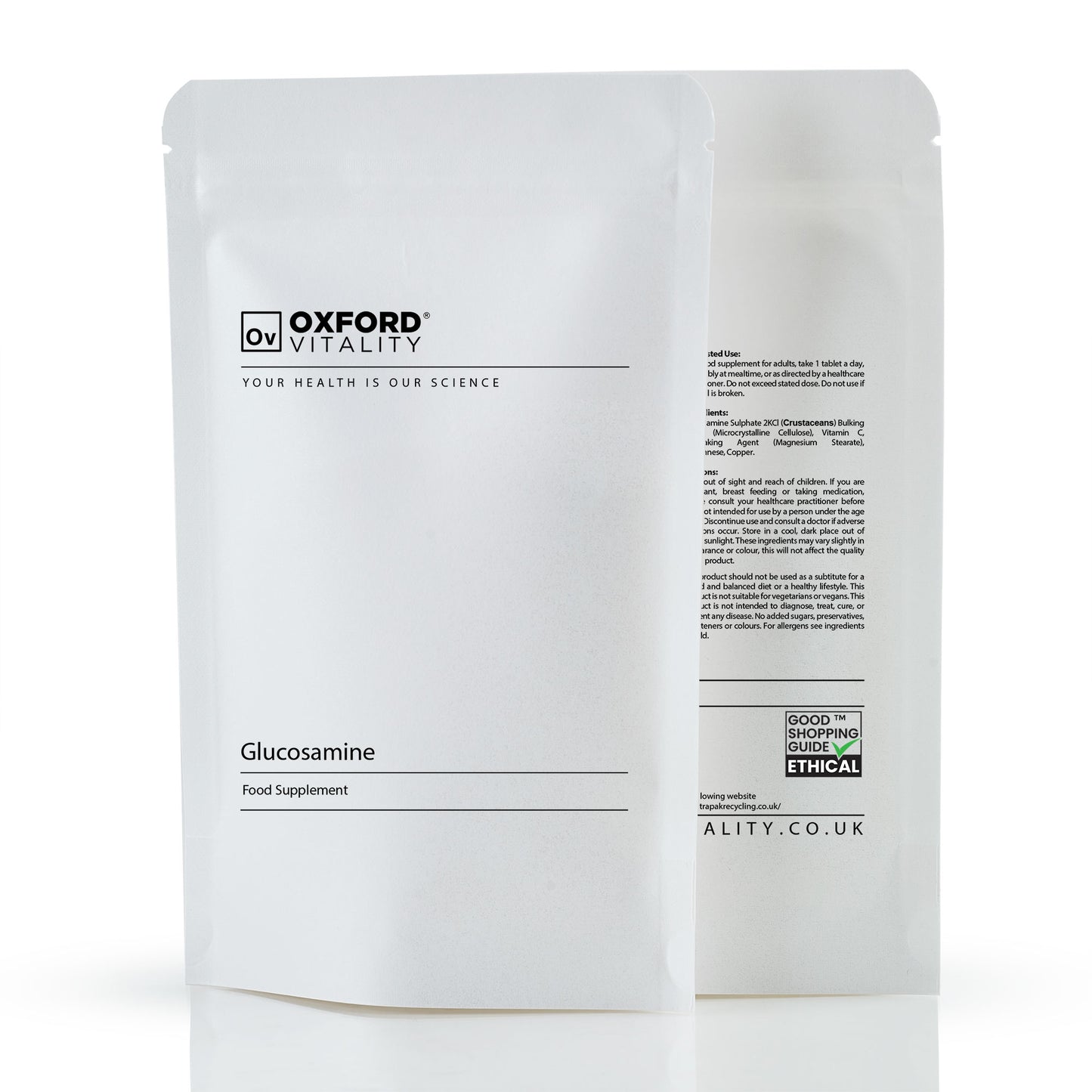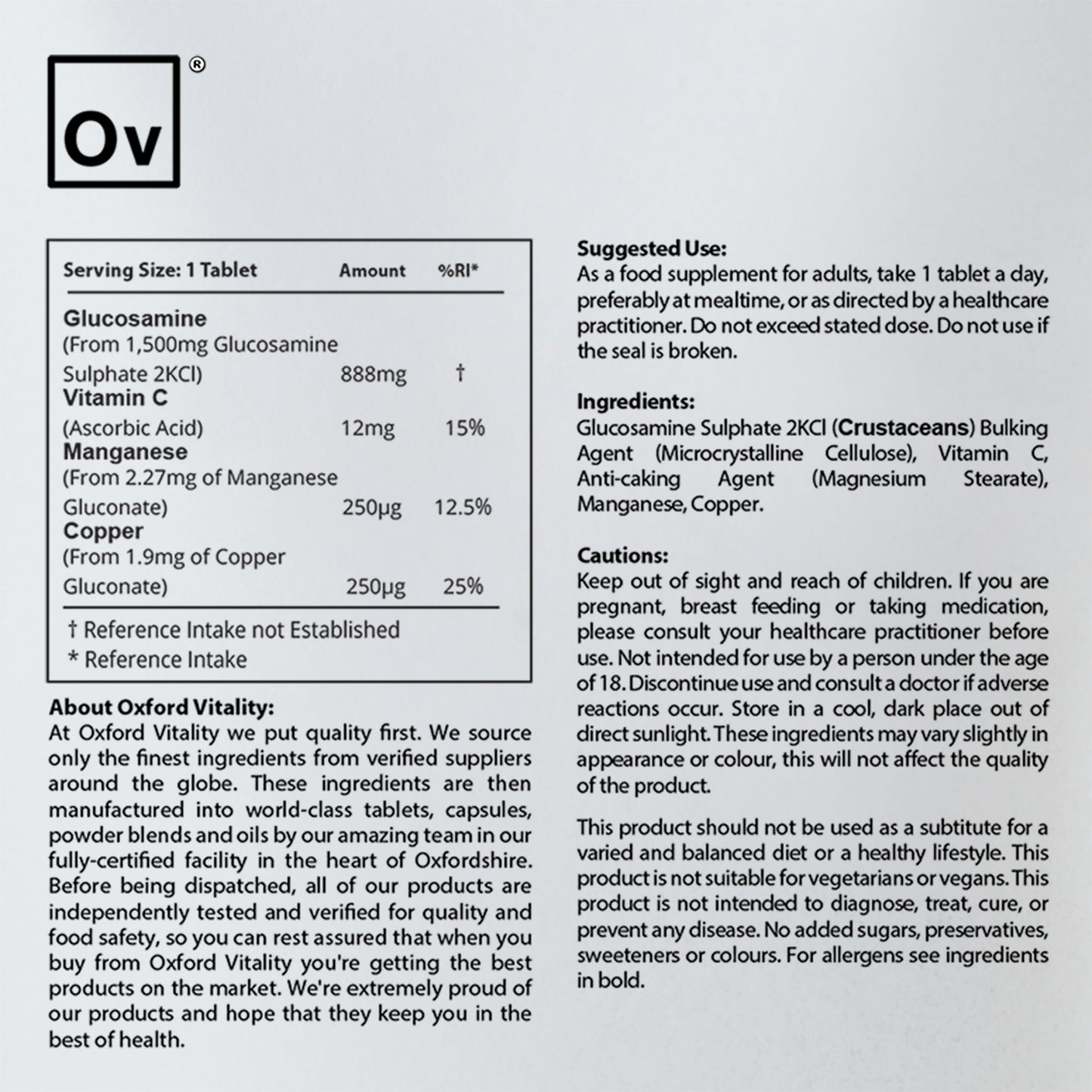 Too large for comfort
I'm a regular customer, but the size of the tablets make them difficult to swallow and I end up biting them into smaller pieces. Wouldn't buy them again
What a shame
Great product but although I have swallowed bigger tablets before I've had to abandon these. I was well aware of the size when ordering but didn't realise they had no coating to help even drinking a litre of water. They easily break in half but scratched my throat badly. I'm so disappointed as they really seemed to help my arthritic knees and no fishy aftertaste.
Change a shape
It's so huge (wide)/ sharpe pill it's really hard to swallow. And I'm not the only one who had this issue. Please change the design of it.
Delivery was fast, that's true.
Hello there,
I am sorry to hear that you are struggling with our tablets. The reason for the size of these tablets is due to the strength we want them to have. Unfortunately, we cannot make them any smaller while maintaining the same strength.
Please always make sure to read all the information we offer before buying a product. If in doubt, we are always happy to answer any of your questions.
'Our Glucosamine tablets are provided in our statement large torpedo shape. These are fairly large and we advise against purchasing this product if you have trouble swallowing. ' - This can be found at the bottom of the description of the product.
You could split these tablets in half, if that would make them easier for you to take.
Always a fast dispatched
Always reliable service and a great products.
I am always happy with the delivery
Collapsible content
Shipping & Returns

Shipping is via Royal Mail 1st Class We dispatch orders on weekdays up to 5 pm. Royal mail quote delivery times 1-2 days for 1st class and 2-3 days for 2nd class. Delays can happen, If delivery takes more than 5 working days for a UK order - please contact us immediately. For Europe, orders can take 10-14 Days. We are sorry but we do not dispatch our products to the rest of the world. We apologise for this lengthy period of time, unfortunately, express courier services are uneconomical to use with low priced products.

Please note, we DO NOT quote shipping. We will only make refunds where refunds are due. We apologise this process can not be more simple. Customs Declarations: We declare the value of all products as £15 - This is our average order cost and should not cause import duties or tax by your customs. All orders will be labelled generically as "Dietary Supplements".

To return an item, please dispatch it in its original wrapping and accompanied by a note outlining your name, address and reason for return. If you do decide that you would like to return your item, please have a look under the " terms and condition" page.