Regular price
$9.66 USD
Sale price
$6.44 USD
Unit price
per
Sale
Sold out
Iron
Iron plays an important role in our physiological functions. Its most important role is to contribute to the normal formation of red blood cells and haemoglobin, which helps oxygen transportation in the body. This contributes to the reduction of tiredness and fatigue as a result, helping with energy metabolism.
Approximately 3-4g of Iron is stored in our bodies, and is spread throughout, from the muscles and tissues to proteins in the blood and bone marrow. The mineral is available in two sources: haem and non-haem. Haem sources are easier to absorb into our bodies and originate from animal products, such as red meat, fish and poultry. Roughly 90% of the UK's dietary Iron is acquired by a non-haem source. These come from pulses and legumes such as beans, peas and lentils, as well as dark green leafy vegetables, tofu, nuts and seeds.
Non-haem Iron should be consumed with Vitamin C to help with absorption, however tannins, phytate, fibre and Calcium can interfere with Iron absorption and should attempt to be avoided when consuming Iron sources. This includes tea, coffee and red wine. Due to the nature of the most readily available sources of Iron, vegetarians and vegans are at a higher risk of deficiency. Iron requirements vary throughout our lives, with teenage boys requiring 11.3mg and teenage girls needing 14.8mg per day. This increases to 8.7mg per day for adult men and 14.8mg for adult women. Women naturally need more Iron due to menstruation.
Vitamin C
The history of Vitamin C's use (often inadvertently) is extensive. Indigenous Canadians used a drink created from tree bark (which includes Vitamin C) medicinally. It wasn't until 1747 when James Lind, a British naval surgeon, conducted a study on 12 men onboard a ship suffering from a lack of Vitamin C. He then discovered that citrus fruits helped the men, due to the fact that (we now know) they contain Vitamin C. Albert Szent-Györgyi was awarded the Nobel Prize in 1937 for his discovery of the actual vitamin, having isolated the vitamin from plant juices and animal tissues in 1928.
Both Iron and Vitamin C contribute to normal collagen formation for the normal functioning of blood vessels, bones, cartilage, gums, skin and teeth, as well as supporting the normal energy-yielding metabolism. In addition, the nutrients contribute to the reduction of tiredness and fatigue. They also play a role in the normal functioning of the immune system, and Vitamin C increases the absorption of Iron!
Safety Note:
Keep out of sight and reach of children. If you are pregnant, breastfeeding, or taking medication[s] please consult your healthcare practitioner before use. Not intended for use by persons under the age of 18. Discontinue use and consult a doctor if adverse reactions occur. This product should not be used as a substitute for a varied and balanced diet or a healthy lifestyle. Do not exceed stated dose. This product is not intended to treat, diagnose, cure or prevent any kind of illness.
View full details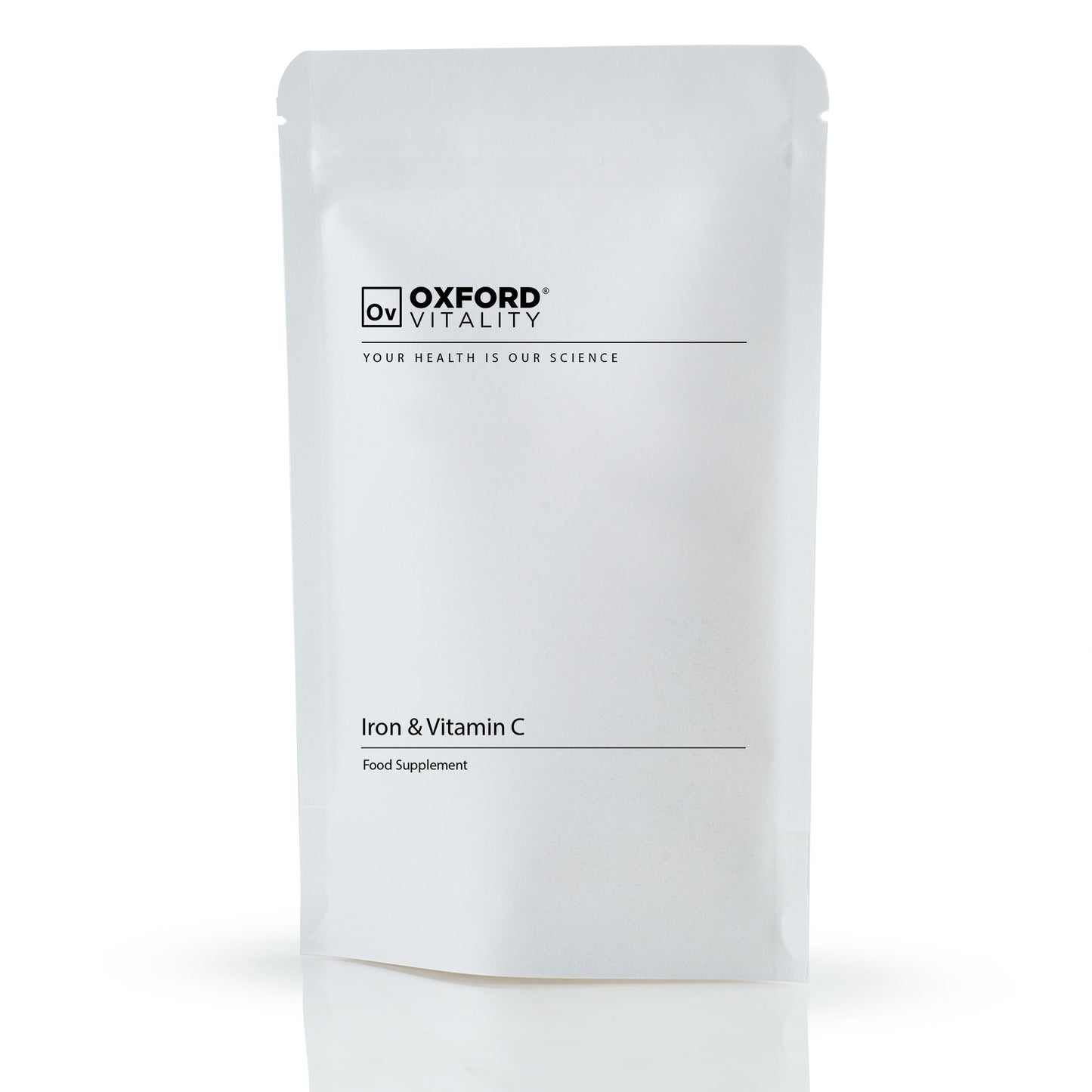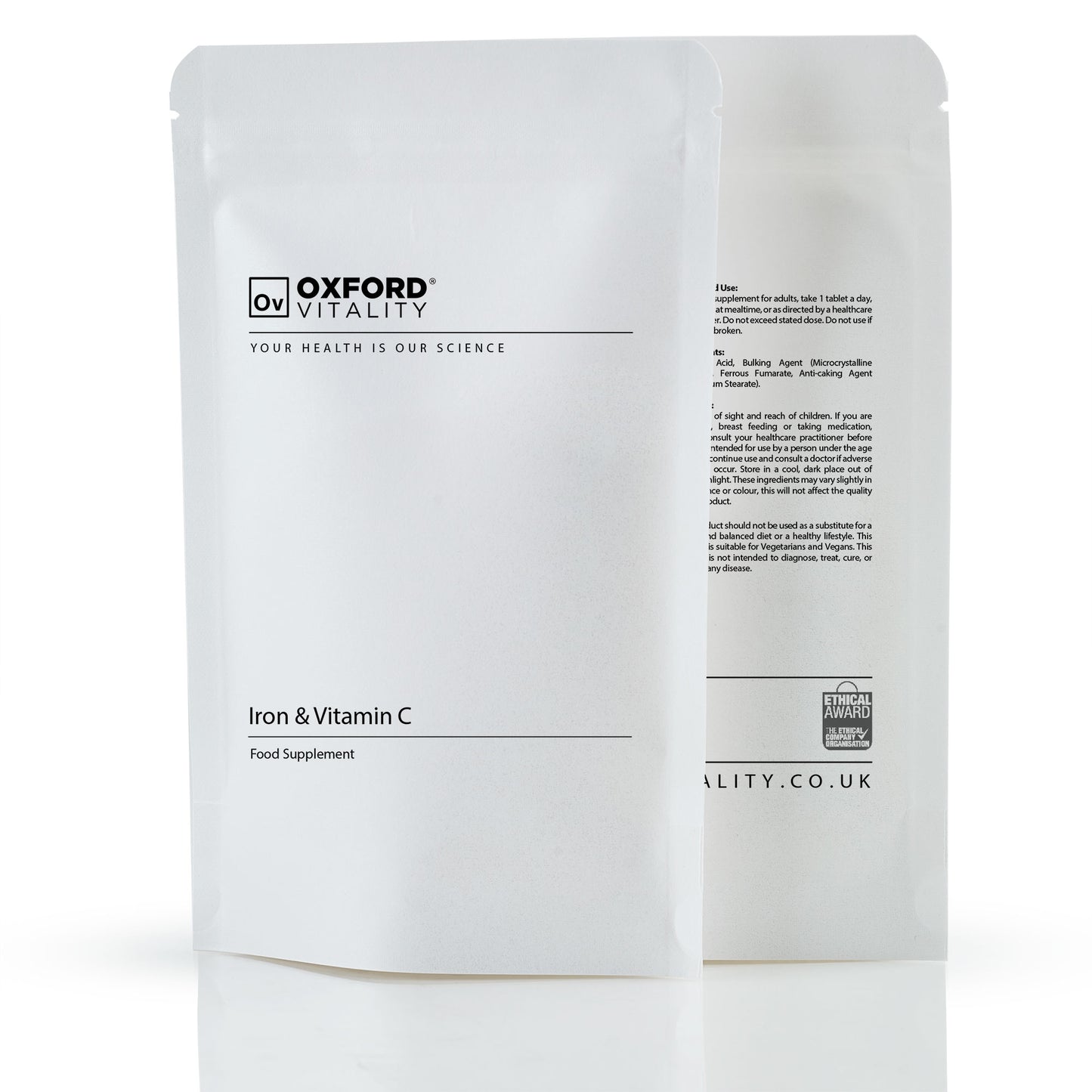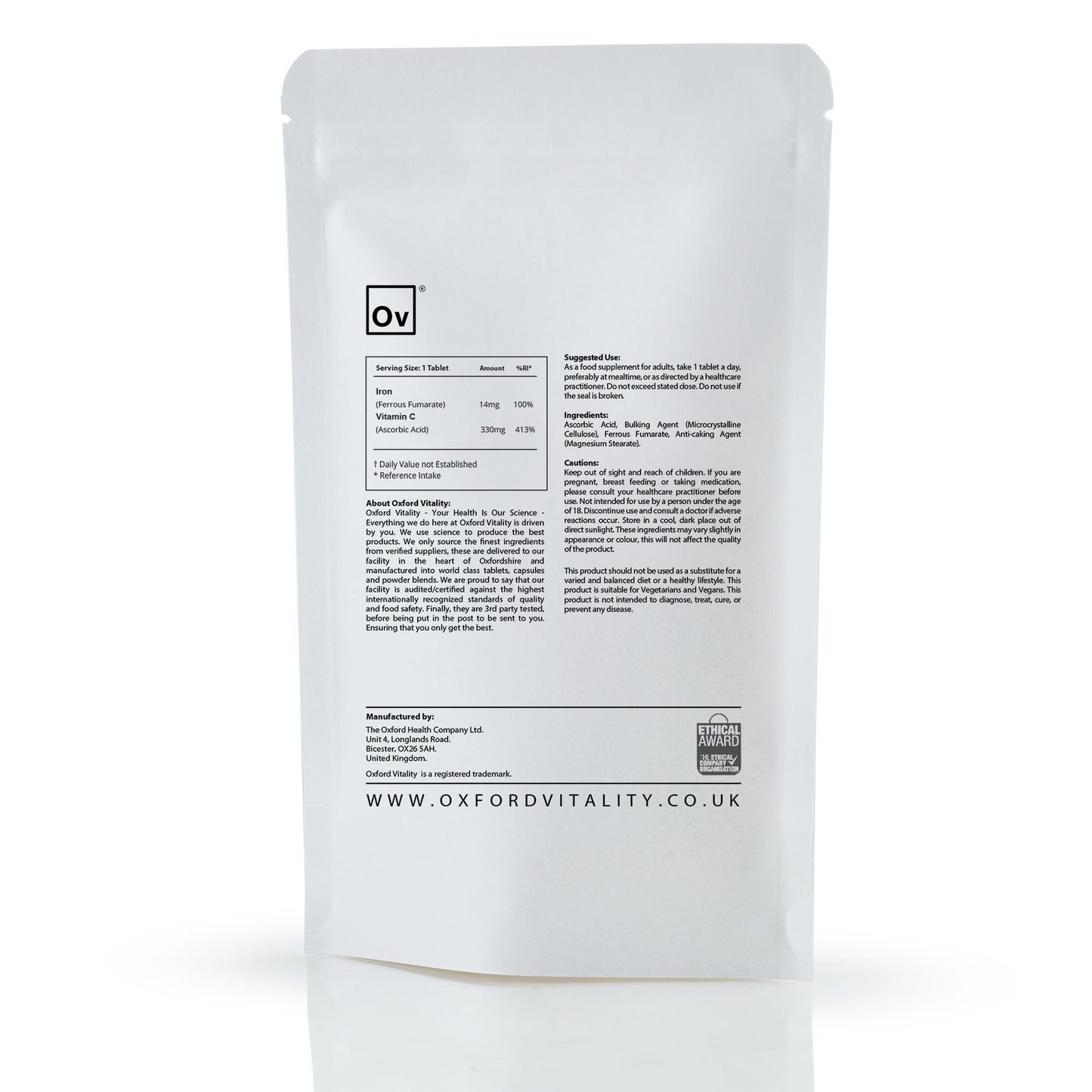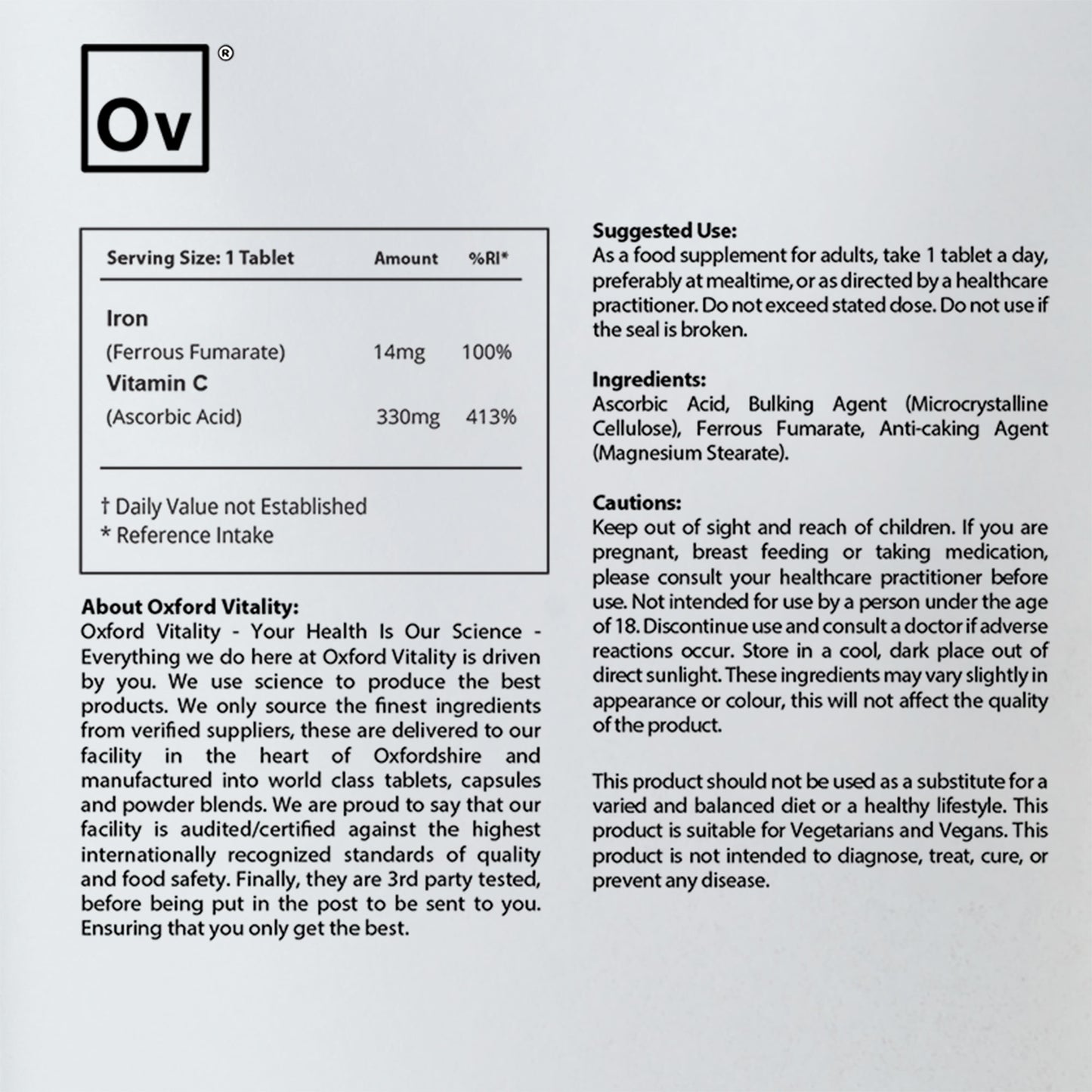 Best in the market
Yesterday I had my blood test result and they were excellent I am back to within the male range, in all honesty and accuracy I do highly recommend OV Iron+C tablet.
Collapsible content
Shipping & Returns

Shipping is via Royal Mail 1st Class We dispatch orders on weekdays up to 5 pm. Royal mail quote delivery times 1-2 days for 1st class and 2-3 days for 2nd class. Delays can happen, If delivery takes more than 5 working days for a UK order - please contact us immediately. For Europe, orders can take 10-14 Days. We are sorry but we do not dispatch our products to the rest of the world. We apologise for this lengthy period of time, unfortunately, express courier services are uneconomical to use with low priced products.

Please note, we DO NOT quote shipping. We will only make refunds where refunds are due. We apologise this process can not be more simple. Customs Declarations: We declare the value of all products as £15 - This is our average order cost and should not cause import duties or tax by your customs. All orders will be labelled generically as "Dietary Supplements".

To return an item, please dispatch it in its original wrapping and accompanied by a note outlining your name, address and reason for return. If you do decide that you would like to return your item, please have a look under the " terms and condition" page.