Regular price
Sale price
$15.04 USD
Unit price
per
Sale
Sold out
Turmeric
Turmeric is extracted from the root of the Curcuma longa plant, which grows in subtropical climates. Over the centuries it has been used in cooking, as a dye. As a dye it has been used to colour the robes of monks and priests. The earliest recorded uses of Turmeric were in India and Israel in the 2nd Millenium BC. It was noted as a dye plant in the Assyrian Cuneiform texts from Ashurbanipal's library at Nineveh from 7th century BC. The root is cut, dried and powdered in order to provide access to the active compound, Curcuma. Turmeric is traditionally used in therapeutic practices, particularly in Asia where it is known as the 'warming plant'.
Glucosamine
Glucosamine, also often referred to by its chemical name of Glucosamine Sulphate, is a primary amino sugar that is one of the main structural components in shellfish exoskeletons. It is also a natural substance found in the body. We naturally produce Glucosamine Sulphate from sugar (glucose) and an amino acid, Glutamine. The natural production and storage of Glucosamine in the human body is significantly limited.
Ginger
Ginger, (also known by its botanical name Zingiber officinale) is a flowering plant that originated in Southeast Asia. It's root is considered to be among the healthiest spices on the planet. Ginger root has a very long history of use in various traditions. It was first cultivated by the Austronesian peoples. Ginger had religious significance among Austronesians, being used in rituals for healing and for asking protection from spirits. Ginger was one of the first spices to have been exported from Asia, arriving in Europe with the spice trade, and was used by ancient Greeks and Romans. Gingerol is the main bioactive compound in ginger root, and our capsules contain active gingerols.
Chondroitin
Chondroitin sulphate is a highly water soluble complex sugar, produced from the cartilage of cows, pigs and sharks. It is also an important structural component of cartilage within the human body. Chondroitin provides much of cartilage's resistance to compression. Chondroitin sulphate is often co-formulated with glucosamine sulphate, a naturally occurring compound found in joint fluid.
DHA
DHA is an Omega-3 fatty acid that is a primary structural component of the human brain, cerebral cortex, skin, and retina. Fatty acids are necessary for the body's normal function, as they are part of the 'good' fat that the body needs. DHA is the most abundant omega-3 fatty acid in the brain and retina, and is usually either synthesised from alpha-linolenic acid or obtained directly from maternal milk, fish oil, or algae oil. It has been shown to contribute to the maintenance of normal brain function, and the maintenance of normal vision. The beneficial effect of DHA is obtained with a daily intake of 250 mg from all sources, including food.
This product is not suitable for Vegetarians and Vegans. 
Warning: Chondroitin sulphate affects blood clotting and should be avoided if you have a bleeding disorder or are taking anticoagulants. You should also be cautious about taking chondroitin if you have asthma as it may exacerbate breathing problems.
Allergens: Crustaceans
Safety Note: Keep out of sight and reach of children. If you are pregnant, breastfeeding, or taking medication[s] please consult your healthcare practitioner before use. Not intended for use by persons under the age of 18. Discontinue use and consult a doctor if adverse reactions occur. This product should not be used as a substitute for a varied and balanced diet or a healthy lifestyle. Do not exceed the stated dose. This product is not intended to treat, diagnose, cure or prevent any kind of illness.

View full details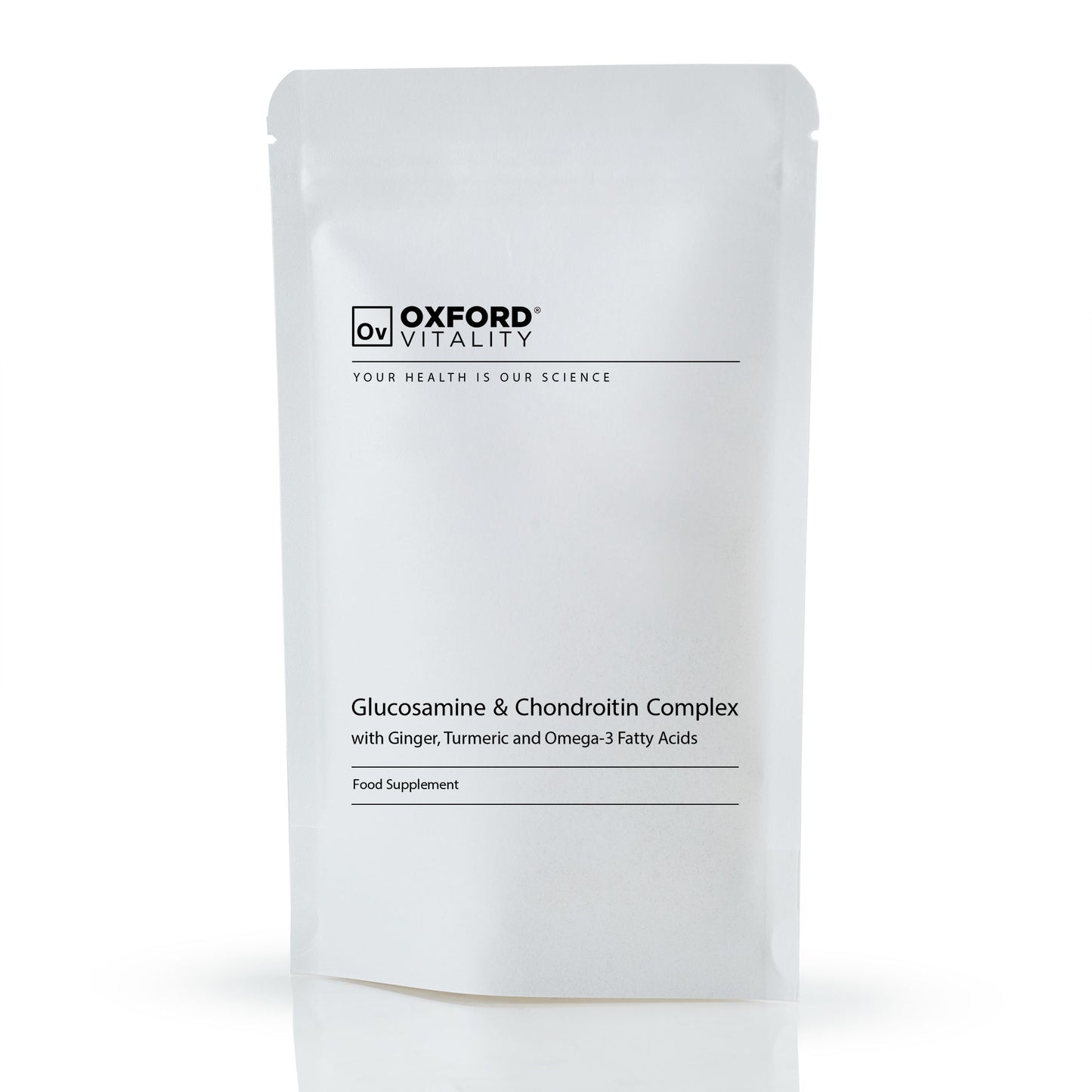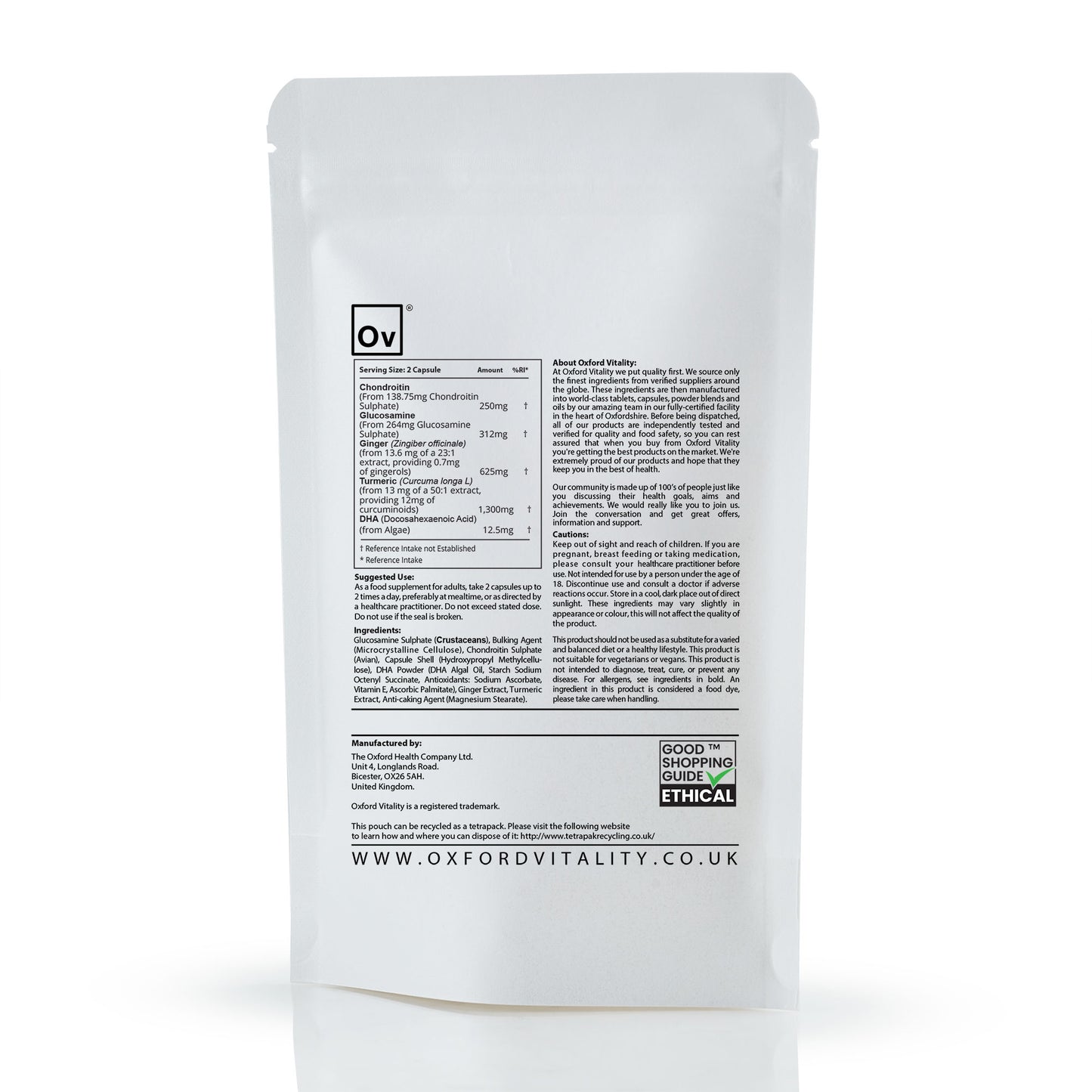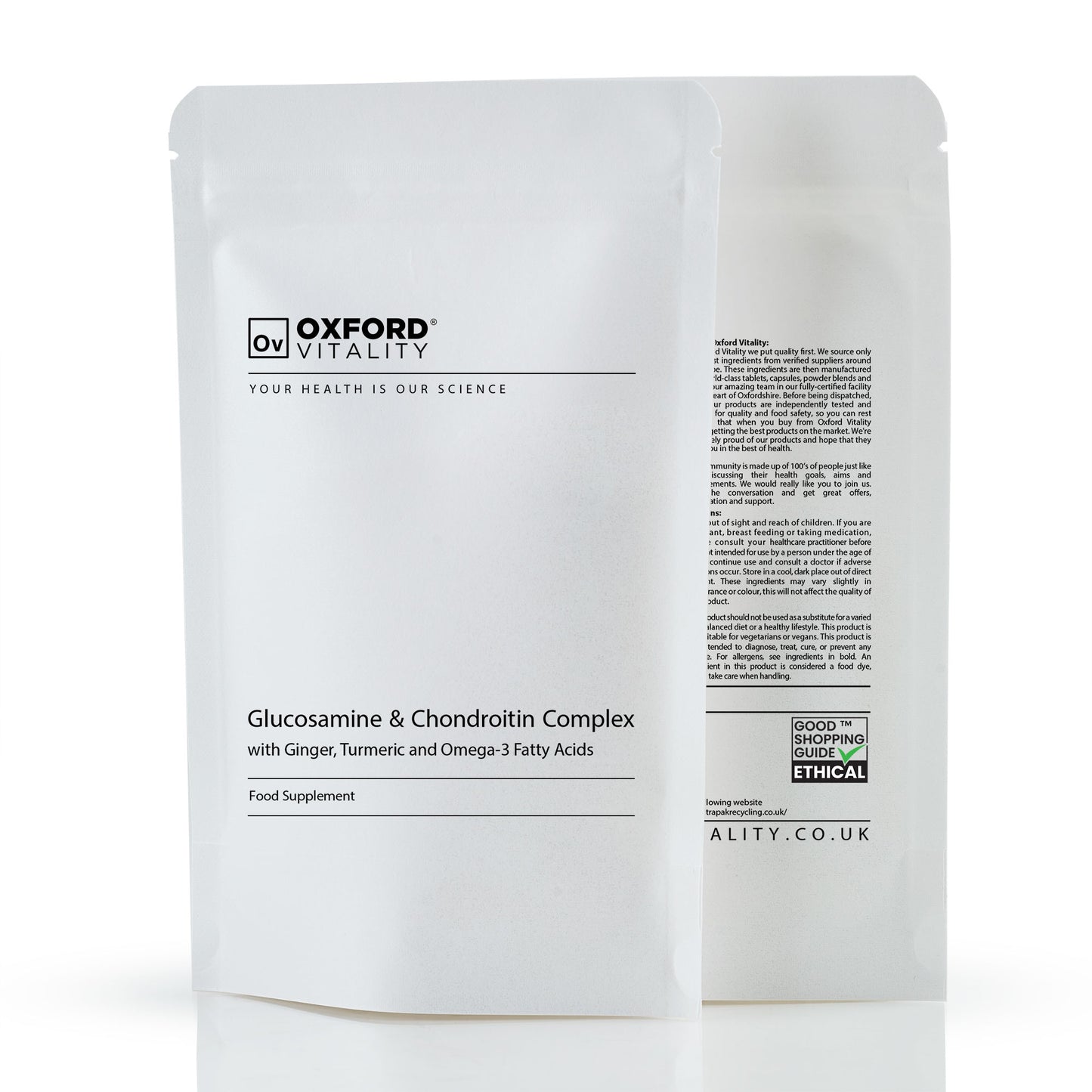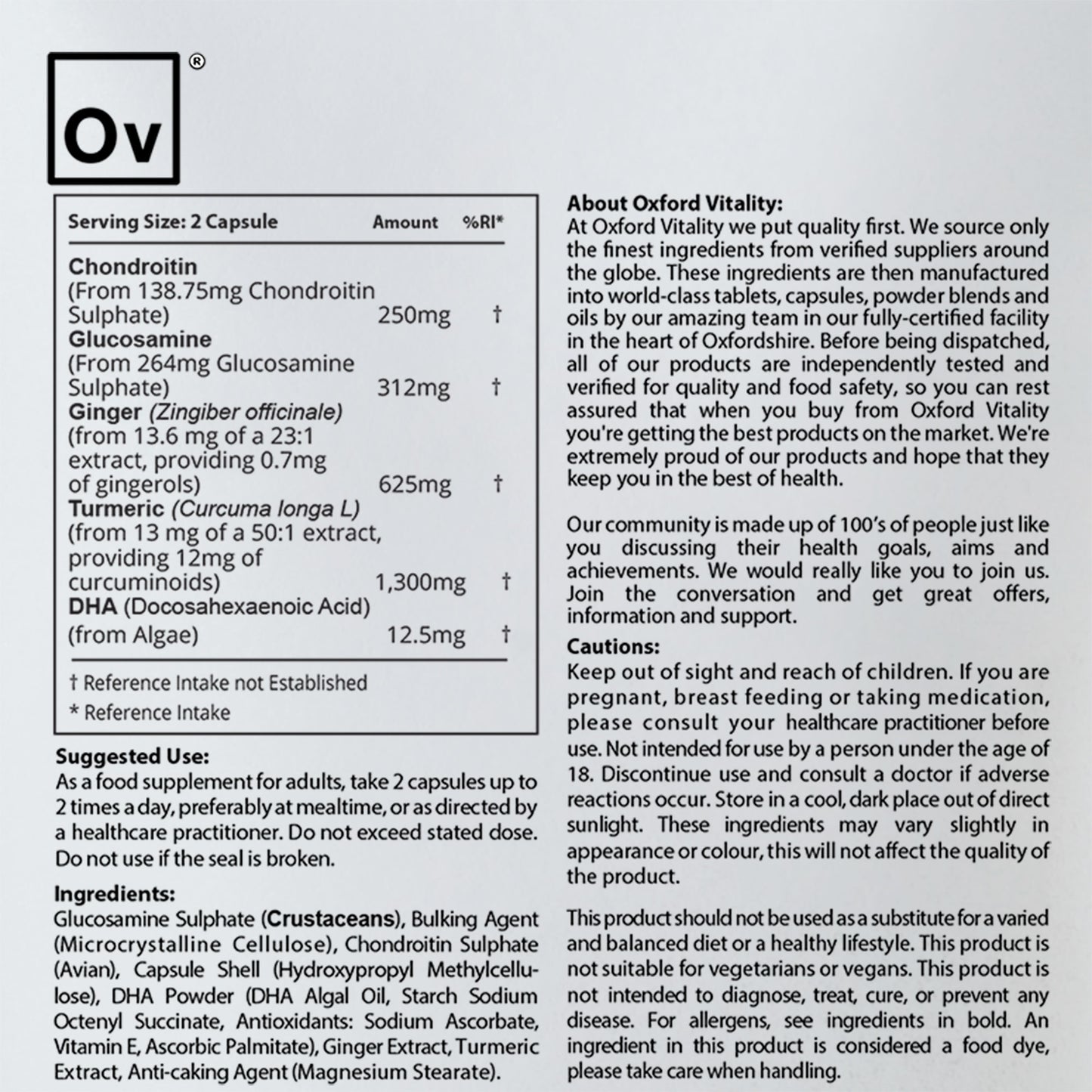 Brilliant
So relieved this is back in stock. I really feels it helps with my finger and thumb joints by reducing their general achiness.
Leaves a bad after taste sensation in your mouth
We have been using the Glucosamine, Chondroitin tablets for a few years with no problems, but as you no longer stock them we thought we would try these tablets with Ginger, Turmeric and Omega-3 added. Sadly I have bought 2 packs of 365 and both myself and my wife cannot stand the sensation they leave in your mouth.
As you do not stock the original pills any more we shall have to go elsewhere to buy them.
Glucosamine & Chondroitin
These tablets are very large and I have to cut them in half to swallow them
Excellent service and timely delivery from Oxford vitality. Delay caused by new custom rules
Such a shame
I recently started this product and was aware of the warning about it being a large oblong tablet. I have never had a problem with swallowing large medication but I'm afraid this has beaten me and I've had to stop taking it. It's a greater shame as I really felt it made a difference to my arthritic Knees. I really tried with them and was drinking 2ltr of water to was them down even with breaking them in half. Please please put an outside coating on them to help them slide down my throat as you have an excellent product that people are not going to be able to use.
Collapsible content
Shipping & Returns

Shipping is via Royal Mail 1st Class We dispatch orders on weekdays up to 5 pm. Royal mail quote delivery times 1-2 days for 1st class and 2-3 days for 2nd class. Delays can happen, If delivery takes more than 5 working days for a UK order - please contact us immediately. For Europe, orders can take 10-14 Days. We are sorry but we do not dispatch our products to the rest of the world. We apologise for this lengthy period of time, unfortunately, express courier services are uneconomical to use with low priced products.

Please note, we DO NOT quote shipping. We will only make refunds where refunds are due. We apologise this process can not be more simple. Customs Declarations: We declare the value of all products as £15 - This is our average order cost and should not cause import duties or tax by your customs. All orders will be labelled generically as "Dietary Supplements".

To return an item, please dispatch it in its original wrapping and accompanied by a note outlining your name, address and reason for return. If you do decide that you would like to return your item, please have a look under the " terms and condition" page.