Regular price
Sale price
$10.69 USD
Unit price
per
Sale
Sold out
What does each tablet of our multivitamins for men under 50 contain? 
Water-Soluble Vitamins:
The water-soluble vitamins include vitamin C, and all of the B vitamins: thiamin (B1), riboflavin (B2), niacin (B3), pantothenic acid (B5), pyridoxine (B6), biotin (B7), folate (B9) and vitamin B12.
Vitamin C:
Vitamin C can be found in peppers, broccoli, citrus fruits, strawberries, tomatoes, and green leafy vegetables. Vitamin C is lost when exposed to heat and air. 
Vitamin B was initially thought to be a single substance. It wasn't until the 1920s that the water-soluble vitamin was grouped into several different substances. B vitamins are important for the functioning of many organs and bodily systems and each one has its unique function.
Fat-Soluble Vitamins:
Vitamins A, D, E, and K are known as fat-soluble vitamins, due to the fact that they are soluble in organic solvents and are absorbed in a way similar to that of fats.
Vitamin A only occurs only in foods of animal origin (liver, butter, milk, and eggs) However, carotenoids such as β-carotene can be converted to vitamin A in our bodies.
Vitamin D also occurs in animal products (liver, butter, fatty fish, eggs).
Vitamin E can be found in vegetable oils, nuts, seeds, and whole grains.
Vitamin K1 is synthesized by plants, while vitamin K2 is synthesized by our gut bacteria. K1 is found in green leafy vegetables, fruit, cereals, dairy, and meat.
Minerals:
Mineral salts are the micronutrients largely responsible for structural functions of the skeleton, different regulatory functions, blood clotting, oxygen transport, and enzyme activity. Calcium and Magnesium are required in large amounts and are also called macrominerals. The minerals needed in smaller amounts are known as trace elements - these include Iron, Zinc, Copper, Se, Chromium, Iodine and Molybdenum
Coenzyme Q10
Coenzyme Q10, or Ubiquinone as it is also known, is found in most human cells, mainly within the heart, liver, kidney and pancreas. The coenzyme is a vitamin-like substance that was first identified in 1957. Coenzyme Q10 is naturally produced by our bodies but production levels decrease as we age. Coenzyme Q10 is commonly found in the membranes of the mitochondria - an organelle of the cell that acts as the powerhouse of the cell by producing energy (ATP)
What are the benefits of this multivitamin?
Immune function: 
Vitamins A, D, C, B6, B9, and B12, together with Copper and Iron, support the normal functioning of the immune system.
Cardiovascular system:
B1 contributes to the normal functioning of the heart.
Vitamin B6 and B12, in addition to Iron, support normal red blood cell formation, while Vitamin B2 plays a role in the maintenance of normal red blood cells. 
Vitamin K and Calcium contribute to normal blood clotting.
Bone and teeth health: 
Vitamins D and K, along with Calcium, Magnesium, and Manganese, support the maintenance of normal bones.
Vitamin D, Calcium, and Magnesium play a role in the maintenance of normal teeth.
Vitamin D contributes to the normal absorption and utilisation of Calcium and Phosphorus, and also supports the maintenance of normal blood calcium levels.
Muscle function:
Vitamin D, Calcium, and Magnesium support the maintenance of normal muscle function.
Collagen formation: 
Vitamin C contributes to normal collagen formation for the normal functioning of blood vessels, bones, cartilage, gums, skin, and teeth.
Metabolism:
Vitamins C, B1, B2, B3, B5, B6, B12, Biotin in addition to Calcium and Copper, support the normal energy-yielding metabolism.
Vitamin B6 plays a role in normal cysteine synthesis, homocysteine, and glycogen metabolism. 
Vitamin B9 contributes to normal amino acid synthesis, while Magnesium and Zinc support normal protein synthesis.
Biotin and Zinc contribute to the normal metabolism of macronutrients.
Vision
: 
Vitamins A and B2, in addition to  Zinc, contribute to normal vision.
Digestion:
Calcium supports the normal functioning of digestive enzymes.
Hormonal activity: 
Vitamin B6 supports the regulation of hormonal activity.
Selenium and Iodine both support normal thyroid function, while Zinc also plays a role in the normal production of thyroid hormones.
Zinc contributes to the maintenance of normal testosterone levels in the blood
Fertility:
Selenium supports normal spermatogenesis, while Zinc contributes to normal fertility and reproduction.
Nervous system:
Vitamins C, B1, B2, B3, B6, and B12, along with Biotin, Copper, and Iodine, contribute to the normal functioning of the nervous system.
Mental health and cognitive function:
Vitamin B5 contributes to normal mental performance, while Iodine, Iron, and Zinc support normal cognitive function.
Skin and cell integrity: 
Vitamins A, B2, B3, Biotin, along with Iodine and Zinc, play a role in the maintenance of normal skin
Healthy hair:
Biotin, Selenium, and Zinc support the maintenance of normal hair, while Copper also contributes to normal hair pigmentation.
Oxidative damage: 
Vitamins E, C, and B2, in addition to Copper, Manganese, and Zinc, play a role in the protection of cells from oxidative stress.
Tiredness and fatigue:
Vitamins C, B2, B3, B5, B6, B9, B12, along with Iron and Magnesium, contribute to the reduction of tiredness and fatigue.
Warning:
May contain soya.
View full details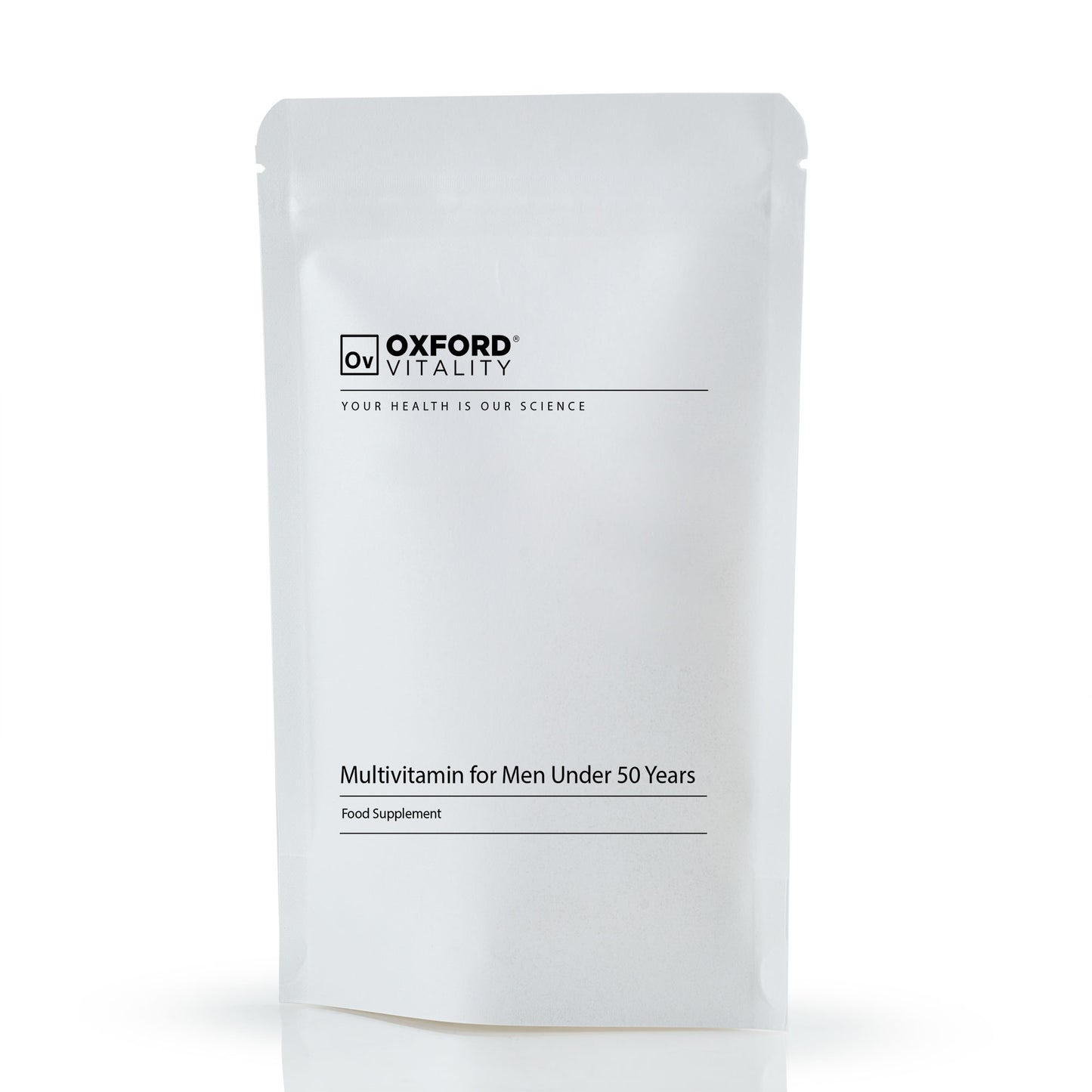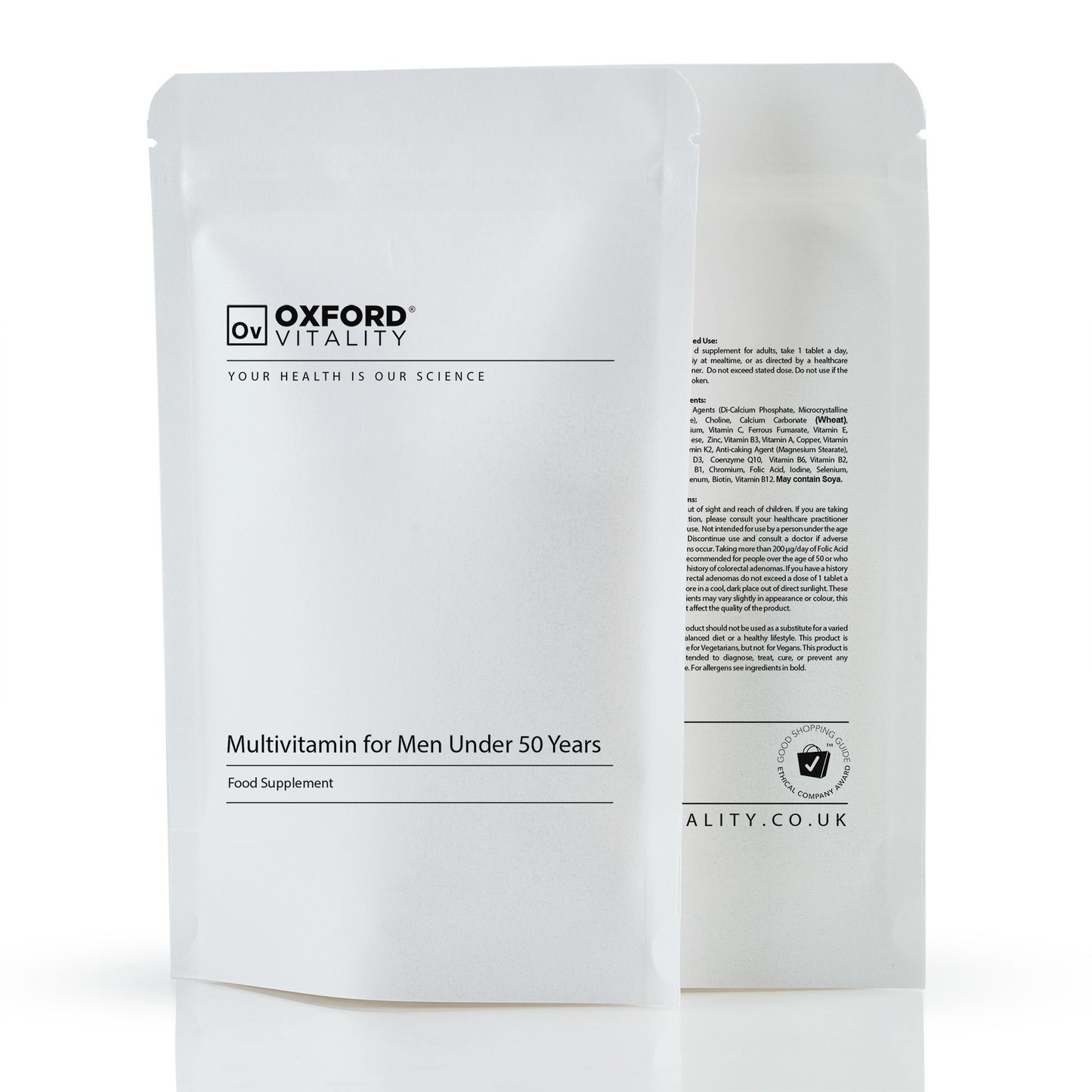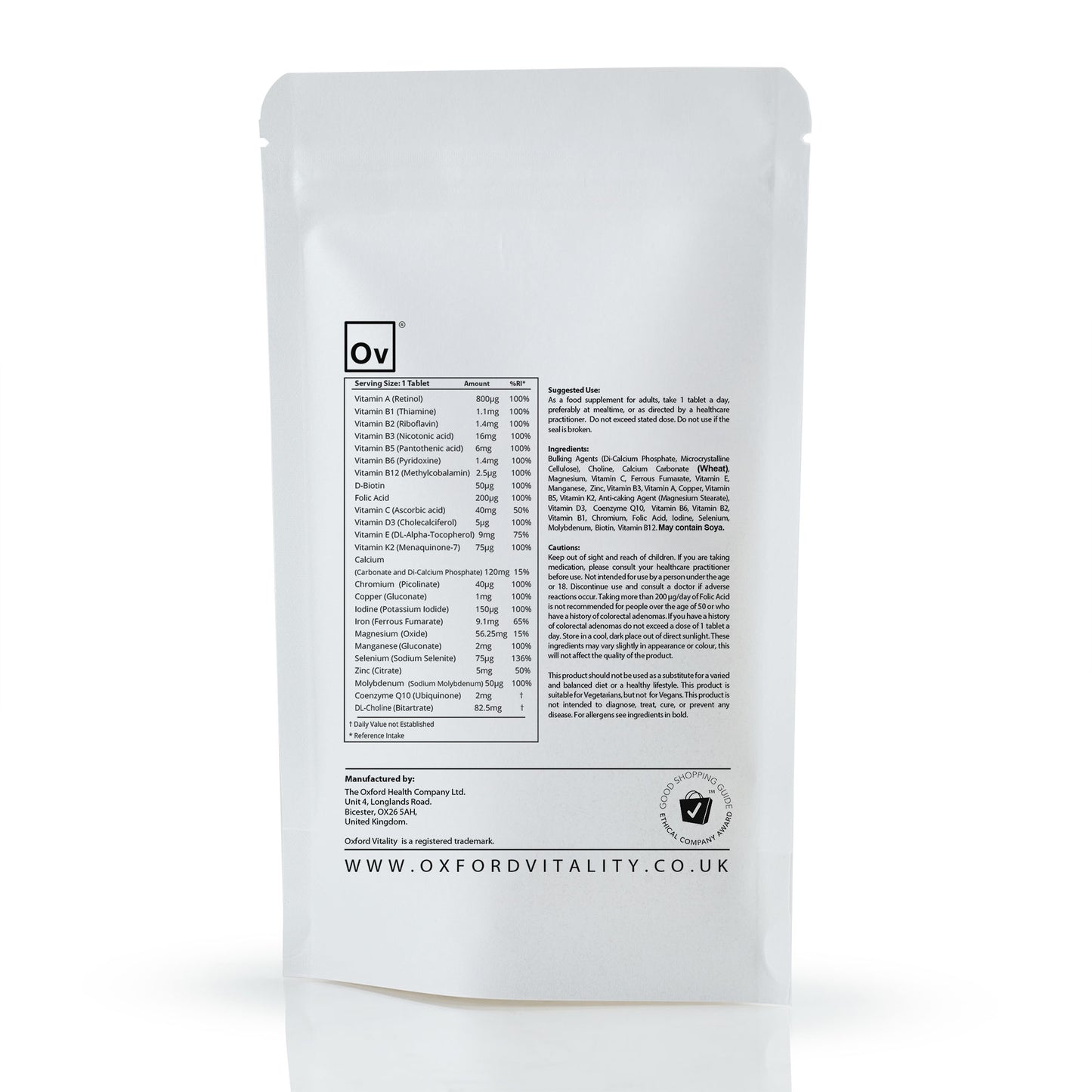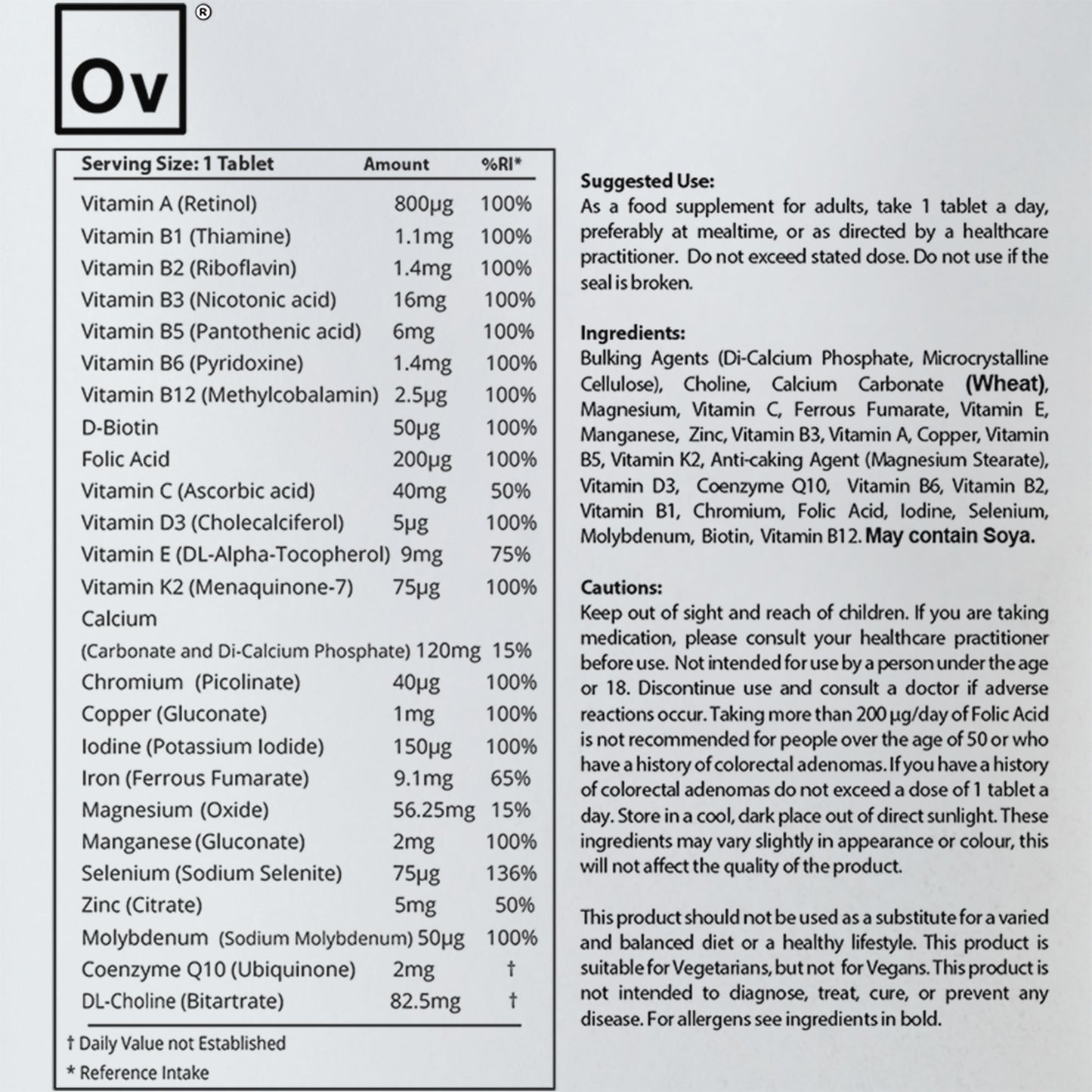 Really bad taste and smell
They might be good for your body but the smell and taste/after-taste make my gag reflex kick in.
Also pretty hard to swallow, although that's a common problem for me.
Would be really great if Oxfor Vitality made a capsule version which would most likely fix all of my complaints.
Great multivitiamin
I have been looking at various vitamins before and came across Oxford vitality since the measurements of their products were good.
There is a complete guide to nutrition form the W.H.O. which I researched as some suppliments dont have good measurements. (Vitamin and mineral requirements in human nutrition)
Since I know what vitamins I need and how much, there was no difference in my case other than having to take less tablets.
Obviously you won't notice a difference unless your diet lacks the nutrition you need.
They've given me a boost.
I've taken vitamins for a few years now and the seem to make a difference but I wasn't expecting such a boost from the multivitamins. Very impressed.
Collapsible content
Shipping & Returns

Shipping is via Royal Mail 1st Class We dispatch orders on weekdays up to 5 pm. Royal mail quote delivery times 1-2 days for 1st class and 2-3 days for 2nd class. Delays can happen, If delivery takes more than 5 working days for a UK order - please contact us immediately. For Europe, orders can take 10-14 Days. We are sorry but we do not dispatch our products to the rest of the world. We apologise for this lengthy period of time, unfortunately, express courier services are uneconomical to use with low priced products.

Please note, we DO NOT quote shipping. We will only make refunds where refunds are due. We apologise this process can not be more simple. Customs Declarations: We declare the value of all products as £15 - This is our average order cost and should not cause import duties or tax by your customs. All orders will be labelled generically as "Dietary Supplements".

To return an item, please dispatch it in its original wrapping and accompanied by a note outlining your name, address and reason for return. If you do decide that you would like to return your item, please have a look under the " terms and condition" page.