Regular price
Sale price
$8.55 USD
Unit price
per
Sale
Sold out
Our Multivitamin tablets contain a formulation of 13 ingredients to benefit your health. This tablet contains the following: Vitamins A, B1, B2, B3, B5, B6, B12, C, D3, E, K2, Biotin and Folic Acid.
Vitamin A
Vitamin A was first discovered in 1912 by Gowland Hopkins, a man who also identified and isolated the amino acid, Tryptophan. The vitamin has two forms: retinol and carotenoids. Retinol is the form of Vitamin A that is found in animal-based foods, and carotenoids found in plant-based food sources. Carotenoids are pigments that not only colour foods but act as precursor molecules to Vitamin A meaning they are converted into Vitamin A. Our Multivitamin tablets contain retinol. The primary role of Vitamin A is to support the maintenance of normal vision. The vitamin also plays a role in the metabolism of Iron. Additionally, Vitamin A contributes to the maintenance of mucous membrane.
The B Vitamins
All B vitamins are water-soluble and are particularly prone to be lost when cooking.
Vitamin B1 (Thiamin) 
Vitamin B1 is found in whole grains, nuts, fruit and vegetables.
Vitamin B2 (Riboflavin)
Vitamin B2 naturally occurs in milk, eggs, fortified cereals and rice, playing a role in the maintenance of red blood cells, which transport oxygen around the body. The vitamin also contributes to the functioning of the nervous system and the maintenance of skin and vision. 
Vitamin B3 (Niacin)
Vitamin B3 can be found in meat, fish, eggs, milk and wheat products. Vitamin B3 contributes to the reduction of tiredness and fatigue, assists in normal energy-yielding metabolism and the maintenance of the mucous membranes. Niacin also contributes to normal psychological functions.
Vitamin B5 (Pantothenic Acid)
Vitamin B5 is found in peanuts, cashews, broccoli and avocado, as well as the less widely consumed organ meats such as the liver. The vitamin plays a role in the synthesis and metabolism of steroid hormones, Vitamin D and some neurotransmitters, contributing to normal mental performance.
Vitamin B6 (Pyridoxine)
Vitamin B6 is available in 3 main forms: Pyridoxine, Pyridoxal and Pyridoxamine. Our Multivitamin tablets contain Pyridoxine which is found naturally in pork, poultry, fish, whole grains, eggs, soybean and milk. The vitamin contributes to the normal synthesis of two amino acids, cysteine and homocysteine, as well as the metabolism of protein, glycogen (a type of carbohydrate) and energy to contribute to the reduction of tiredness and fatigue. Vitamin B6 also contributes towards the normal formation of red blood cells and the regulation of hormonal activity.
Vitamin B12 (cobalamin)
Vitamin B12 is the last B vitamin included in these tablets. There are four forms of Vitamin B12 - this tablet contains cyanocobalamin, sourced from the fermentation of Pseudomonas denitrificans. Vitamin B12 is primarily only sourced from foods of animal origin, although it is often fortified in plant-based milk. Our bodies can store up to 4 years worth of Vitamin B12. The vitamin supports the formation of red blood cells and the metabolism of energy to reduce fatigue and tiredness. Vitamin B12 also contributes to the normal synthesis of homocysteine, an amino acid which forms a building block of protein.
Vitamin C
Vitamin C is one of the more well-known vitamins, also referred to as Ascorbic Acid. The vitamin is found in spinach, red peppers, potatoes, citrus fruits and tomatoes. The vitamin is a potent antioxidant, hence its function is to contribute to the protection of DNA, proteins and lipids from harmful oxidative damage caused by free radicals. Vitamin C also plays a role in the promotion of the normal function of the immune system and the nervous system to contribute to the reduction of  fatigue.
Vitamin D3
Vitamin D is a fat-soluble vitamin which is stored in the body's fat cells. There are two main forms of Vitamin D; Vitamin D2 (Ergocalciferol) and Vitamin D3 (Cholecalciferol). Our tablets contain Vitamin D3, the form that is produced in large quantities when sunlight hits the surface of our skin. We can also obtain Vitamin D3 through certain dietary sources, such as salmon, tuna, mackerel and egg yolks. Vitamin D supports the absorption of Calcium as both nutrients rely on one another to be absorbed. Vitamin D also contributes to the utilisation and absorption of Phosphorus, and both Calcium and Phosphorus help the maintenance of bones and teeth.
Vitamin E
Vitamin E was discovered in 1922 by a physician and his assistant, Evans and Bishop. The vitamin is another powerful antioxidant that is found in sunflowers, sesame, peanut and corn oil, that plays a role in protecting cells from oxidative stress.
Vitamin K2
Vitamin K2 is sometimes referred to as Menaquinone, one of the three types of Vitamin K. Our Multivitamin tablets contain Vitamin K2-MK7, a long-chain form of the vitamin as opposed to a short-chain version. Vitamin K is produced naturally in the gut and found in an array of foods including green leafy vegetables, cereal grains and vegetable oils. Meat and dairy foods also contain Vitamin K but in smaller amounts.
Biotin
Biotin is also known as Coenzyme R, Vitamin H and, particularly nowadays, Vitamin B7. The Germans originally named Biotin as Vitamin H due to the German term for 'hair and nails', Haar und Haut. The nutrient is found in small quantities in food products and is naturally produced by certain bacteria in the gut. Biotin is often primarily supplemented for its contribution to the maintenance of normal hair, skin and mucous membranes and role within normal energy-yielding metabolism, although the nutrient also supports the normal functioning of the nervous system.
Folic Acid
Folic Acid is the scientific name for what is colloquially known as Vitamin B9. Folic Acid is found in spinach, kale, broccoli, beans, legumes, oranges, wholegrain foods and poultry.
Our Multivitamin tablets
Oxford Vitality has cleverly packed 100% of the NRVs of each ingredient into a small 9mm tablet. Please note that Cobalt (Vitamin B12) is a central component of Cobalamin, therefore we advise you not to purchase this product if you are allergic or sensitive to Cobalt. This product also contains Vitamin A - we advise you not to take this product if you are pregnant or planning to conceive in the near future, except on the advice of a doctor or antenatal clinic.
This product is suitable for vegetarians and vegans.
Please note - we advise you to contact your health professional if you are pregnant, breastfeeding or taking any medication before use. Certain medications may interact with Vitamin K2, including those for diabetes and anti-coagulants, and Vitamin K2 supplements should not be taken alongside these medications.
Taking more than 200mcg/day of Folic Acid is not recommended for people over the age of 50 or who have a history of colorectal adenomas. If over the age of 50 or have a history of colorectal adenomas, do not exceed a dose of 1 tablet a day.
We recommend that both the 500 and 1,000 product options are more suitable for use by more than one person. This is to ensure that you are receiving full use of the product before its expiry date. For one person's use, we recommend the 120 or 240 tablet options.
View full details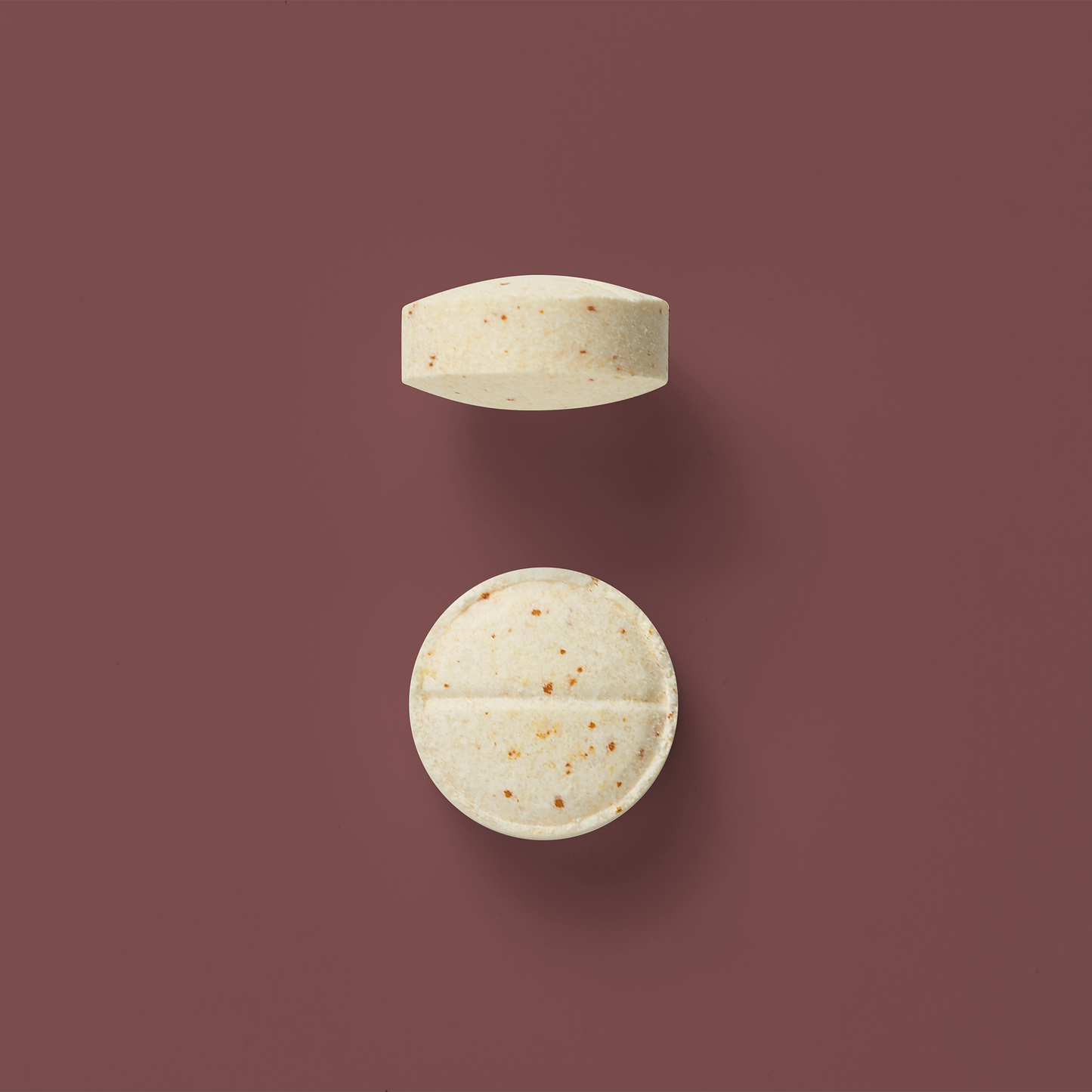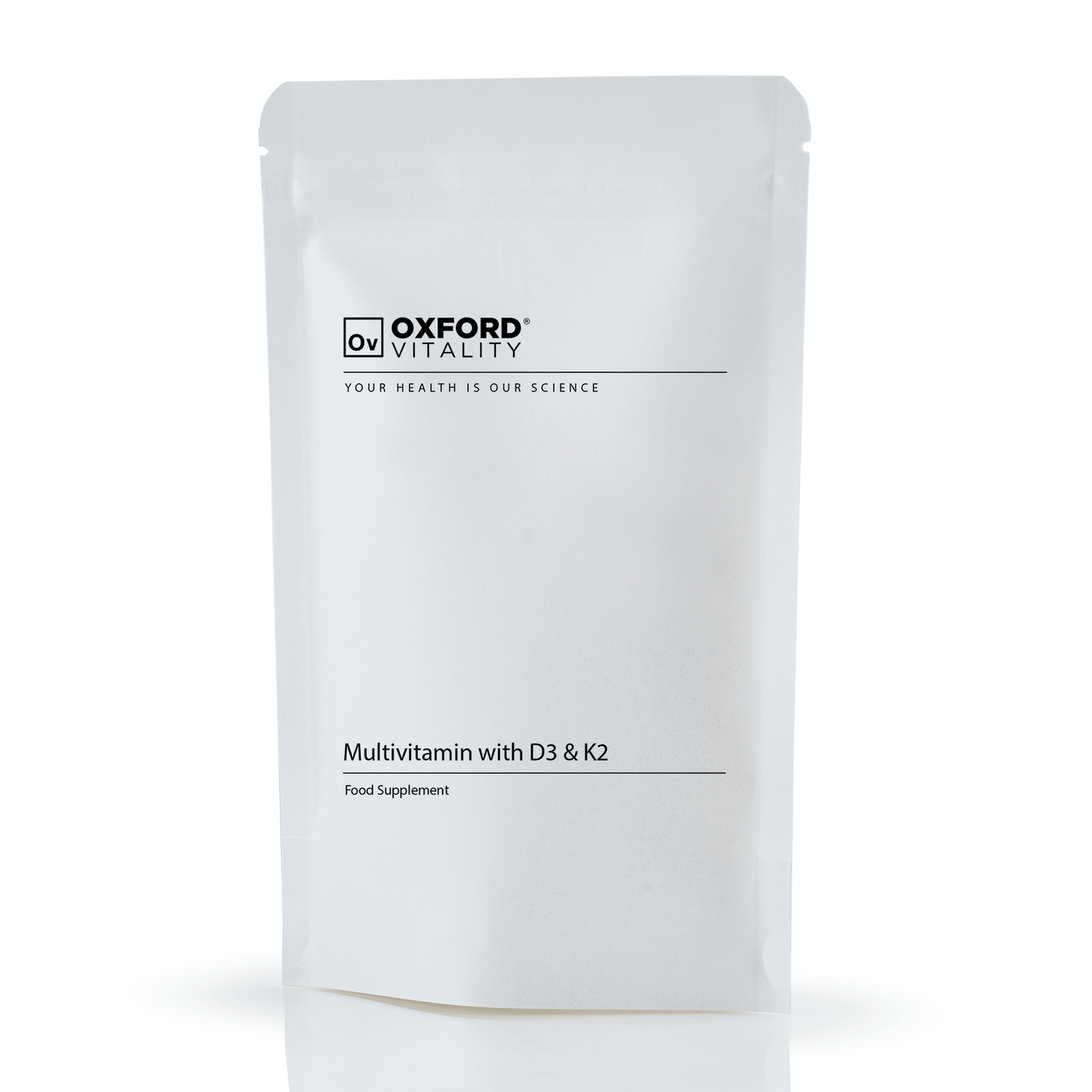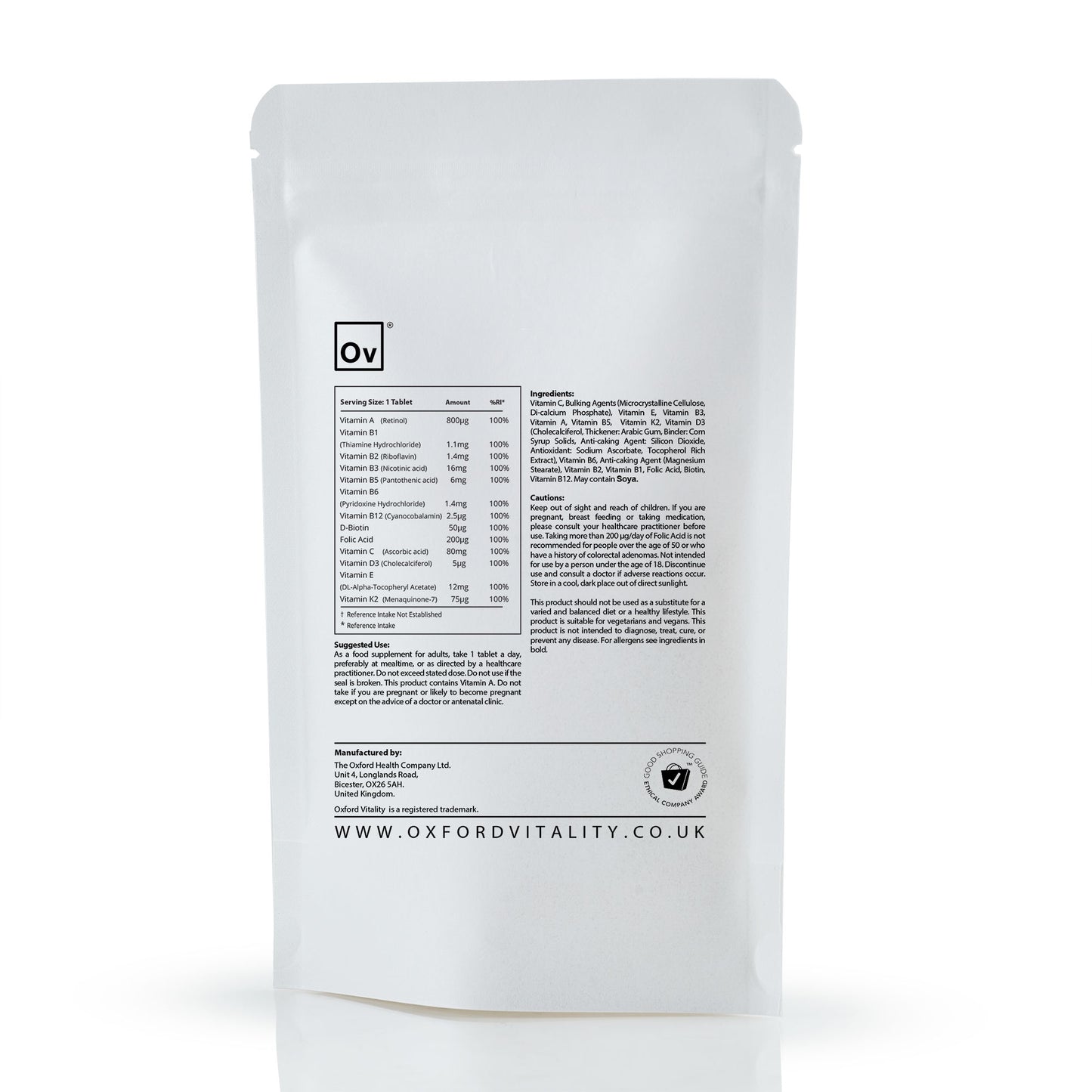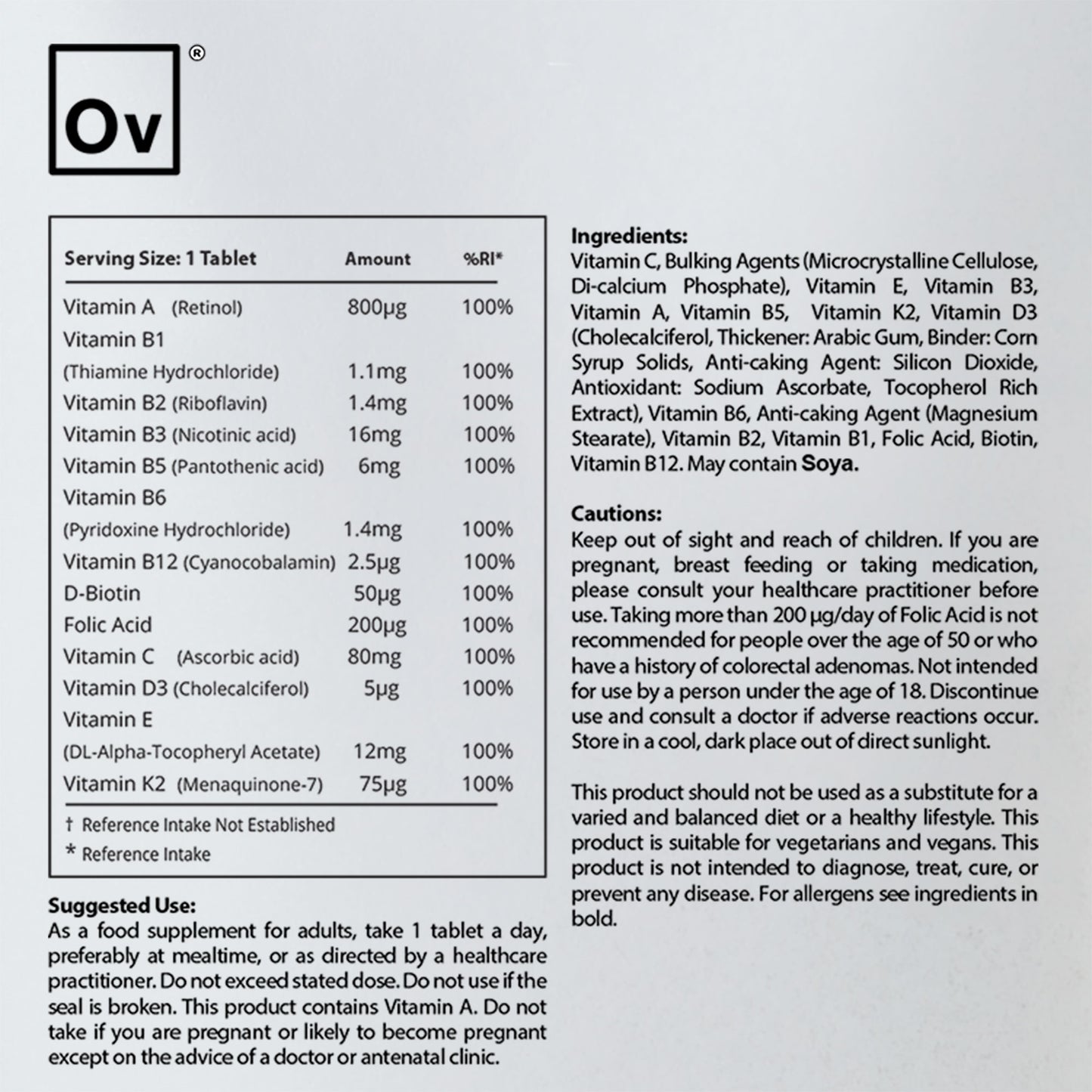 All good
Prompt arrival, and can only hope the multivitamins are doing some good!
Good value multi vitamins
Very prompt delivery. Multi vitamin at a reasonable price, very easy to swallow and great that it is just one per day.
Purchased a week before Christmas and still haven't srrived
Collapsible content
Shipping & Returns

Shipping is via Royal Mail 1st Class We dispatch orders on weekdays up to 5 pm. Royal mail quote delivery times 1-2 days for 1st class and 2-3 days for 2nd class. Delays can happen, If delivery takes more than 5 working days for a UK order - please contact us immediately. For Europe, orders can take 10-14 Days. We are sorry but we do not dispatch our products to the rest of the world. We apologise for this lengthy period of time, unfortunately, express courier services are uneconomical to use with low priced products.

Please note, we DO NOT quote shipping. We will only make refunds where refunds are due. We apologise this process can not be more simple. Customs Declarations: We declare the value of all products as £15 - This is our average order cost and should not cause import duties or tax by your customs. All orders will be labelled generically as "Dietary Supplements".

To return an item, please dispatch it in its original wrapping and accompanied by a note outlining your name, address and reason for return. If you do decide that you would like to return your item, please have a look under the " terms and condition" page.