Regular price
Sale price
$22.56 USD
Unit price
per
Sale
Sold out
The reproductive life cycle of younger women, such as menstruation, pregnancy, breastfeeding and perimenopause, increases nutritional demands. Hormonal changes during these cycles increase energy intake and micronutrient requirements. As these processes use up a lot of energy and create major changes, it is important to look after the body to ensure general wellbeing when they are happening.
What are the benefits of this multivitamin?
Hormonal activity: 
Vitamin B6 supports the regulation of hormonal activity.
Selenium and Iodine both support normal thyroid function.
Fertility:
Zinc contributes to normal fertility and reproduction.
Healthy hair: 
Selenium and Zinc support the maintenance of normal hair, while Copper also contributes to normal hair pigmentation.
Antioxidant Properties: 
Vitamins E, C and B2, in addition to Copper, Manganese and Zinc, play a role in the protection of cells from oxidative stress.
Tiredness and fatigue:
Vitamins C, B2, B6, B12, along with Iron and Magnesium, contribute to the reduction of tiredness and fatigue.
Immune function: 
Vitamins A, D, C, B6, and B12, together with Copper and Iron, support the normal functioning of the immune system.
Metabolism:
Vitamins C, B1, B2, B6, B12, in addition to Calcium and Copper, support the normal energy-yielding metabolism.
Biotin, Chromium, and Zinc contribute to the normal metabolism of macronutrients.
Cognitive function:
Iodine, Iron and Zinc support normal cognitive function.
Cardiovascular system:
Vitamin B6 and B12, in addition to Iron, support normal red blood cell formation, while Vitamin B2 plays a role in the maintenance of normal red blood cells. 
Vitamin K and Calcium contribute to normal blood clotting.
Chromium contributes to the maintenance of normal blood glucose levels.
Potassium contributes to the maintenance of normal blood pressure.
Collagen formation: 
Vitamin C contributes to normal collagen formation for the normal functioning of blood vessels, bones, cartilage, gums, skin and teeth.
Please note -  our Multivitamin is suitable for Vegetarians but not for Vegans.
This product contains Wheat. May contain Soya.
Safety Information: Keep out of sight and reach of children. If you are pregnant, breastfeeding, or taking medication[s] please consult your healthcare practitioner before use. Not intended for use by persons under the age of 18. Discontinue use and consult a doctor if adverse reactions occur. This product should not be used as a substitute for a varied and balanced diet or a healthy lifestyle. Do not exceed stated dose. This product is not intended to treat, diagnose, cure or prevent any kind of illness. Taking more than 200μg/day of Folic Acid is not recommended for people over the age of 50, or who have a history of colorectal adenomas. If over the age of 50 or who have a history of colorectal adenomas do not exceed a dose of 1 tablet a day.

View full details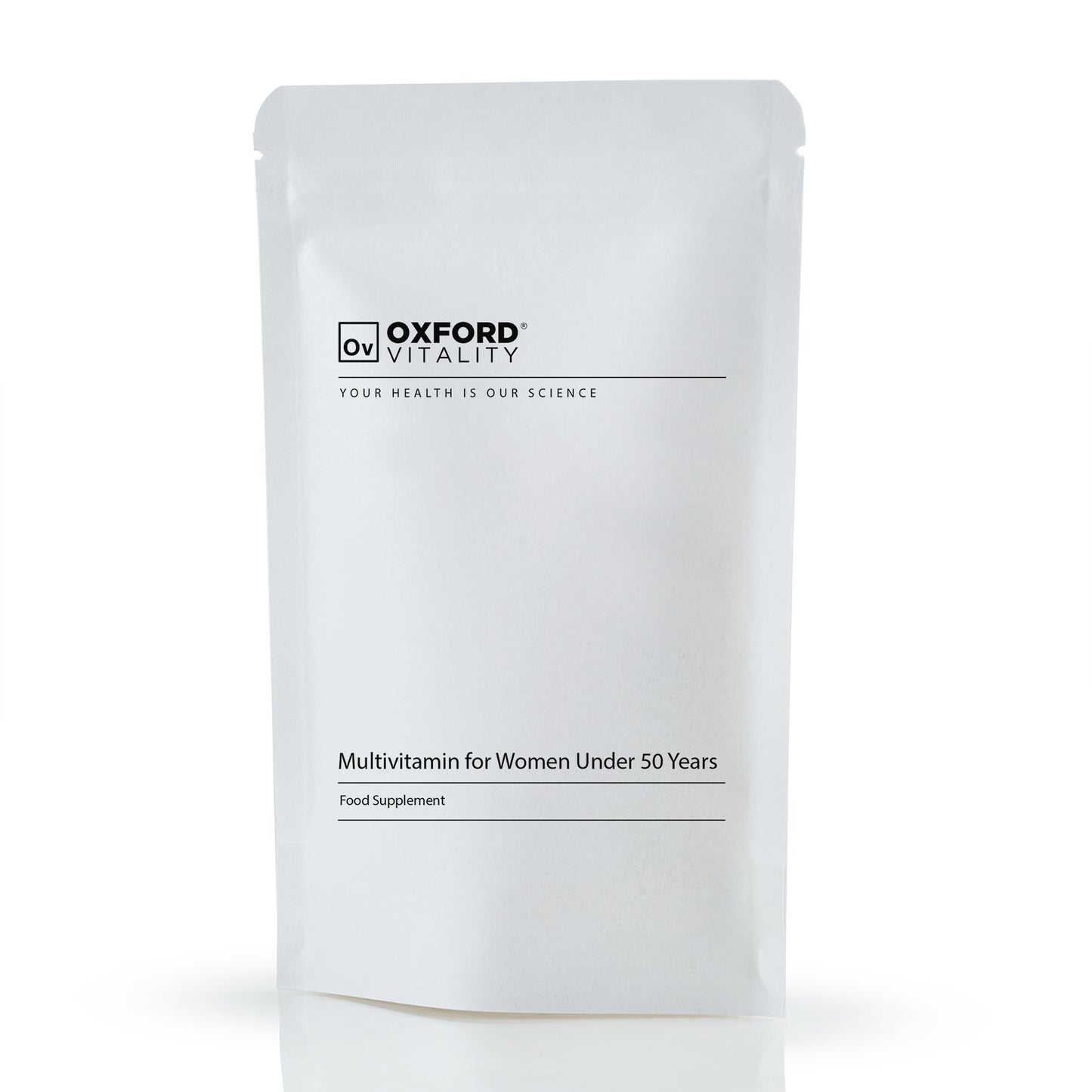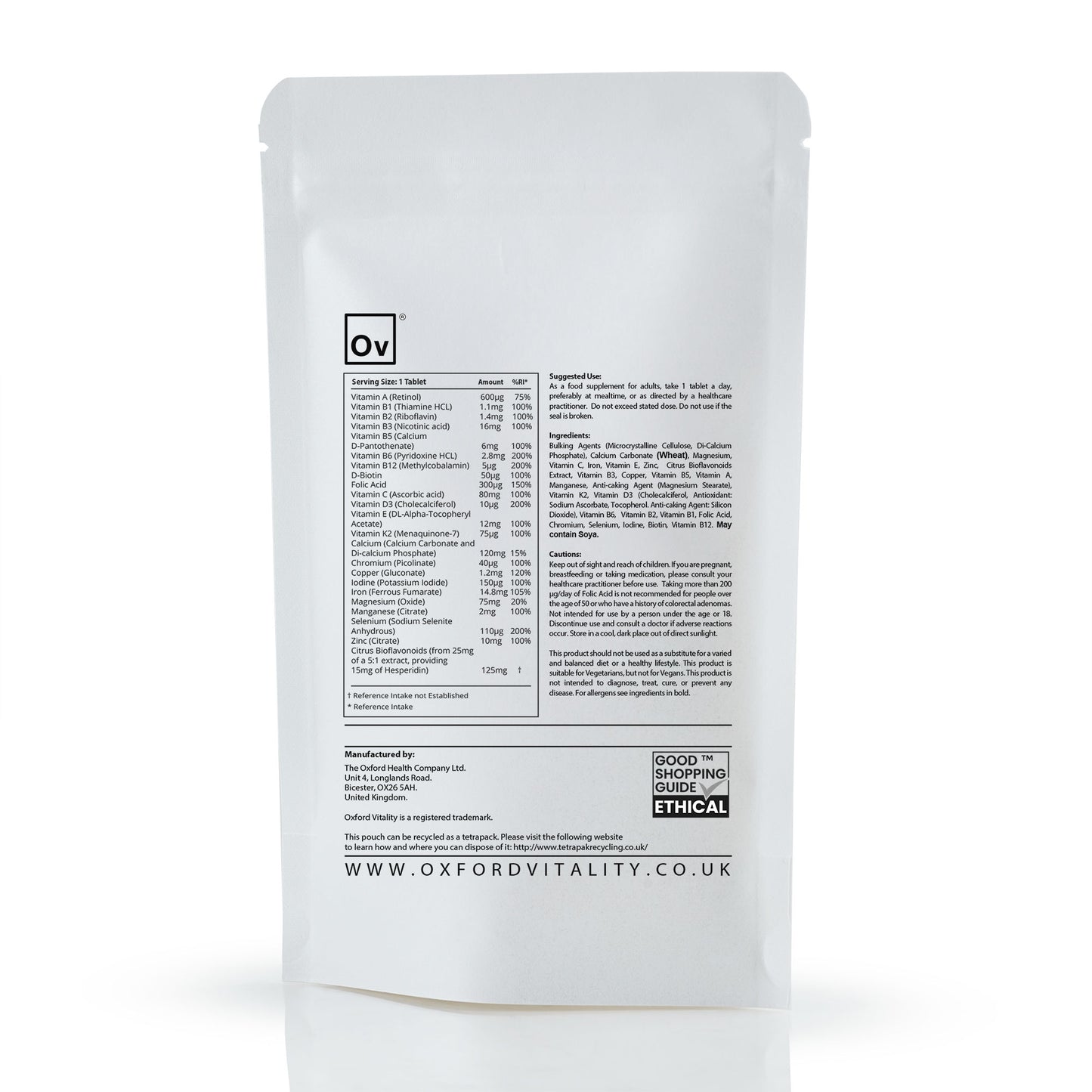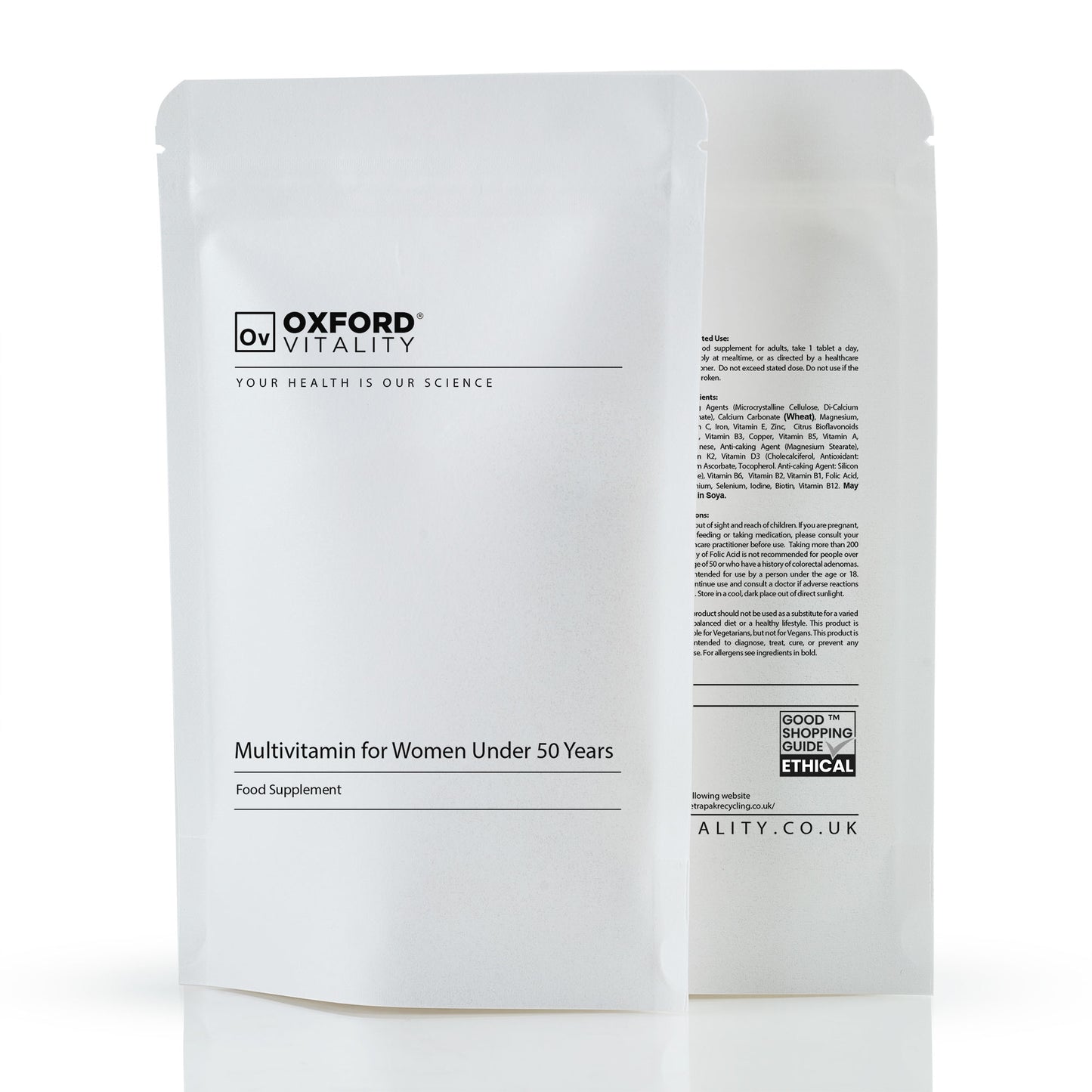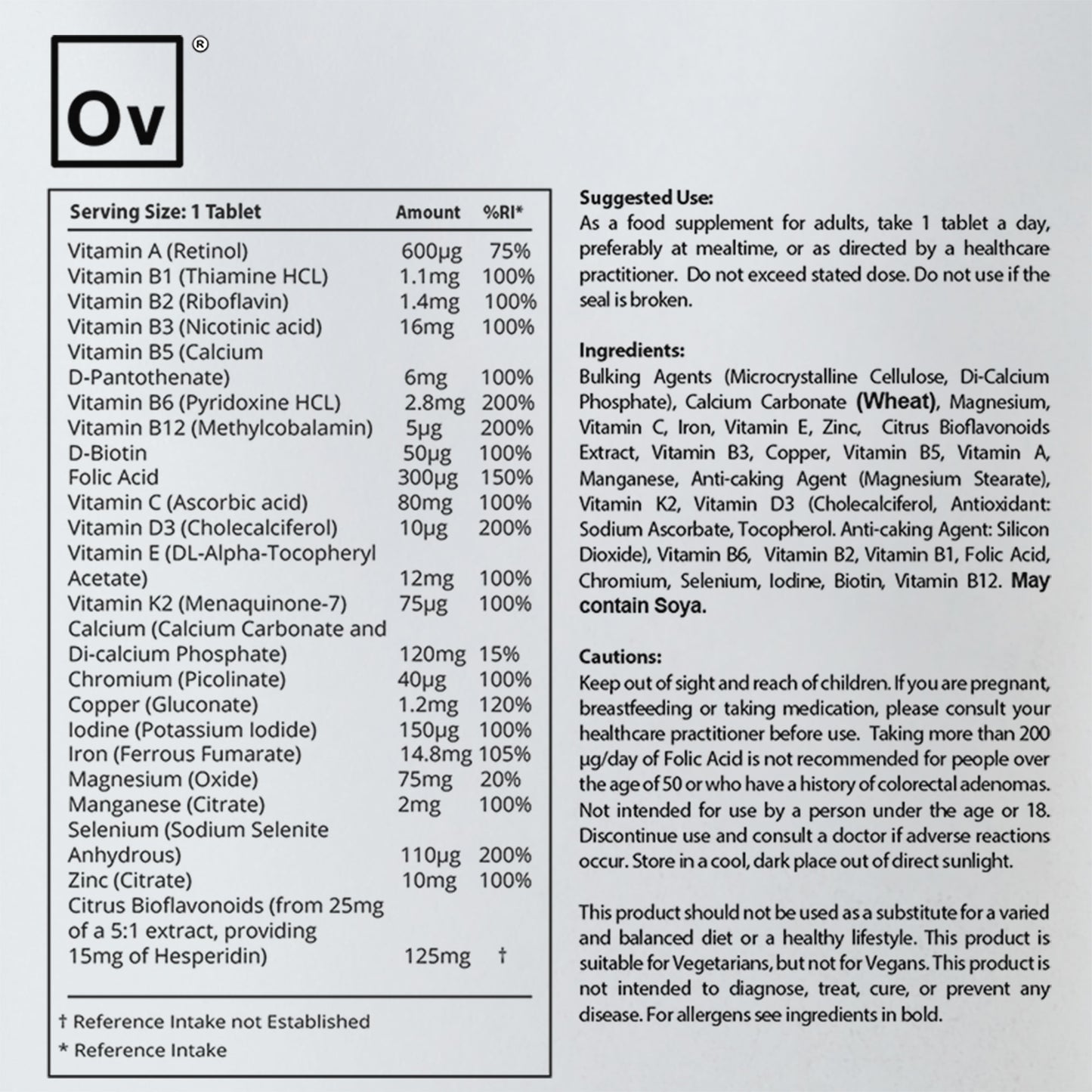 Everything you need in one tablet
I bought these for my daughter who is going to study abroad. It's too early to say if they work.
Great so far!
I'm taking these vitamins for general health and I can't say I've noticed any drastic differences. I chose Oxford Vitality for multivitamins because I noticed that most other multivitamins give you like 5000% of your daily value of each vitamin, and there's no way that can be good, so I feel comfortable with Oxford Vitality's lower (but still sufficient) daily values. I doubt I get enough vitamins and minerals from my diet, so these are perfect to supplement that.
Allergic reaction
I probably can't blame the vitamin but I had an allergic reaction after taking this pill. I've never had any issues before with vitamins and can't figure out what it could be. I wonder if the RDA is too high.
Really good vitamins
I've been using these for nearly a year and they're the best vitamins I've used. Most vitamins (especially ones targeted at women) go waaay over the RDA for several of the components, like B vitamins, which isn't good for you over prolonged periods of time.
The vitamins are also a true 'A-Z' and don't skip on any of the micronutrients like a lot of multivitamins do. I do have to top up the calcium & magnesium separately, but this is standard for all multivitamins due to how bulky both those minerals are.
I find the tablets very easy to take, they're a good smooth shape, but for anyone who struggles they're also easy to break in half.
Too large to swallow
Too large for me to swallow. I did contact Oxford vitality but had no reply and then was invited to review
Collapsible content
Shipping & Returns

Shipping is via Royal Mail 1st Class We dispatch orders on weekdays up to 5 pm. Royal mail quote delivery times 1-2 days for 1st class and 2-3 days for 2nd class. Delays can happen, If delivery takes more than 5 working days for a UK order - please contact us immediately. For Europe, orders can take 10-14 Days. We are sorry but we do not dispatch our products to the rest of the world. We apologise for this lengthy period of time, unfortunately, express courier services are uneconomical to use with low priced products.

Please note, we DO NOT quote shipping. We will only make refunds where refunds are due. We apologise this process can not be more simple. Customs Declarations: We declare the value of all products as £15 - This is our average order cost and should not cause import duties or tax by your customs. All orders will be labelled generically as "Dietary Supplements".

To return an item, please dispatch it in its original wrapping and accompanied by a note outlining your name, address and reason for return. If you do decide that you would like to return your item, please have a look under the " terms and condition" page.