Regular price
Sale price
$12.89 USD
Unit price
per
Sale
Sold out
In each capsule, Tumeric and Black Pepper have been carefully formulated together to enhance the effects of one another. Both ingredients possess anti-oxidative and anti-inflammatory properties and aid the digestive system.
Turmeric
Turmeric is extracted from the root of the Curcuma longa plant which grows in sub-tropical climates. The root is cut, dried and powdered for medicinal use which provides access to the active compound, curcuma. Turmeric is traditionally used in therapeutic medicines to treat sores and heal wounds, particularly in Asia where it is known as the 'warming plant' due to its warming effect such as improving digestion and relieving gas. Nowadays, Turmeric is best known for its antioxidant properties, aiding the health of the liver, joints, bones and upper respiratory tract. Turmeric also aids cardiovascular health by stimulating normal blood flow. In addition, the root maintains appetite and settles feelings of discomfort within the gut.
Black Pepper
Black Pepper is colloquially known as the 'king of spices' because it is found in the majority of kitchen cupboards. Black Pepper originates from the berries of the Piper nigrum plant. Although the peppercorns are black, the berries are initially green before they are left to dry, shrivel and develop flavour. Black Pepper has historically had many uses including cooking, medicine and even as a currency. Black Pepper is believed to aid digestion as the food stimulates our taste buds, alerting our stomach to the arrival of food. This causes an increased volume of gastric secretion which aids digestion. As a result, Black Pepper is well known for its ability to help increase the absorption of nutrients and control body weight. Furthermore, Black Pepper stimulates toxin removal, cleaning of the liver and blood circulation through fine blood vessels and capillaries.
Our Organic Turmeric and Black Pepper capsules
For a product to be Organic, the farming system must be free from man-made fertilisers, pesticides, growth regulators and livestock feed additives. Our Organic Turmeric and Black Pepper tablets are certified by the Organic Food Federation and are free from GMO (Genetically Modified Organisms).
Our Organic Turmeric and Black Pepper tablets are sold in four quantities to suit both your nutritional needs and purchasing requirements. 
Turmeric is often used as a food dye and has the ability to stain, please take care when handling.
Please note- we advise you to contact your health professional if you are pregnant, breastfeeding or taking any medications, before use of this product. Certain medications may interact with Turmeric, including those for acid reflux and diabetes, and anti-coagulants. Turmeric supplements should not be taken alongside these medications.  Please discontinue consumption after 3 months usage for at least 2 months. People with bile duct pathologies and liver pathologies should avoid taking this supplement.
We recommend that both the 500 and 1,000 product options are more suitable for use by more than one person. This is to ensure that you are receiving full use of the product before its expiry date. For one person's use, we recommend the 120 or 240 tablet options.
View full details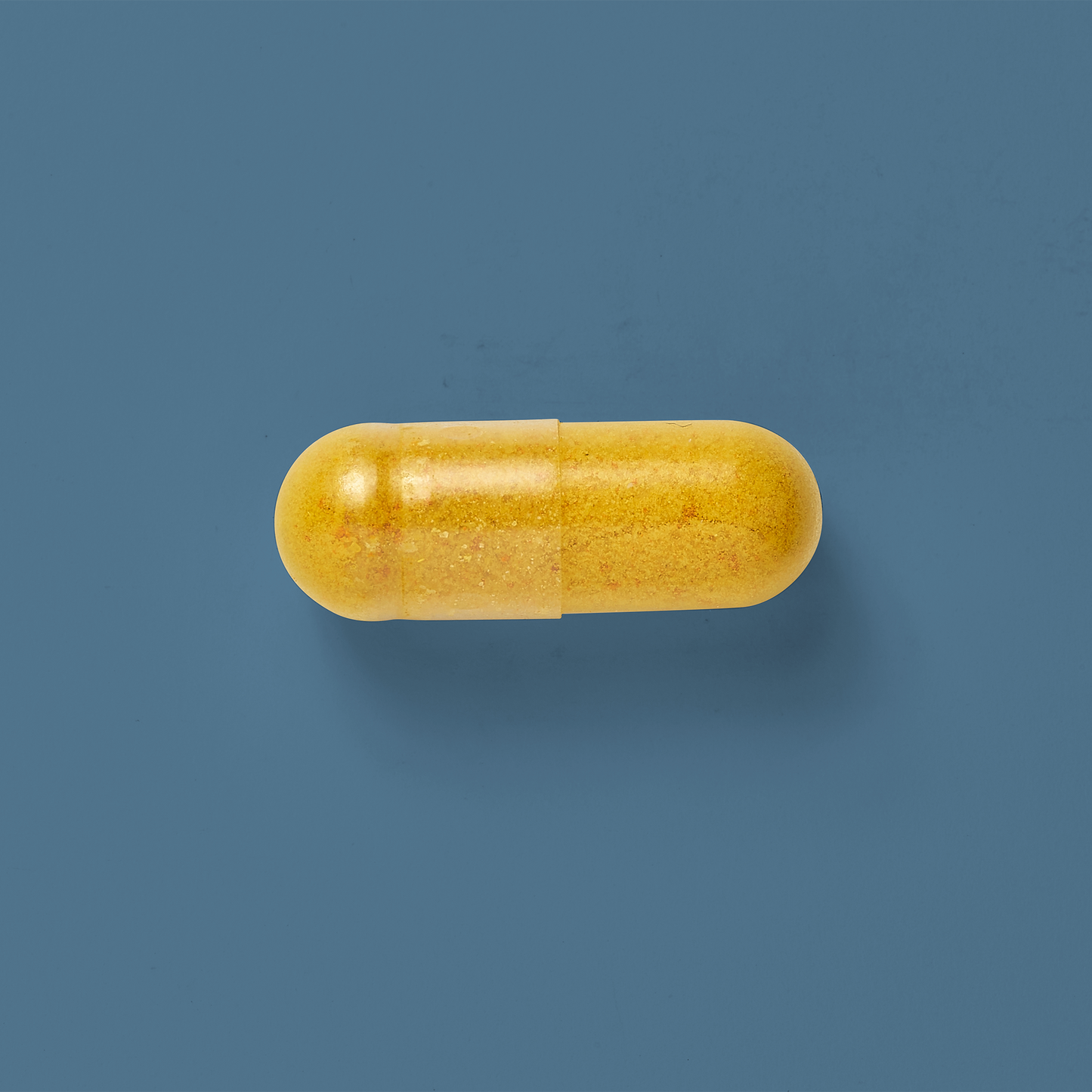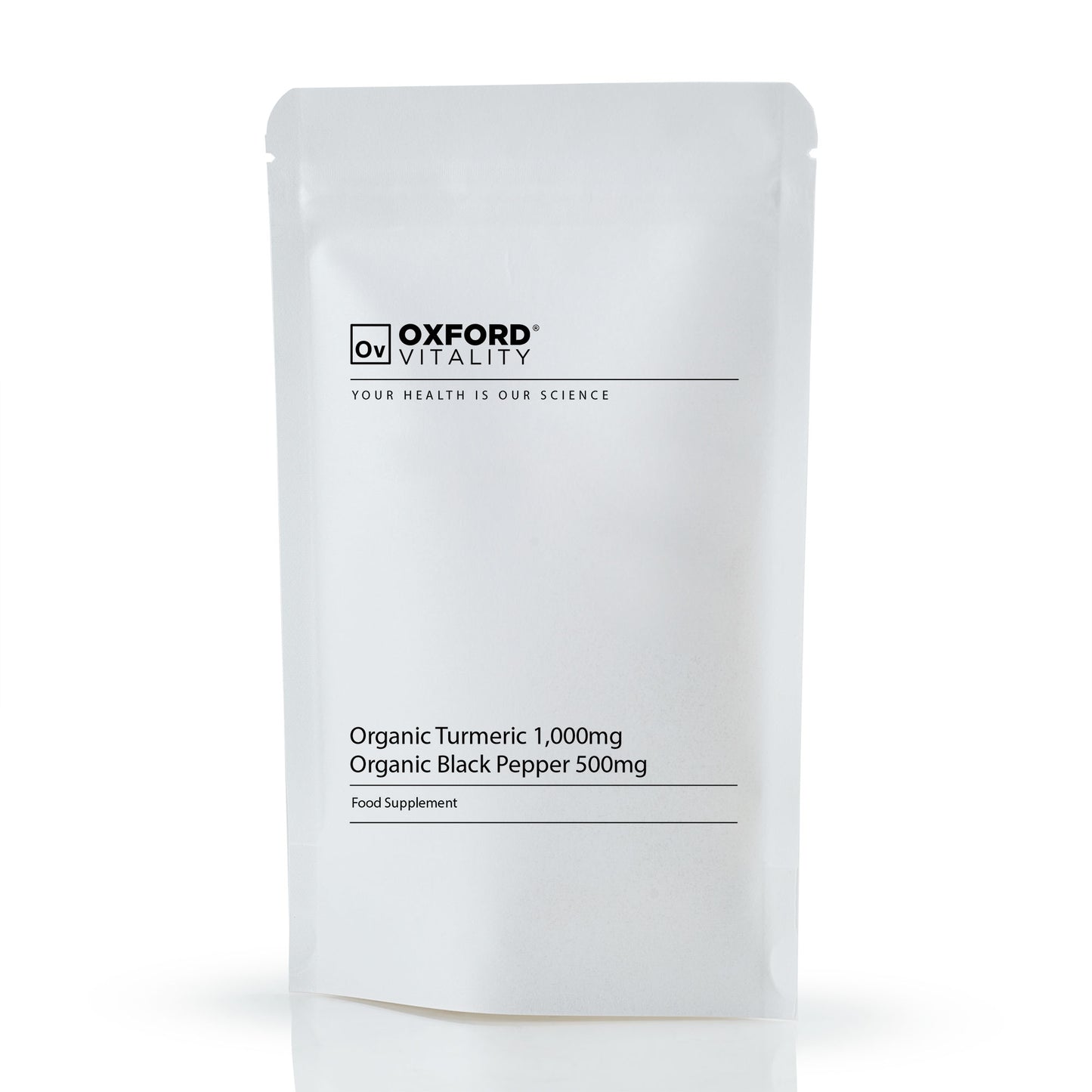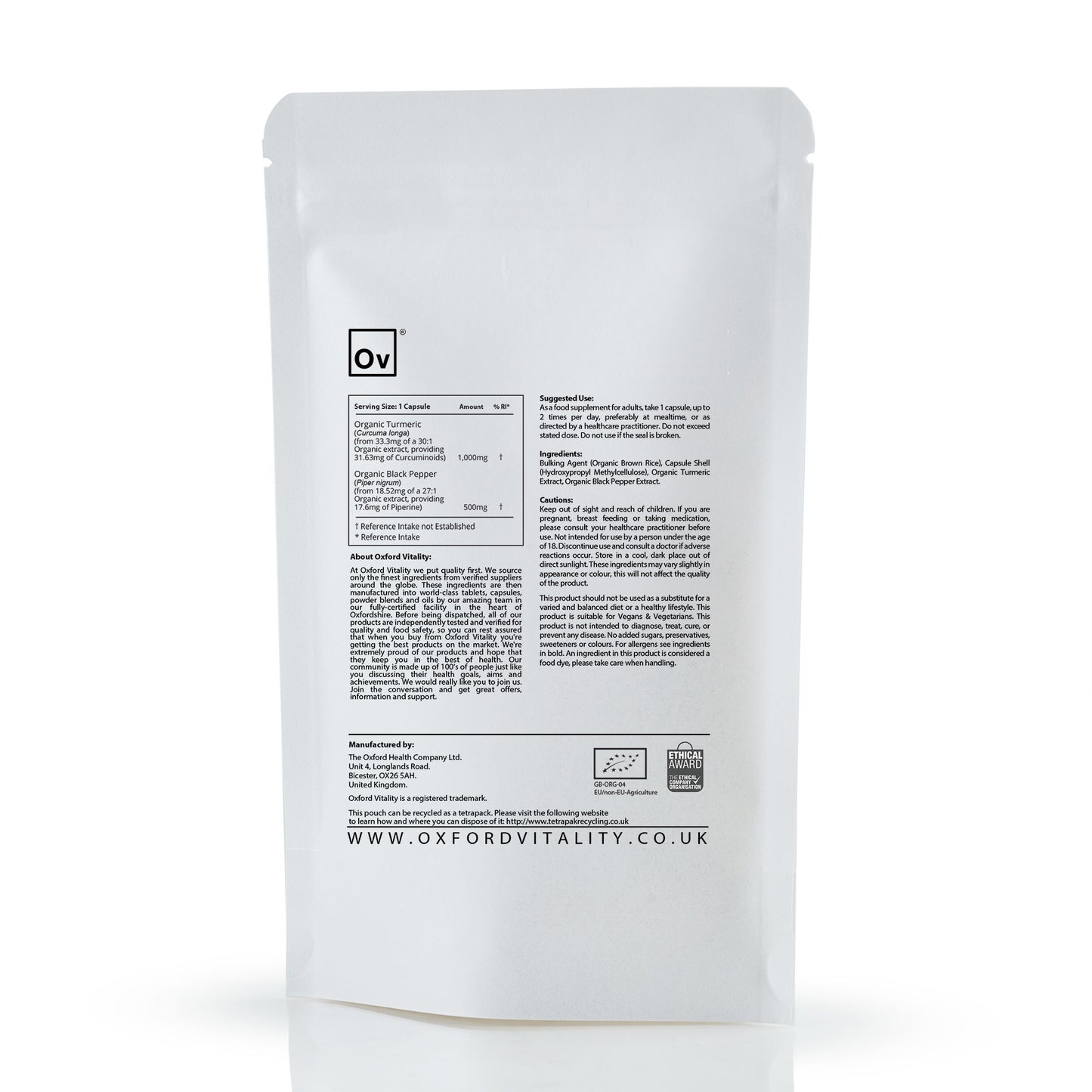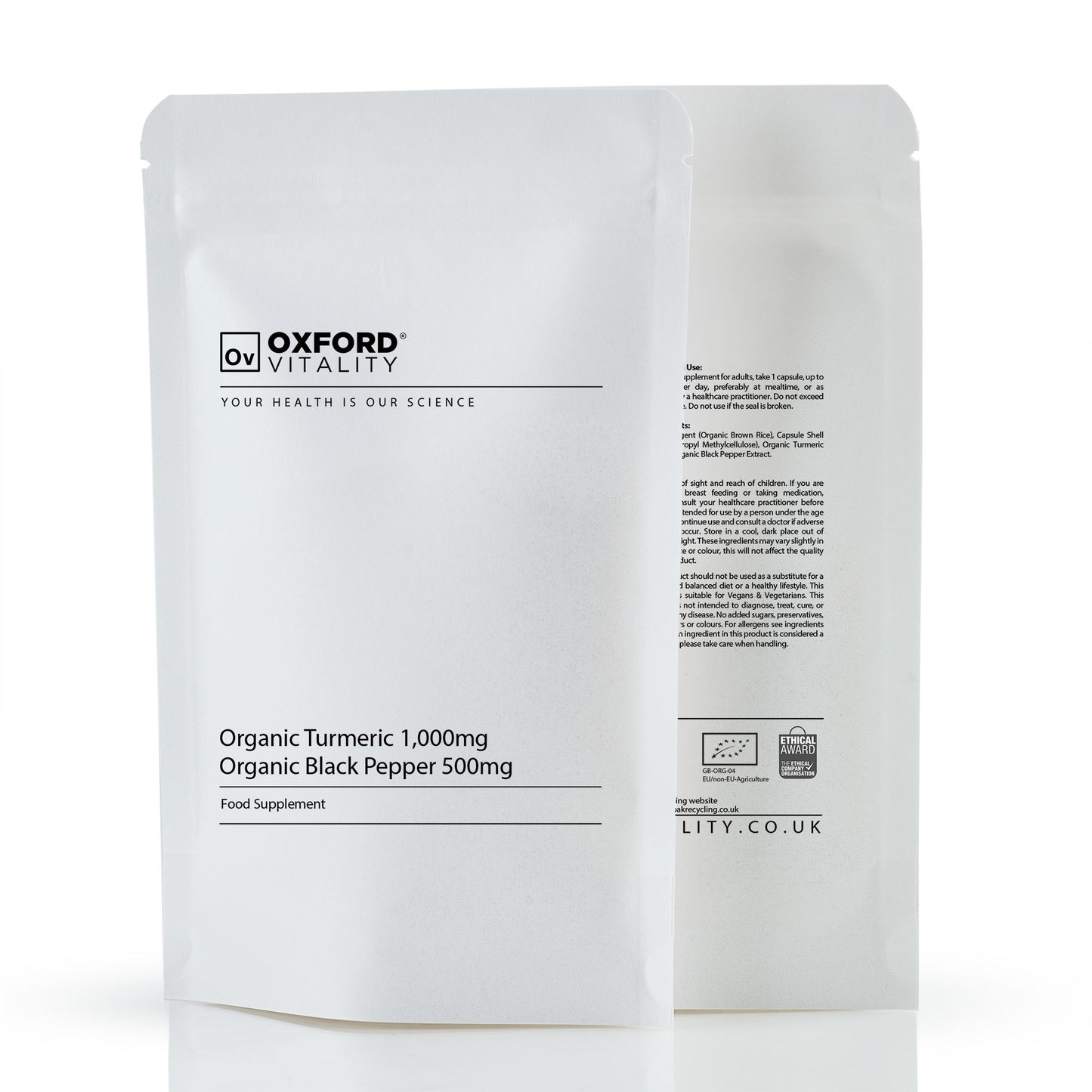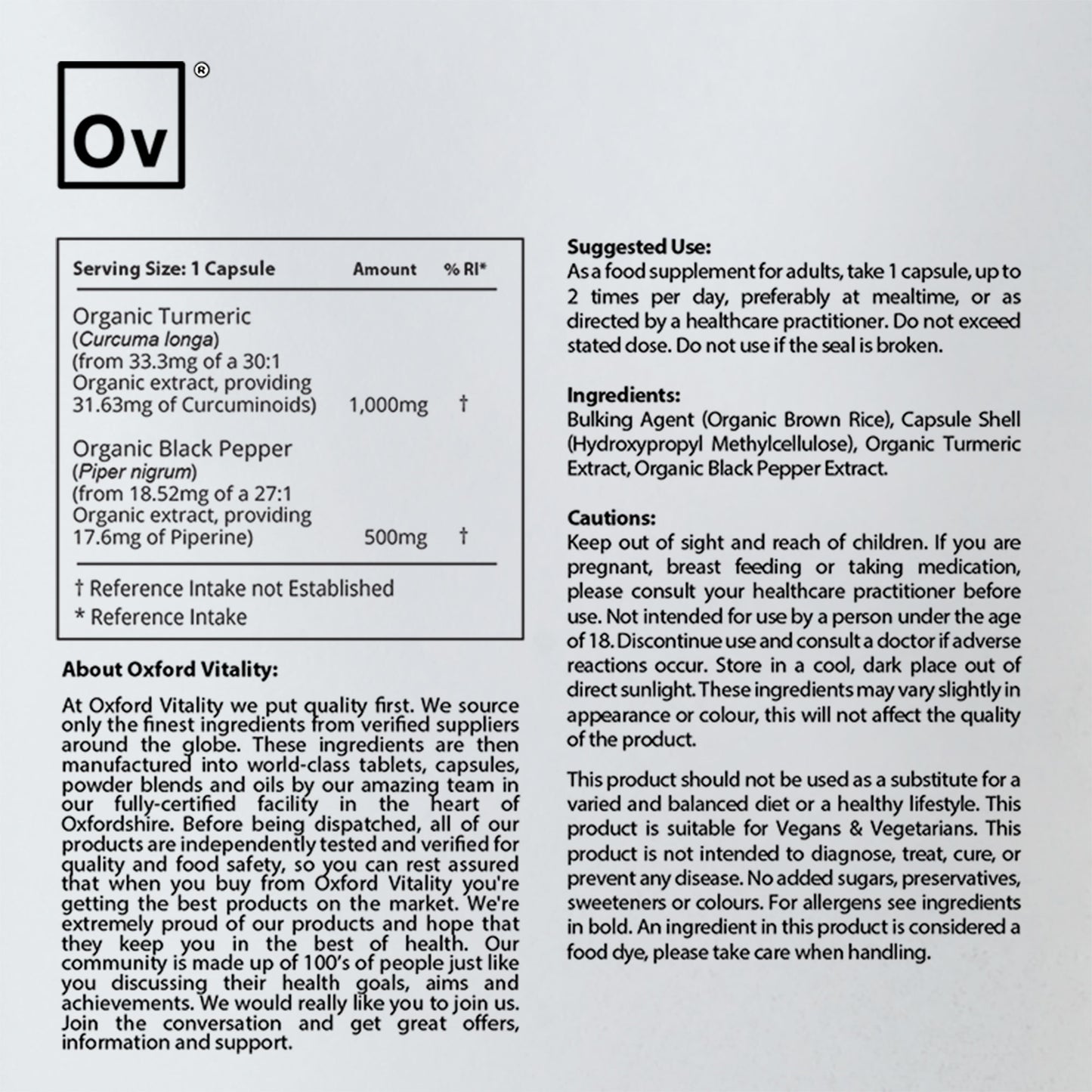 Excellent Turmeric and Black Pepper Capsules.
Oxford Vitality is a company I have found to be reliable and easy to deal with. The capsules I ordered have been delivered in a couple of days, packed in good quality bags and easy to open. I wouldn't buy my capsules from anywhere else. Thank you.
Collapsible content
Shipping & Returns

Shipping is via Royal Mail 1st Class We dispatch orders on weekdays up to 5 pm. Royal mail quote delivery times 1-2 days for 1st class and 2-3 days for 2nd class. Delays can happen, If delivery takes more than 5 working days for a UK order - please contact us immediately. For Europe, orders can take 10-14 Days. We are sorry but we do not dispatch our products to the rest of the world. We apologise for this lengthy period of time, unfortunately, express courier services are uneconomical to use with low priced products.

Please note, we DO NOT quote shipping. We will only make refunds where refunds are due. We apologise this process can not be more simple. Customs Declarations: We declare the value of all products as £15 - This is our average order cost and should not cause import duties or tax by your customs. All orders will be labelled generically as "Dietary Supplements".

To return an item, please dispatch it in its original wrapping and accompanied by a note outlining your name, address and reason for return. If you do decide that you would like to return your item, please have a look under the " terms and condition" page.