Regular price
Sale price
$6.43 USD
Unit price
per
Sale
Sold out
Our OV Electrolyte Powder has been created by our in-house nutritionists, applying scientific knowledge to create a powder that will benefit the electrolytes in your system. 
Potassium
Our OV Electrolyte Powder utilises Potassium Chloride, the most soluble elemental form of Potassium. Foods rich in this mineral include fruits such as bananas, oranges, apricots and grapefruit, in addition to spinach, broccoli, sweet potatoes and cucumbers. The mineral has an atomic number of 19 and the name originates from the Latin word for 'alkali', kalium. Potassium has three main functions within the body. Firstly, the mineral contributes to normal muscle function. Secondly, Potassium contributes to the maintenance of normal blood pressure. Thirdly, the mineral contributes to the normal functioning of the nervous system. 
Calcium
Sir Humphry Davy discovered all three minerals in this product, Calcium included. The mineral is the fifth most abundant metal found in the Earth's crust, although it can also be sourced from foods. Dairy products are the most well-known calcium abundant food item, however, green leafy vegetables, almonds and fish where the bones are eaten are also high in Calcium. Calcium contributes to normal muscle function, neurotransmission, the normal function of digestive enzymes and the cell division and specialisation. Additionally, the mineral is essential for the maintenance of normal teeth, normal blood clotting and energy metabolism. 
Magnesium
This mineral was named after Magnesia, a district in the Thessaly region of Greece. Magnesium contributes to electrolyte balance, energy-yielding metabolism, normal muscle function and the normal functioning of the nervous system. Additionally, the mineral contributes to normal protein synthesis, the maintenance of normal bones, teeth and the process of cell division, and contributes to a reduction of tiredness and fatigue. 
Our OV Electrolyte Powder
OV  Electrolyte Powder is not water soluble.
Our OV Electrolyte Powder can be served in a smoothie or shake, but you could also add it to any liquid, such as water or milk. Some of our customers even like to sprinkle our powders over their breakfast cereal. 
We recommend a serving size of 2.5g, taken up to two times per day. 
Please note - This product does not include a scoop and this supplement requires the use of 0.00g scales which are able to measure milligrams.
View full details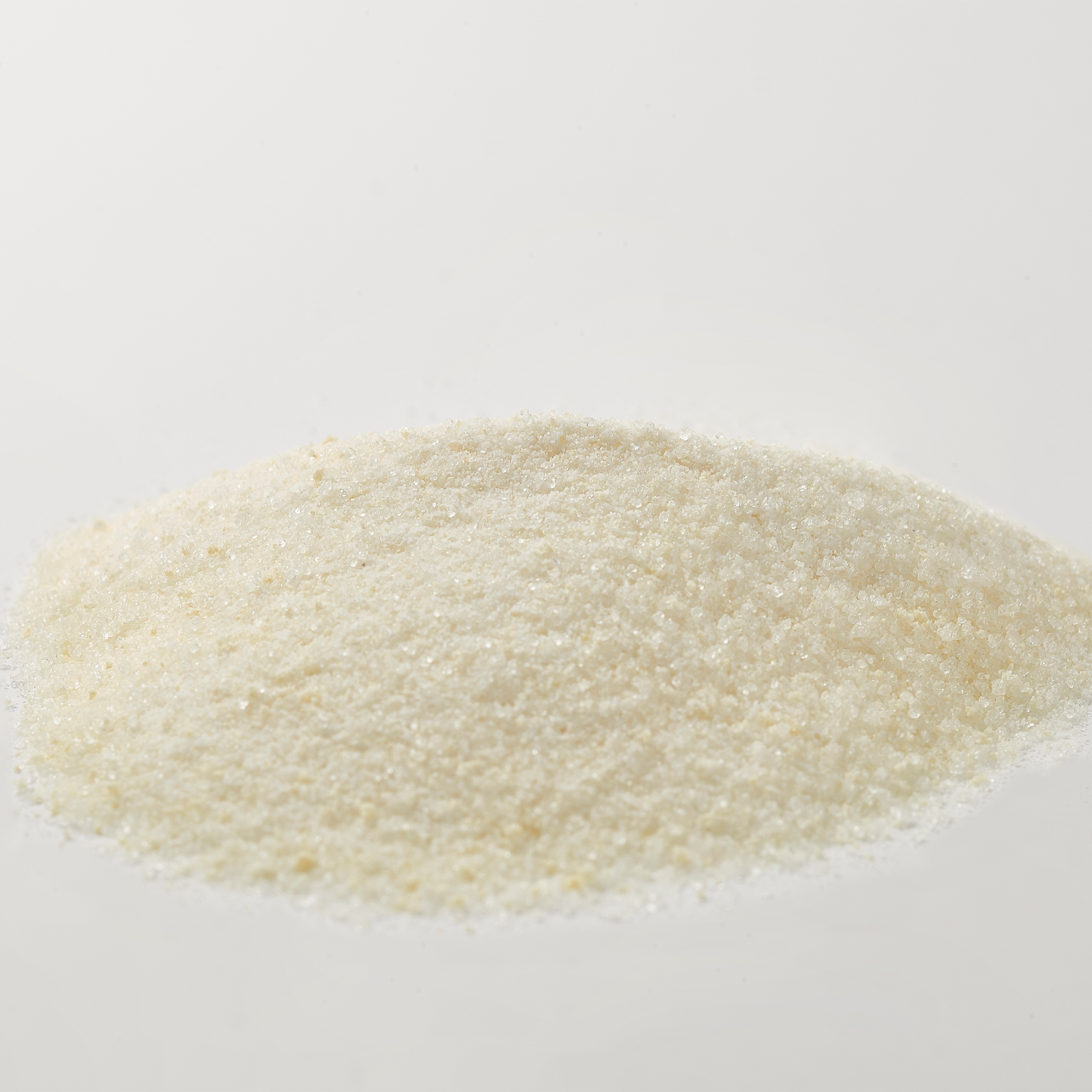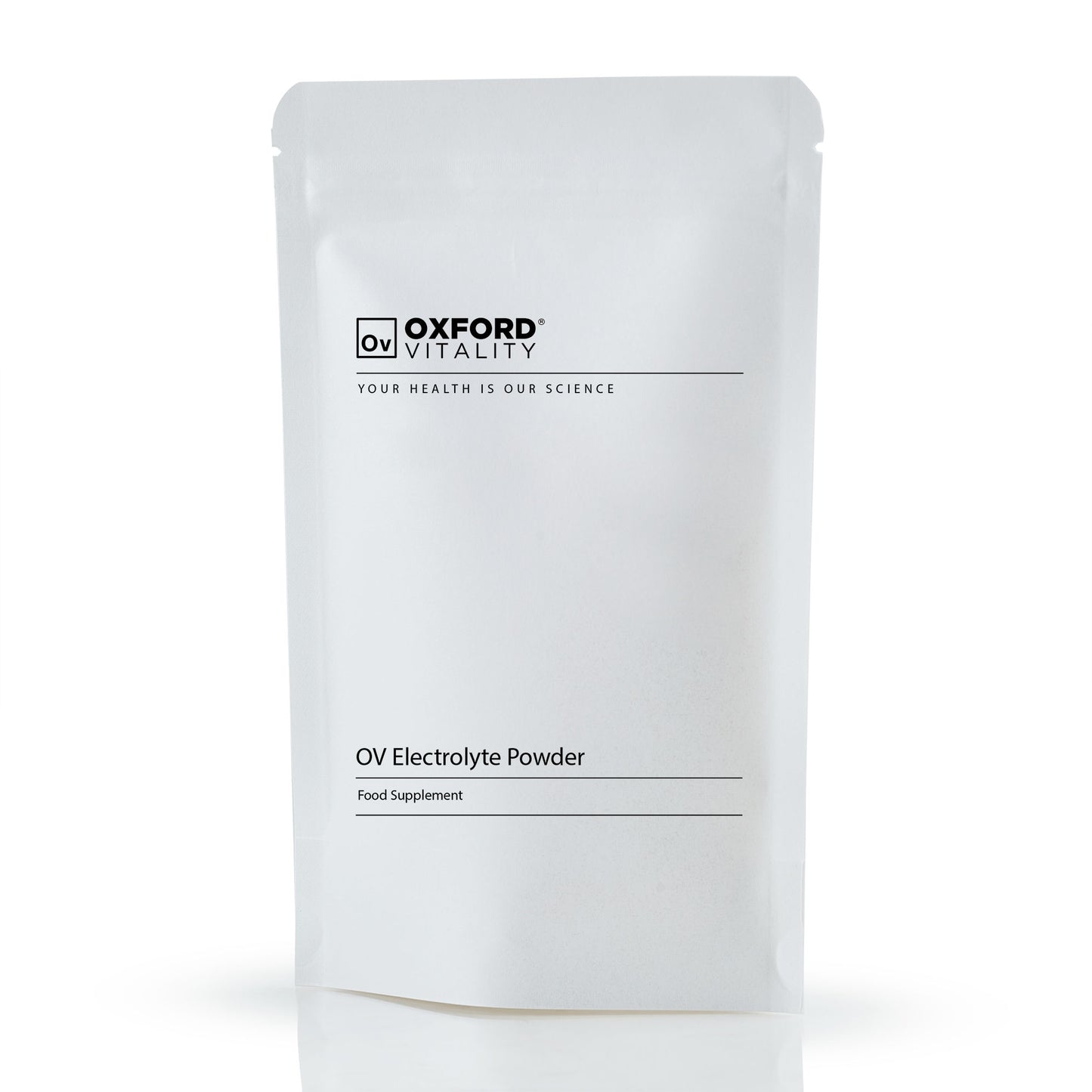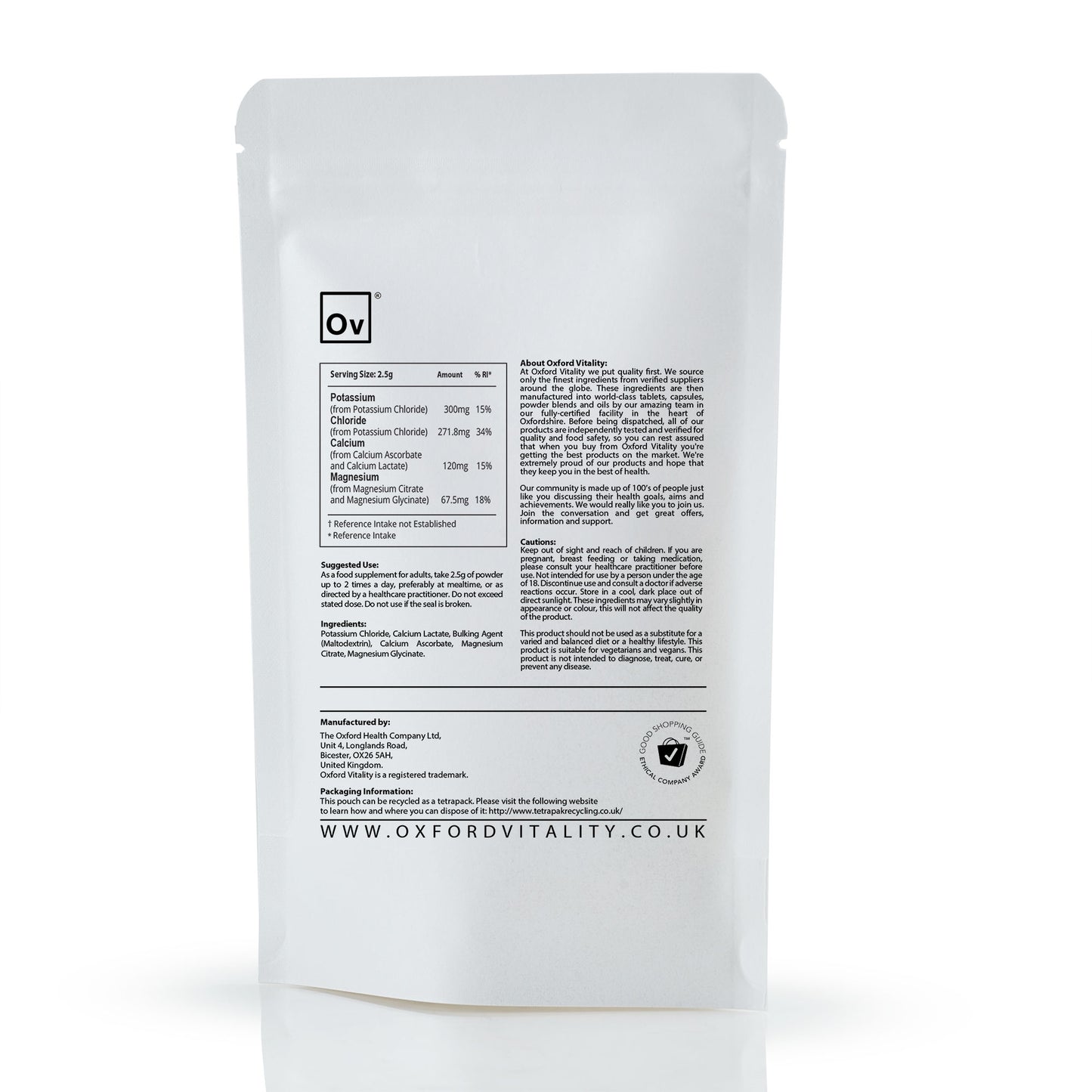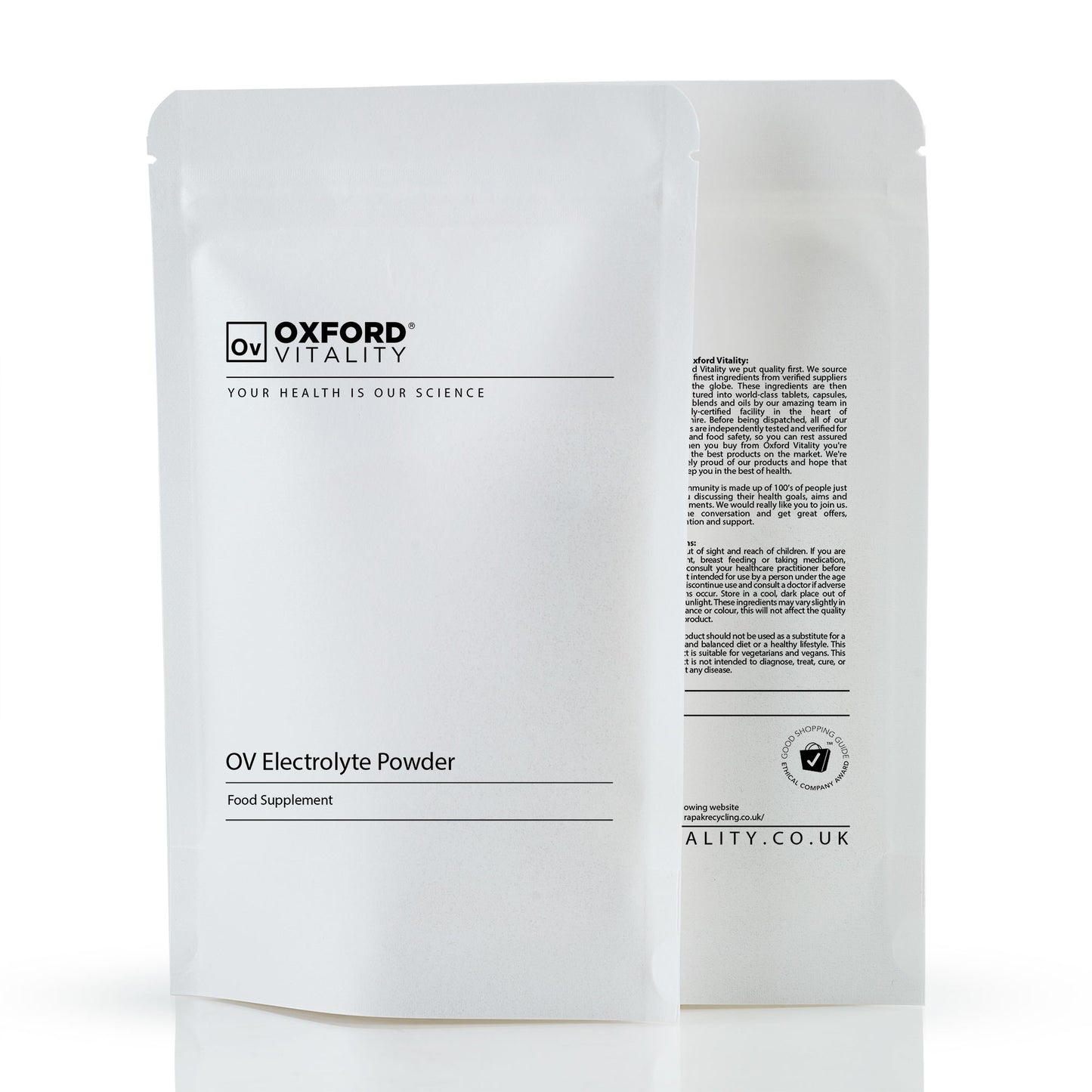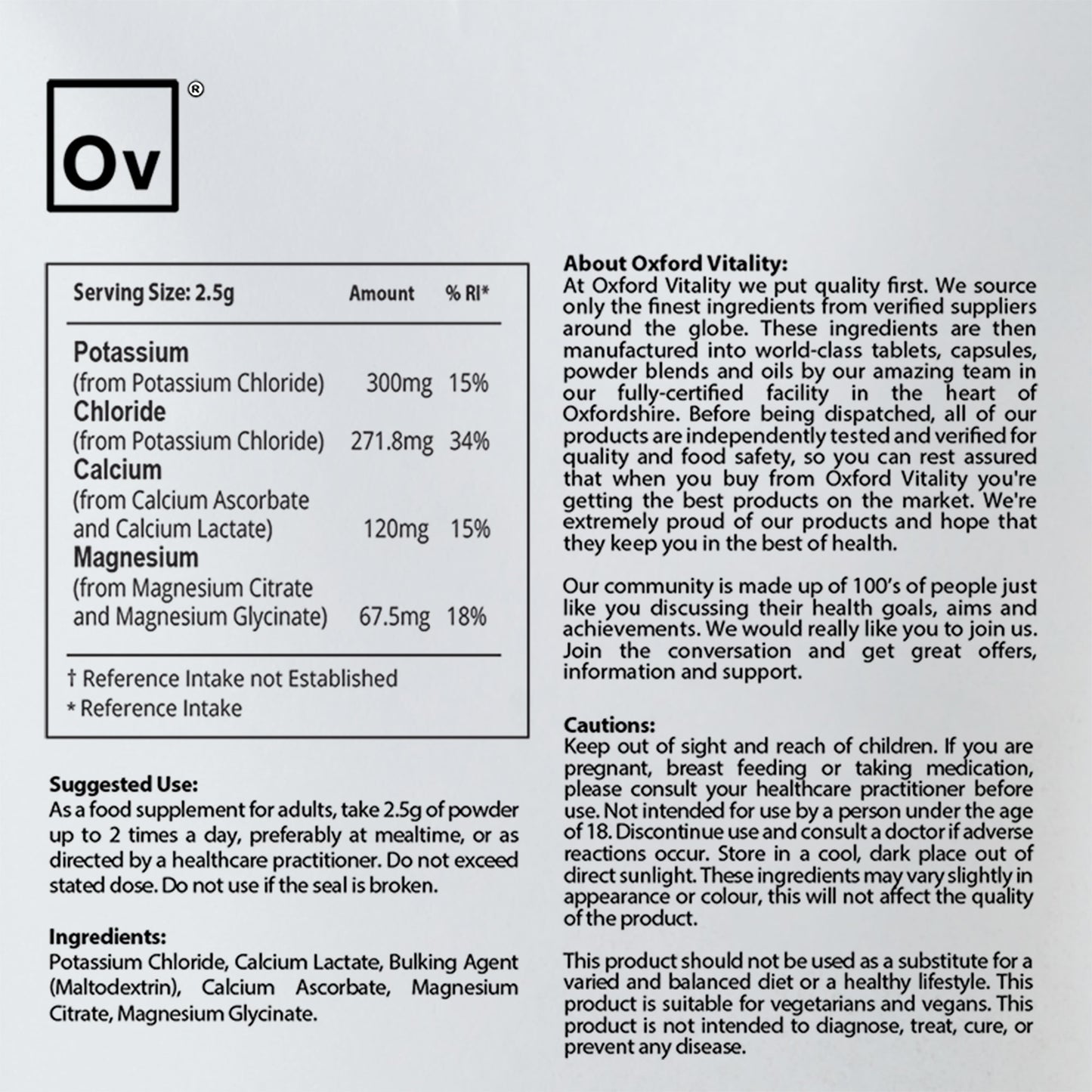 Electrolytes
Good product at a competitive price and quick delivery. I'll certainly buy from you again in the future.
5 star review
My brother, who has recently qualified and started working as a dietician, (and dare I say, used to work for a company that he now calls the mcdonalds of supplements which I will not name) suggested OV. It was the best decision I could have made. Affordable, quality products made in a form that your body can absorb and get the most benefit from. This particular combination I have found has been very effective to take before bed. I pop it in some water, but it may be easier for most in a smoothie as is suggested on the site.
Generally I've felt quite fatigued with low mood, not being able to sleep, so I started taking a multivitamin supplement from elsewhere that unfortunately doesn't contain magnesium, and my brother suggested the OV electrolyte powder. Once my multivitamins run out I will be purchasing all of my supplements with them. Quick delivery too and I think I got free delivery! At least on my first order/item.... Great! You will not be disappointed, check them out.
Collapsible content
Shipping & Returns

Shipping is via Royal Mail 1st Class We dispatch orders on weekdays up to 5 pm. Royal mail quote delivery times 1-2 days for 1st class and 2-3 days for 2nd class. Delays can happen, If delivery takes more than 5 working days for a UK order - please contact us immediately. For Europe, orders can take 10-14 Days. We are sorry but we do not dispatch our products to the rest of the world. We apologise for this lengthy period of time, unfortunately, express courier services are uneconomical to use with low priced products.

Please note, we DO NOT quote shipping. We will only make refunds where refunds are due. We apologise this process can not be more simple. Customs Declarations: We declare the value of all products as £15 - This is our average order cost and should not cause import duties or tax by your customs. All orders will be labelled generically as "Dietary Supplements".

To return an item, please dispatch it in its original wrapping and accompanied by a note outlining your name, address and reason for return. If you do decide that you would like to return your item, please have a look under the " terms and condition" page.