Regular price
Sale price
$16.04 USD
Unit price
per
Sale
Sold out
Our OV Natural Energy Boost tablets contain a formula of four vitamins and two herbal extracts. The body utilises the six nutrients to support energy production. These nutrients include Vitamin B3, Vitamin B6, Vitamin B12, Vitamin C, Maca Root extract and Cordyceps Sinensis.
Vitamin B3
Vitamin B3, otherwise known as Niacin, is a water-soluble vitamin that is formed from tryptophan, an amino acid. The vitamin naturally occurs in yeast, poultry, fish, red meat, almonds and wheat products. The main function of VItamin B3 is to contribute to normal energy production which reduces feelings of tiredness and fatigue as a result.
Vitamin B6
The Vitamin B6 included in our OV Natural Energy Boost tablets is pyridoxine, one of the three forms of Vitamin B6. Vitamin B6 naturally occurs in certain vegetables, such as in sweet potatoes and spinach, fish, wholegrain products, pork and milk. Vitamin B6 plays a role in normal glycogen and protein synthesis, two nutrients which are used to produce energy. The vitamins also benefit the immune system as when our immunity levels are low, we feel symptoms of fatigue.
Vitamin B12
Vitamin B12 is found in four forms: Hydroxycobalamin, Methylcobalamin, Cyanocobalamin and Adenosylcobalamin. Our OV Natural Energy Boost tablets include the Cyanocobalamin form of Vitamin B12 which is produced via the fermentation of Pseudomonas dentrificans. Natural food sources of the vitamin are mainly of animal origin, including red meat, poultry, milk and eggs. Just like Vitamins B3 and B6, Vitamin B12 is primarily known for its role in energy production. The vitamin also boosts the body's neurological and psychological systems which reduce feelings of fatigue.
Vitamin C
Vitamin C is a water-soluble vitamin, commonly known for its potent antioxidant properties to protect DNA, proteins and lipids from oxidative damage. The vitamin is also well known due to its deficiency disease, scurvy, which was first treated in 1747 by James Lind. Vitamin C is found in an array of foods such as red pepper, cabbage, carrots, mango, strawberries, oranges and potatoes. Vitamin C works to contribute to normal energy yield which reduces feelings of fatigue. The vitamin also plays a part in maintaining the immune system after intense physical exercise which aids a quick recovery after exercise.
Maca Root extract
The Maca in these tablets is extracted from the root of the Lepidium meyenii plant. The Maca plant originates from the Andes mountains where it is thought that the root was given to the native warriors (Inca warriors) many, many years ago. Maca is an excellent source of protein, fibre, Vitamin C, Copper and Iron. Maca has been taken as a natural source of energy for hundreds of years, contributing to stamina and athletic performance.
Cordyceps Sinensis
Cordyceps Sinensis is a fungus that lives on caterpillars in the mountainous regions of China. The fungus is incredibly rare but popular in Tibetan and Chinese medicine. Its primary role is as an antioxidant to protect cells from the harmful nature of free radicals, promoting a healthy immune function which is optimal for energy production.
Our OV Natural Energy Boost tablets
Oxford Vitality provides OV Natural Energy Boost tablets in a fairly large tablet size - 18mm in diameter, available to purchase in four quantities.
Please note - we recommend that both the 500 and 1,000 tablet options are more suitable for use by more than one person. This is to ensure that you are receiving full use of the product before its expiry date. For one person's use, we recommend the 120 or 240 tablet options.
View full details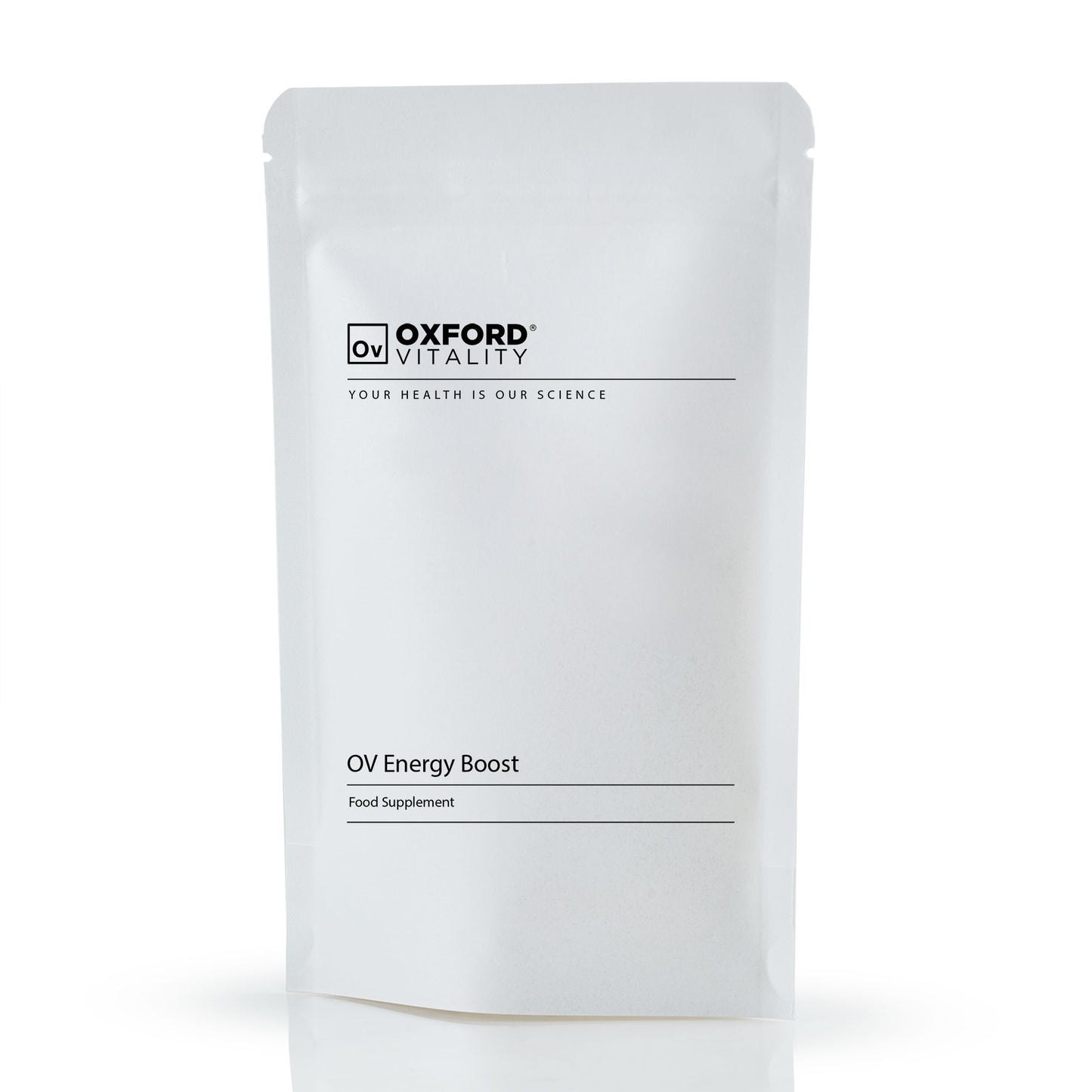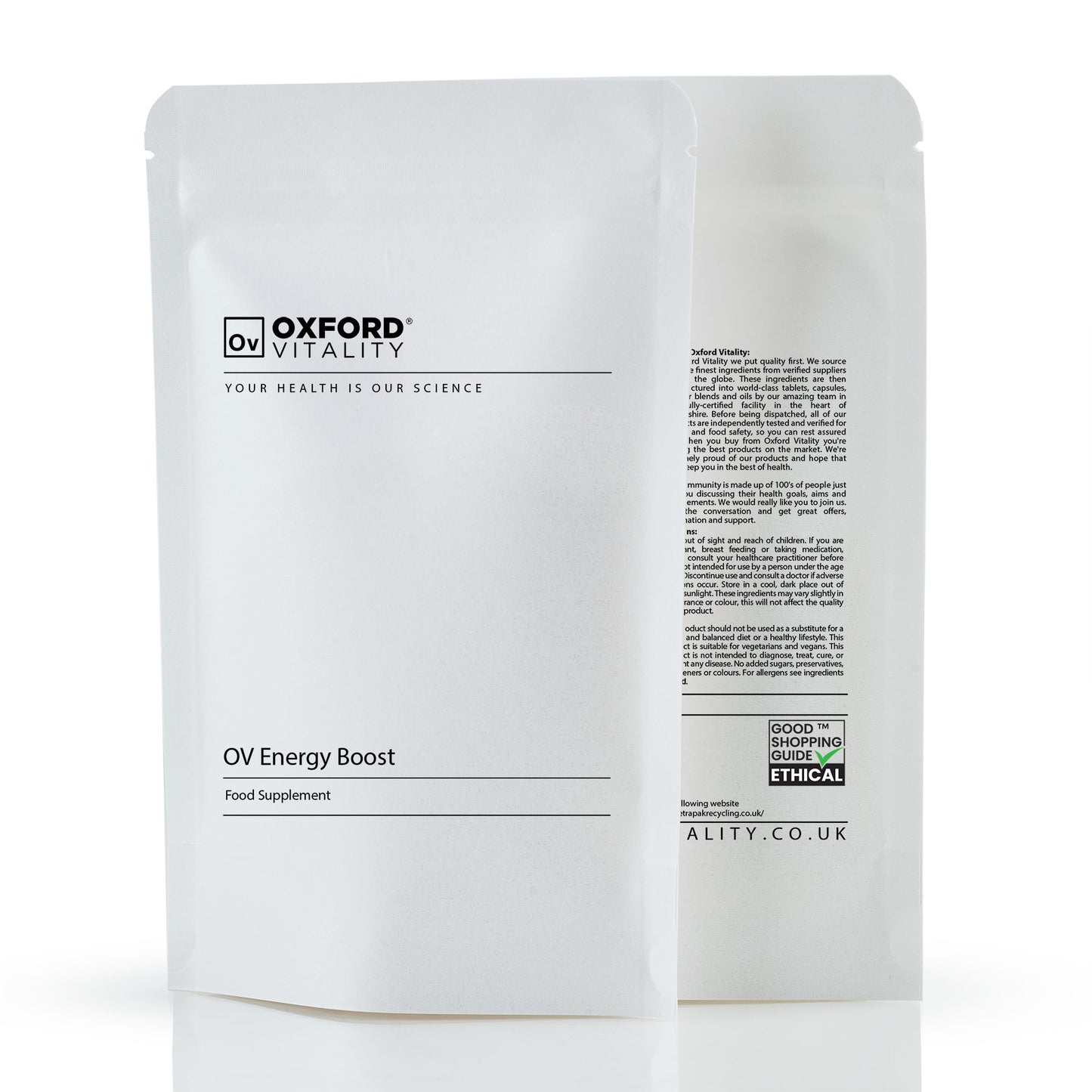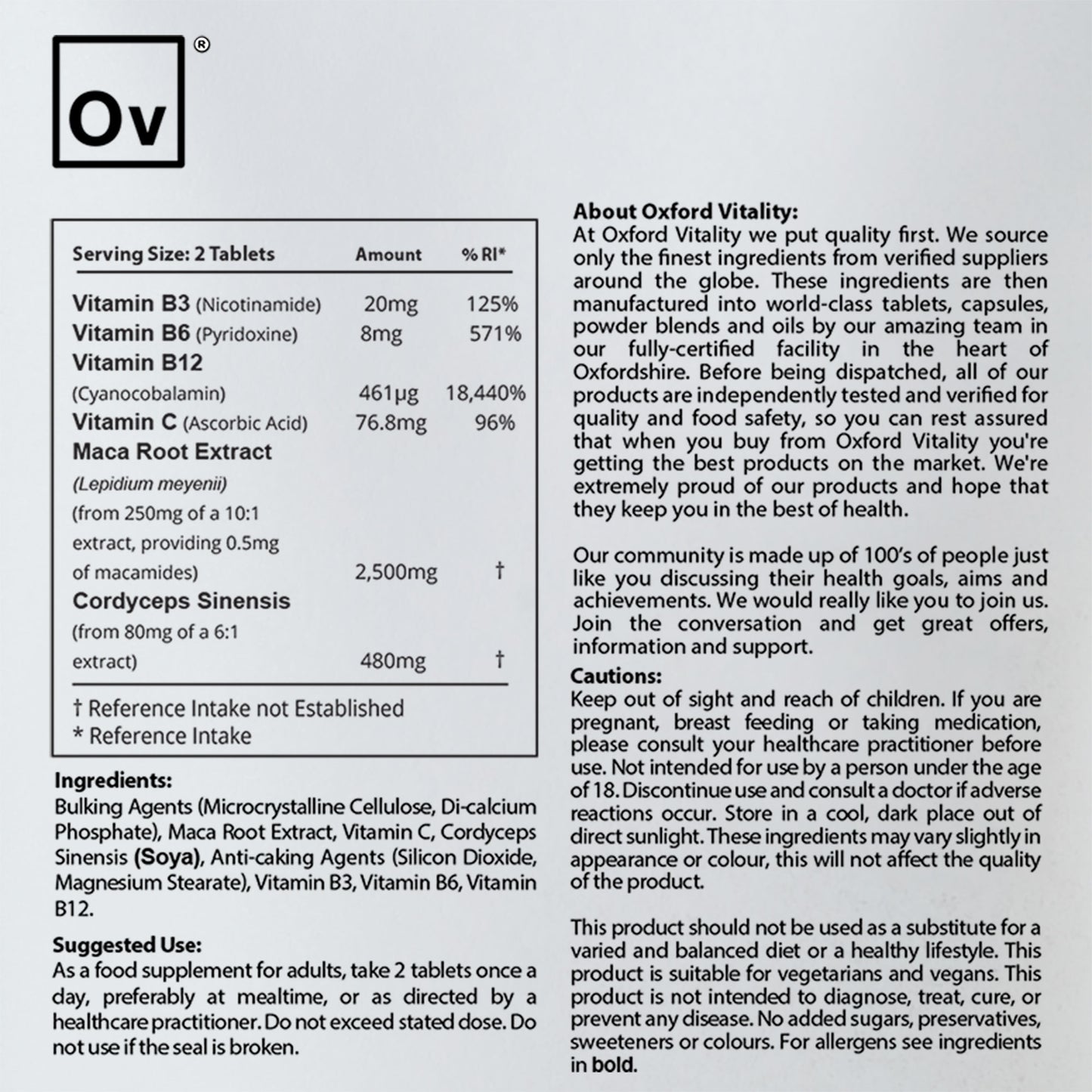 Quick Delivery
Will only use Oxford vitality, great service and prompt delivery
Shoot, so that's tha
Shoot, so that's that one supsesop.
Collapsible content
Shipping & Returns

Shipping is via Royal Mail 1st Class We dispatch orders on weekdays up to 5 pm. Royal mail quote delivery times 1-2 days for 1st class and 2-3 days for 2nd class. Delays can happen, If delivery takes more than 5 working days for a UK order - please contact us immediately. For Europe, orders can take 10-14 Days. We are sorry but we do not dispatch our products to the rest of the world. We apologise for this lengthy period of time, unfortunately, express courier services are uneconomical to use with low priced products.

Please note, we DO NOT quote shipping. We will only make refunds where refunds are due. We apologise this process can not be more simple. Customs Declarations: We declare the value of all products as £15 - This is our average order cost and should not cause import duties or tax by your customs. All orders will be labelled generically as "Dietary Supplements".

To return an item, please dispatch it in its original wrapping and accompanied by a note outlining your name, address and reason for return. If you do decide that you would like to return your item, please have a look under the " terms and condition" page.