Regular price
$12.83 USD
Sale price
$9.62 USD
Unit price
per
Sale
Sold out
Our OV Study Boost tablets contain a formula of five ingredients which have been specifically selected to boost concentration, memory and cognitive function. These ingredients include Iron, Zinc, Ginkgo Biloba, Green Tea extract and Ginseng.
Iron
Iron is an essential nutrient that is available in two forms: haem and non-haem. Haem sources are easier to absorb from the body and are commonly found in foods of animal origin including red meat, eggs and fish. Non-haem sources include tofu, nuts and seeds, and should be consumed with Vitamin C to aid the absorption. Iron contributes to the normal formation of red blood cells which transport oxygen around the body. This contributes to the reduction of tiredness and fatigue, aiding energy metabolism.
Zinc
Like Iron, Zinc is an essential nutrient. The element was first used in the manufacture of brass many centuries ago. We retain around 2.5g of Zinc in our bodies which is acquired through dietary sources such as herring, beef, lamb, sunflower seeds and cheese. Zinc is required for the synthesis of protein, a nutrient that is required for the production of enzymes which play a role in normal cognition.
Ginkgo Biloba
Ginkgo Biloba is sourced from one of the oldest living plants on Earth. The word 'Ginkgo' originates from the Chinese term ginkyo which means 'silver apricot'. Ginkgo Biloba contains Ginkgolides and Bilobalides, two active ingredients that are thought to increase blood circulation within the brain. This contributes to cognitive function and brain performance.
Green Tea extract
Our Green Tea is extracted from the Camellia sinensis plant which has been used in traditional Chinese medicine for millennia. Green Tea has recently gained the status of 'superfood' due to its vast nutritional benefits, including its contribution to the reduction of fatigue and tiredness. Green Tea also works to improve cognitive function and attention focus.
Ginseng
Our tablets use Ginseng, a root of the Panax ginseng plant which originates from Northern China. Ginseng is traditionally used in Chinese medicine and referred to as the 'root of heaven' as it was historically used as a 'cure-all'. The root has a multitude of health benefits, including contributing to concentration levels. The root contains ginsenosides which produce a calming effect in pressurised situations to reduce stress.
Our OV Study Boost tablets
Our OV Study Boost tablets measure 18mm in diameter, offered in our torpedo-shaped tablet. We advise you to not purchase this product if you have swallowing difficulties. We provide four different quantities of these tablets to give you the flexibility of choice.
Please note- we advise you to contact your health professional if you are pregnant, breastfeeding or taking any medication before use. Certain medications may interact with Ginseng, including those for diabetes and anti-coagulants, and Ginseng supplements should not be taken alongside these medications.
This product contains a safe dosage of catechins, as established by EFSA (European Food Standard Agency) to not exceed 900mg per day. Surpassing this dose could lead to serious liver damage. Please contact your health advisor if you have any pre-existing liver conditions or experience any symptoms.
We recommend that both the 500 and 1,000 tablet options are more suitable for use by more than one person. This is to ensure that you are receiving full use of the product before its expiry date. For one person's use, we recommend the 120 or 240 tablet options.
View full details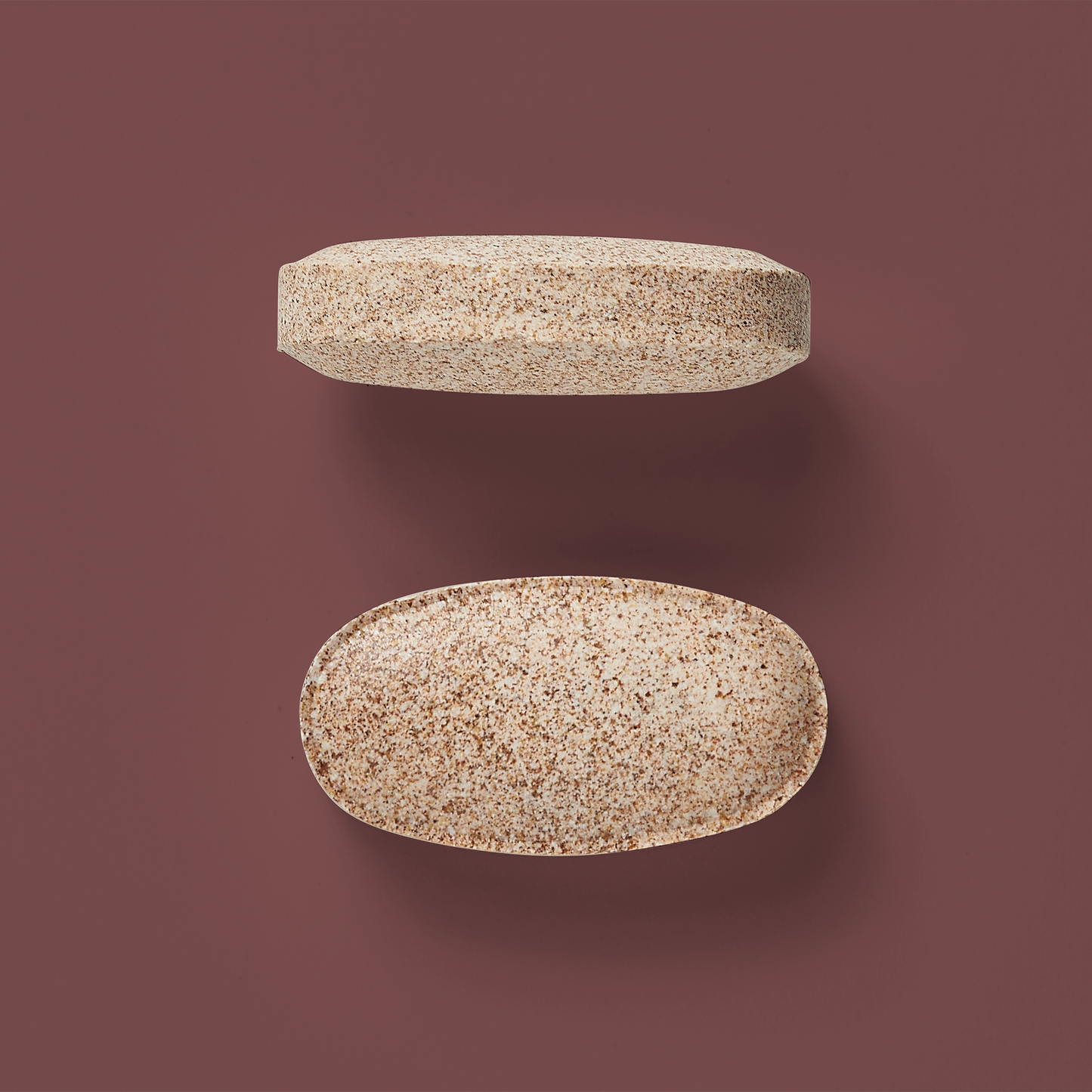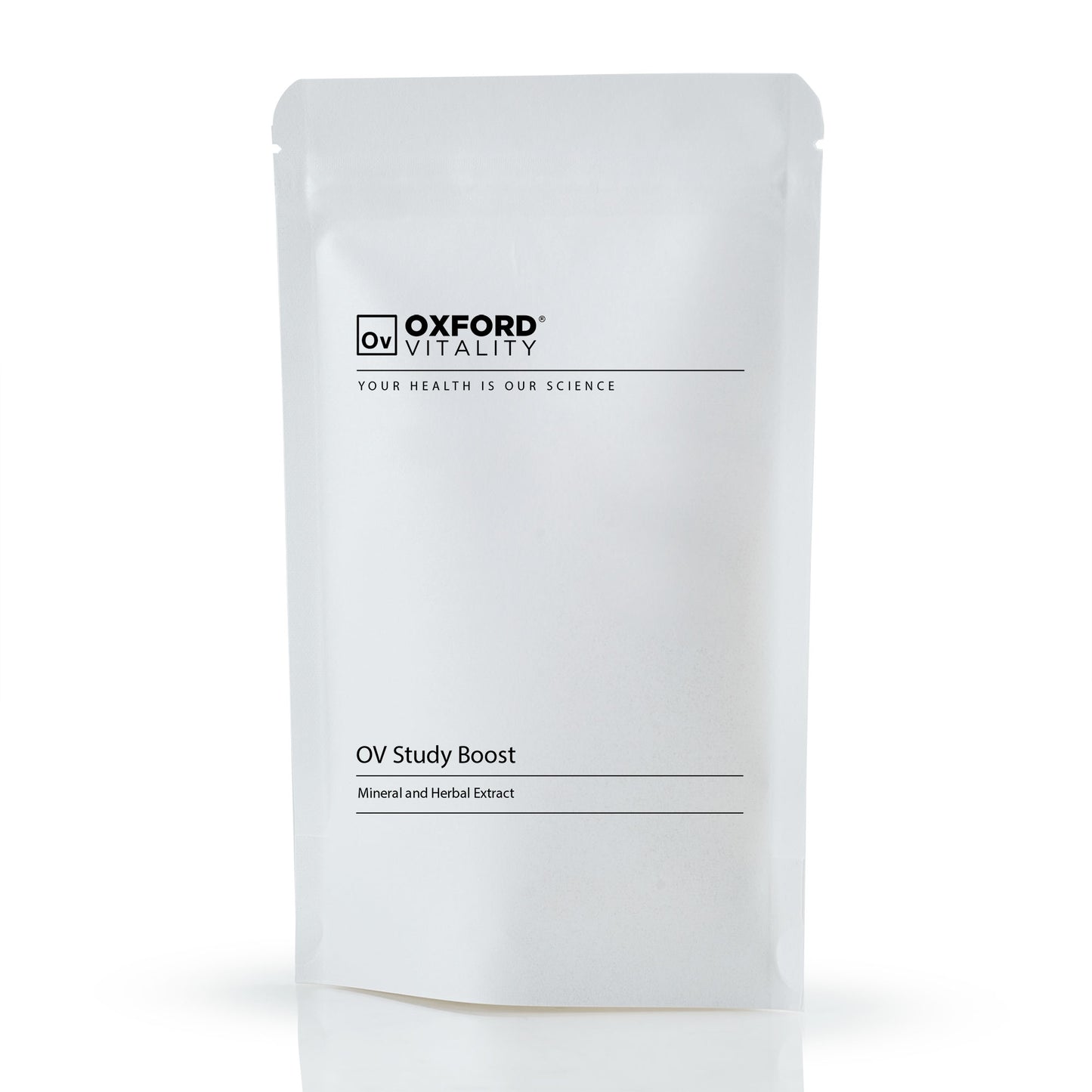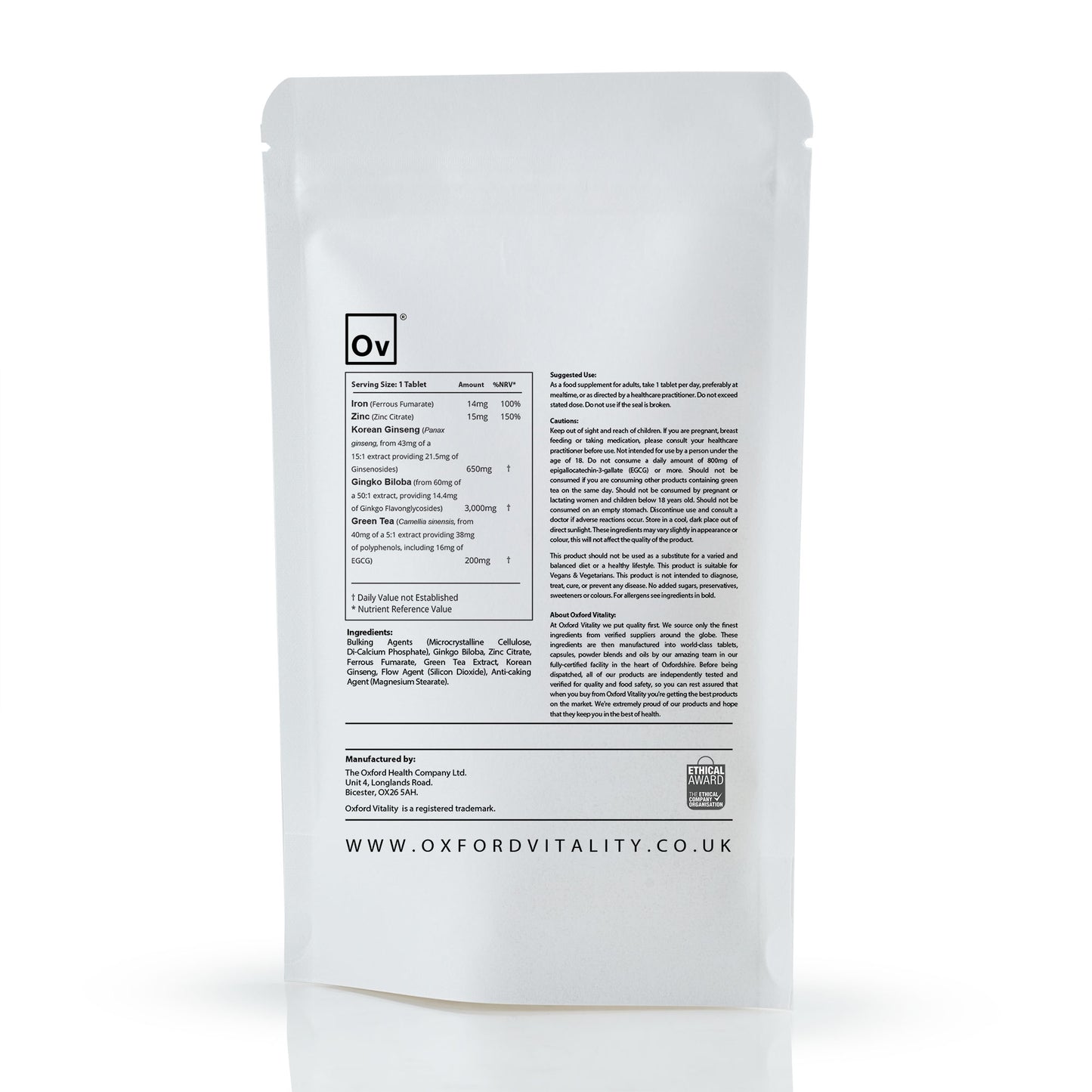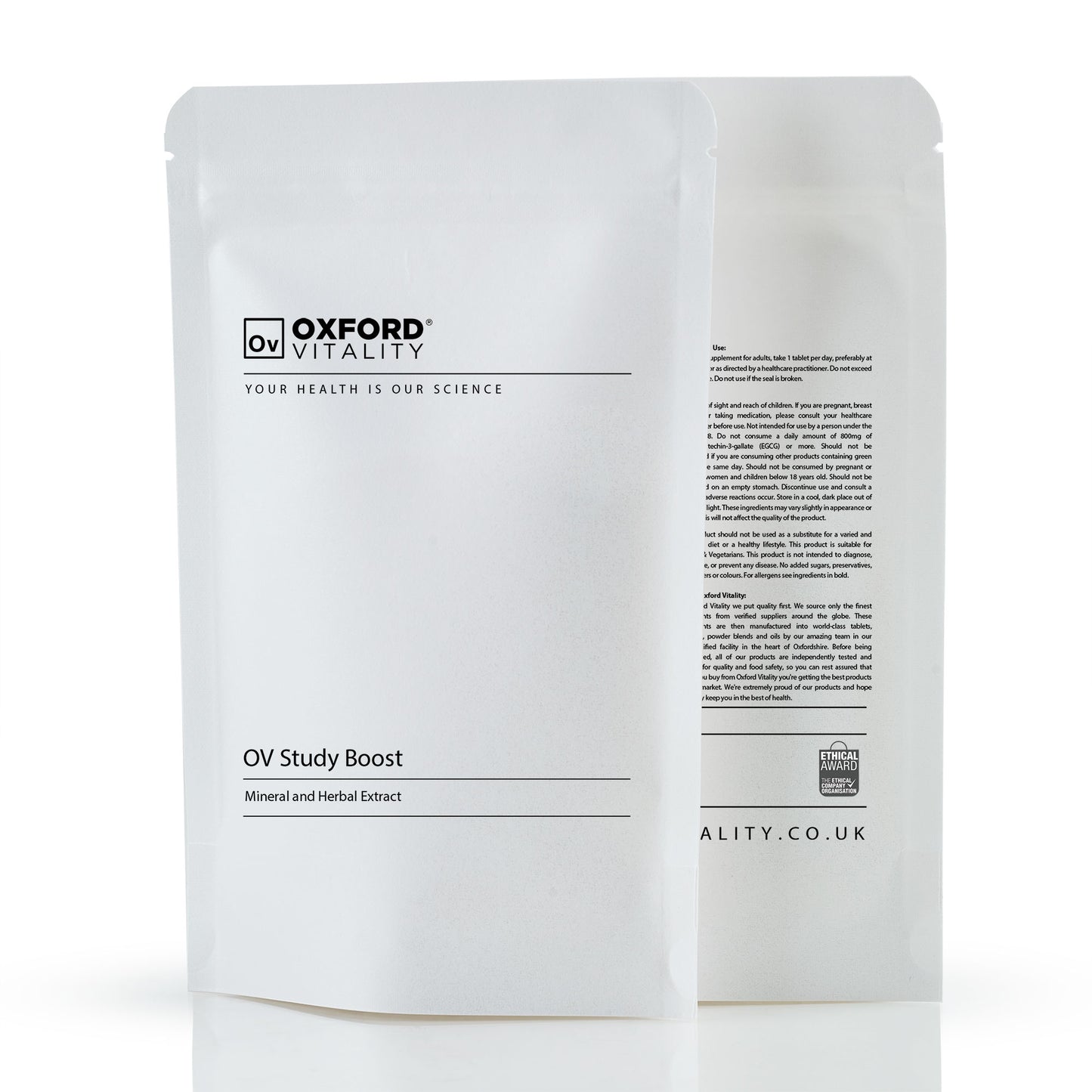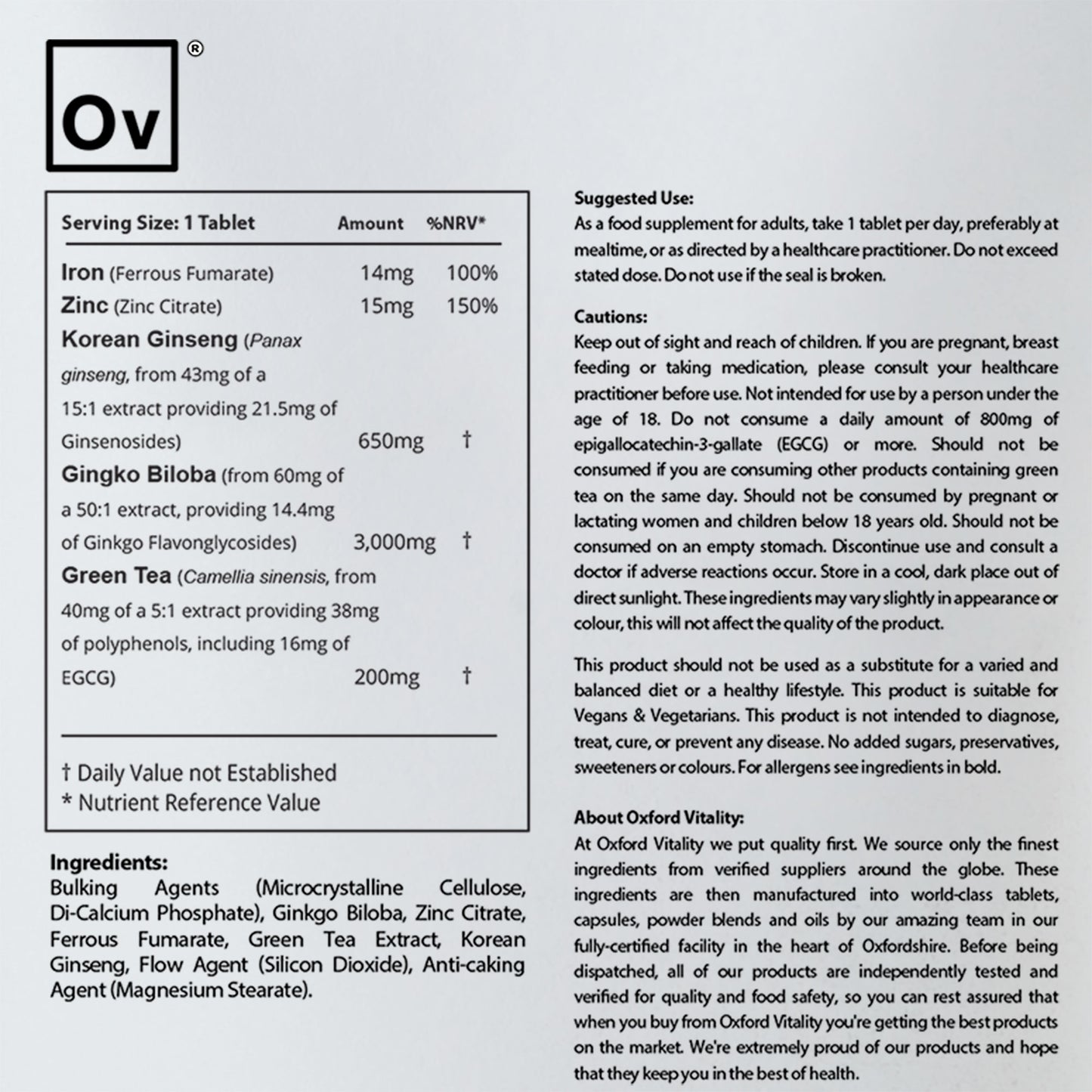 Noticeable results
Noticed less brain fog and fatigue after two weeks of taking these. Definitely helps with studying.
Amazing results
I have been using the OV Study Boost Tablets since they first came to my attention on your Website. Started suffering from not being able to find words to fit into my sentences which was very annoying. Since taking the OV Study Boost Tablets my general memory and recall has improved so much.
Very Fast Shipping, thank You so much
With All Products from Oxford Vitality I Feel better than before. I believe that we must eat and drink healthy Stuff, and we need to make some sports but we need also some additional Help like Vitamins and Minerals.
Greetings from Germany
Collapsible content
Shipping & Returns

Shipping is via Royal Mail 1st Class We dispatch orders on weekdays up to 5 pm. Royal mail quote delivery times 1-2 days for 1st class and 2-3 days for 2nd class. Delays can happen, If delivery takes more than 5 working days for a UK order - please contact us immediately. For Europe, orders can take 10-14 Days. We are sorry but we do not dispatch our products to the rest of the world. We apologise for this lengthy period of time, unfortunately, express courier services are uneconomical to use with low priced products.

Please note, we DO NOT quote shipping. We will only make refunds where refunds are due. We apologise this process can not be more simple. Customs Declarations: We declare the value of all products as £15 - This is our average order cost and should not cause import duties or tax by your customs. All orders will be labelled generically as "Dietary Supplements".

To return an item, please dispatch it in its original wrapping and accompanied by a note outlining your name, address and reason for return. If you do decide that you would like to return your item, please have a look under the " terms and condition" page.