Regular price
Sale price
$8.55 USD
Unit price
per
Sale
Sold out
Our OV Pregnancy Care tablets have been carefully formulated to include 18 ingredients, keeping fertility and early-pregnancy in mind. Evidence shows that there is a strong link between the quality of nutrition and the healthy growth of the foetus.
Vitamin D3
Vitamin D3 has numerous health benefits, starting with its contribution to normal immune system function. It also contributes to normal absorption/utilisation of calcium and phosphorus, as well as the maintenance of normal bones.
Folic Acid
The body is unable to store or produce large quantities of Folic Acid, hence why supplementation is important during pregnancy. Low levels of Folic acid can lead to development of neural tube defects in the developing foetus, and therefore it is recommended that a daily intake of 400 μg for at least one month before and up to three months after conception is recommended for women of childbearing age.
Iodine
Iodine is often extracted from seaweed, taking on a purple hue, although other good sources of Iodine include fish and dairy products. Iodine contributes to the normal production of thyroid hormones and normal cognitive function. A woman's iodine requirements increase substantially during pregnancy.
Iron
Iron is needed for the normal formation of red blood cells which transport oxygen around the body, including to the foetus. Iron also contributes to the reduction of tiredness and fatigue. Some women report feeling more tired with pregnancy due to hormonal changes, hence why Iron stores are important to maintain throughout the pregnancy. Vitamin C increases iron absorption, which is why we have included Vitamin C alongside Iron within our tablets.
Magnesium
Magnesium naturally occurs in green leafy vegetables such as spinach and kale, nuts, brown rice, whole grain bread, fish, meat and dairy foods. Magnesium is important for our energy levels as it contributes to a reduction of tiredness and fatigue. Magnesium also works with Calcium in the cell division process, and with both Calcium and Vitamin D to maintain the bones and teeth.
Vitamin C
The vitamin has also been found to help with normal physiological function, prompting normal energy metabolism and protecting cells from oxidative stress. Another important role of this antioxidant is to contribute to the normal functioning of the nervous system. Lastly, the vitamin benefits the formation of collagen and aids the functioning of several physiological elements, including blood vessels, bones, cartilage, gums, skin and teeth.
Selenium
Selenium contributes to the protection of cells from oxidative stress.
Vitamin K1
Vitamin K1 is a fat-soluble vitamin, found in three main forms within the body. The Vitamin is commonly supplemented in the diet as it contributes to normal blood clotting. It also plays a role in the maintenance of normal bones, which is very important for the developing fetus.
Copper
Copper has several uses, many of which are vital for the full functionality of the body. Copper contributes to the maintenance of normal connective tissues, iron transport in the body and protects cells from oxidative stress. It also plays a role in normal iron transport in the body.
Zinc
Zinc is known for several vital functions within the body and makes up an essential part of our diet during pregnancy. For example, Zinc has a role in the process of cell division and normal DNA synthesis. Zinc also contributes to normal cognitive function, which may be a concern for pregnant women as shifts in levels of estrogen and progesterone can produce a wide range of symptoms during pregnancy, including effects on brain function. Lastly, Zinc plays a role in normal fertility and reproduction and maintenance of bones.
Vitamin E
Vitamin E is a fat-soluble vitamin that can be found in several forms, however, alpha-tocopherol is the only form that is readily used by the human body. Vitamin E contributes to the protection of cells from oxidative stress.
Beta carotene
Beta carotene is a red-orange pigment found in plants and fruits, especially carrots and colorful vegetables. Beta carotene is considered a provitamin A carotenoid, meaning that the body can convert it into vitamin A.
B Vitamins
Vitamin B1 (Thiamine) - contributes to normal energy-yielding metabolism.
Vitamin B2 (RIBOFLAVIN) - contributes to the reduction of tiredness and fatigue and aids the normal metabolism of iron.
Vitamin B5 (Pantothenic acid) - contributes to the normal synthesis and metabolism of steroid hormones, vitamin D and some neurotransmitters.
Vitamin B6 (Pyridoxine) - plays a role in the regulation of hormonal activity and aids the normal function of the immune system.
Vitamin B7 (Biotin) - contributes to normal macronutrient metabolism and normal functioning of the nervous system.
Vitamin B12 (Cobalamin) - contributes to the reduction of tiredness and fatigue and has a role in the process of cell division.
Our OV Pregnancy Care tablets
Our Pregnancy care extra tablets are full to the brim with 18 essential vitamins and minerals. For this reason, these tablets are offered in our classic torpedo style tablet - therefore we advise those with problems swallowing to not purchase this tablet. Only 1 tablet is needed to meet your nutritional requirements.
Safety Information: Keep out of sight and reach of children. If you are pregnant, breastfeeding, or taking medication[s] please consult your healthcare practitioner before use. Not intended for use by persons under the age of 18. Discontinue use and consult a doctor if adverse reactions occur. This product should not be used as a substitute for a varied and balanced diet or a healthy lifestyle. Do not exceed stated dose. This product is not intended to treat, diagnose, cure or prevent any kind of illness. Beta-carotene should not be taken by heavy smokers. Taking more than 200 μg/day of Folic Acid is not recommended for people over the age of 50 or who have a history of colorectal adenomas.
Please note - this product is suitable for vegetarians but NOT for vegans.

View full details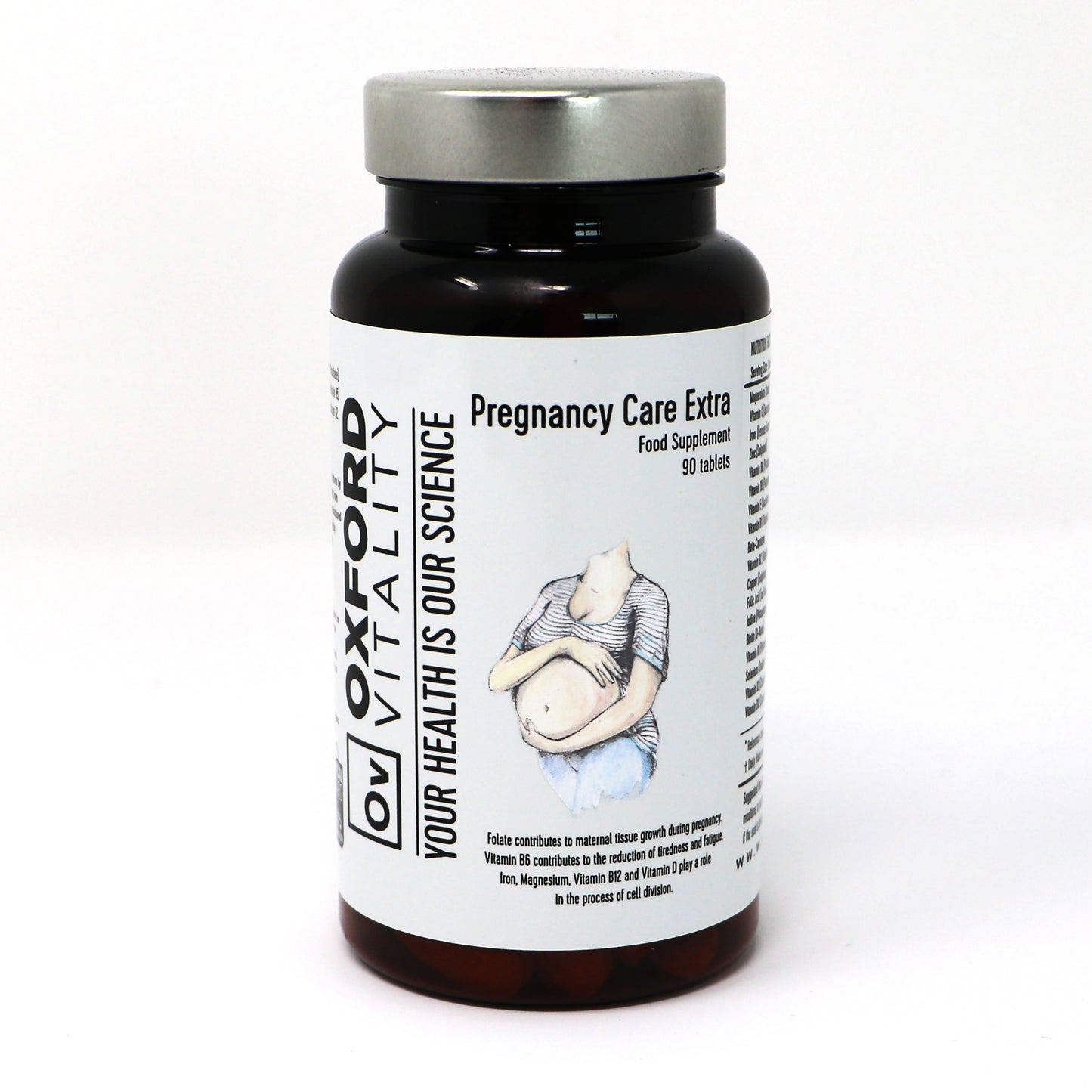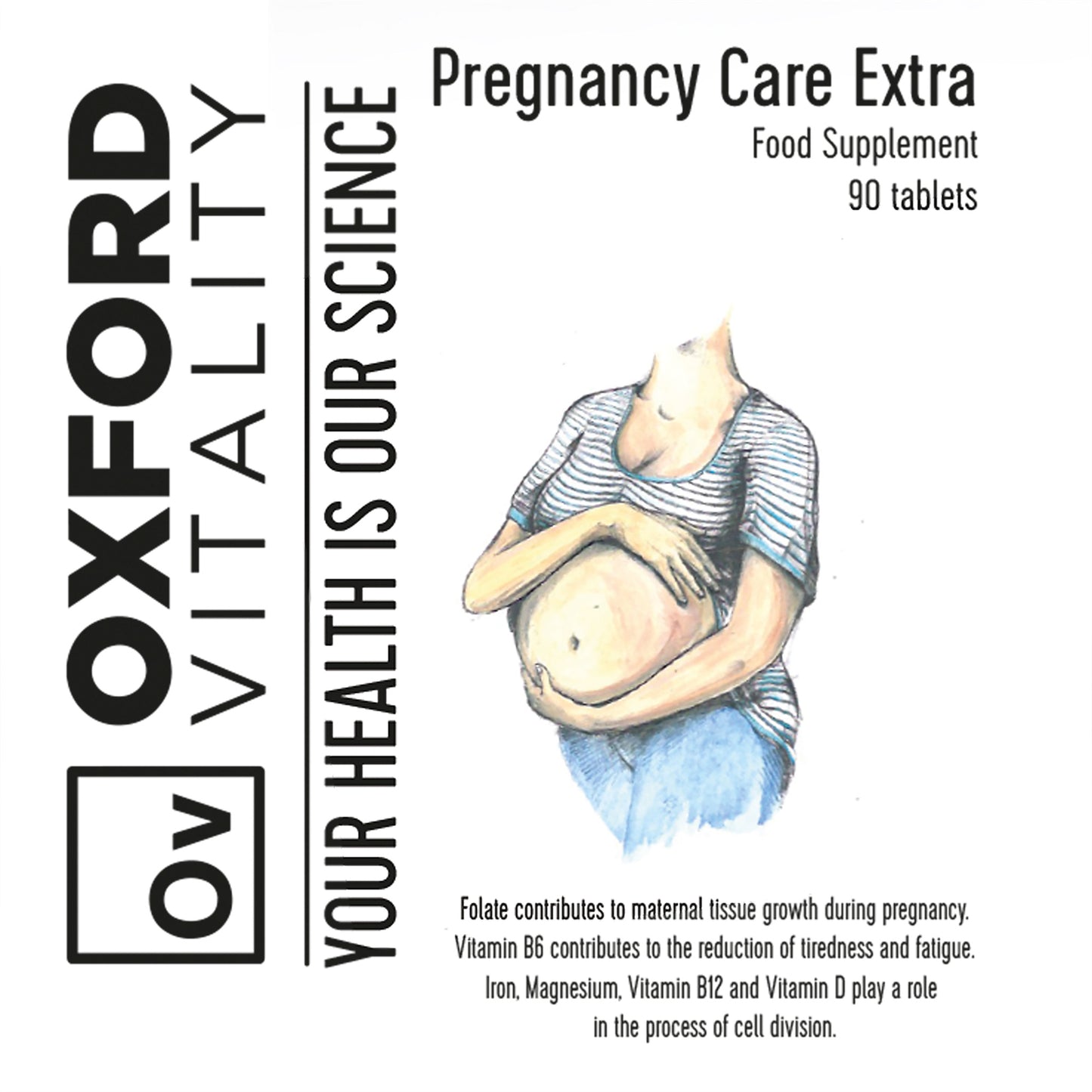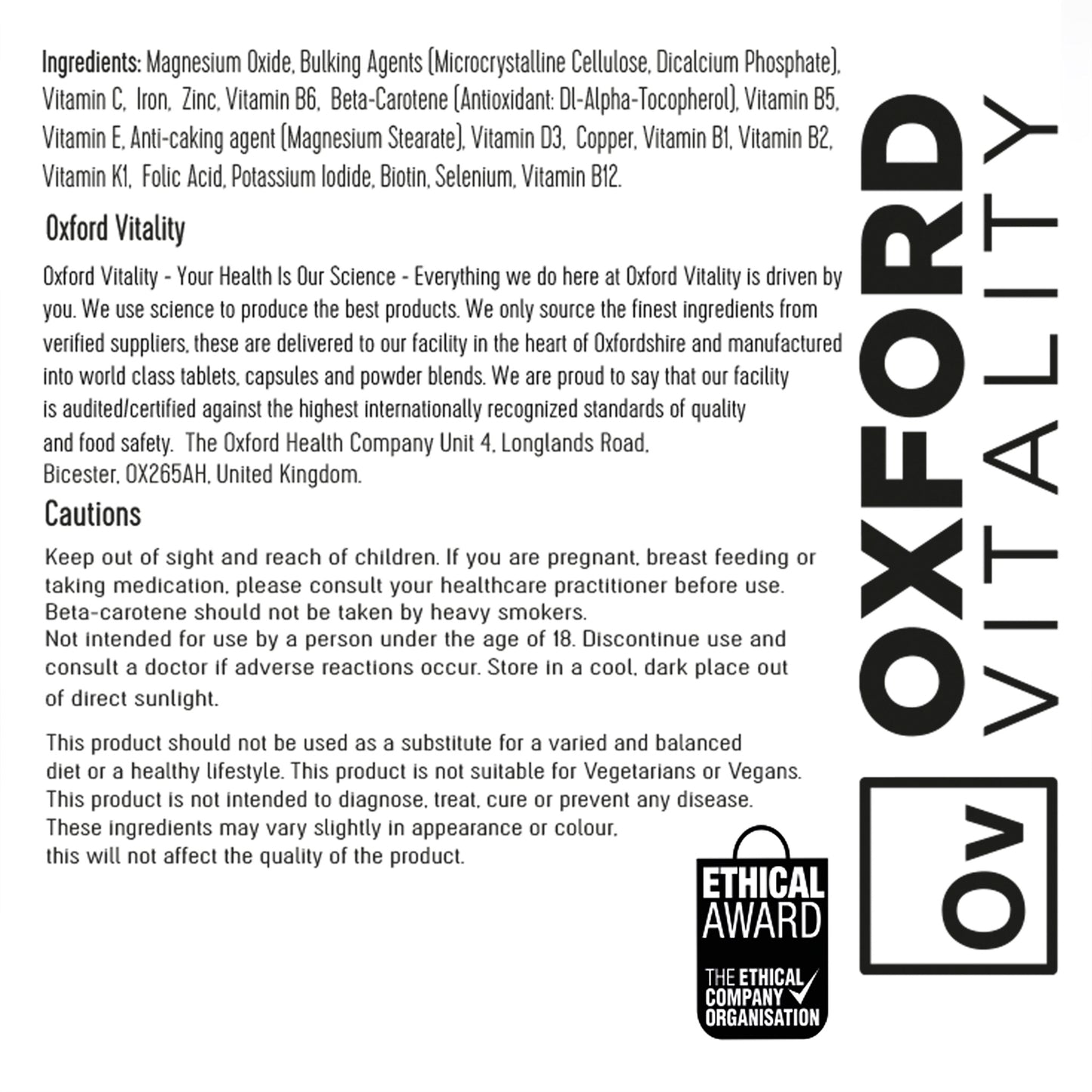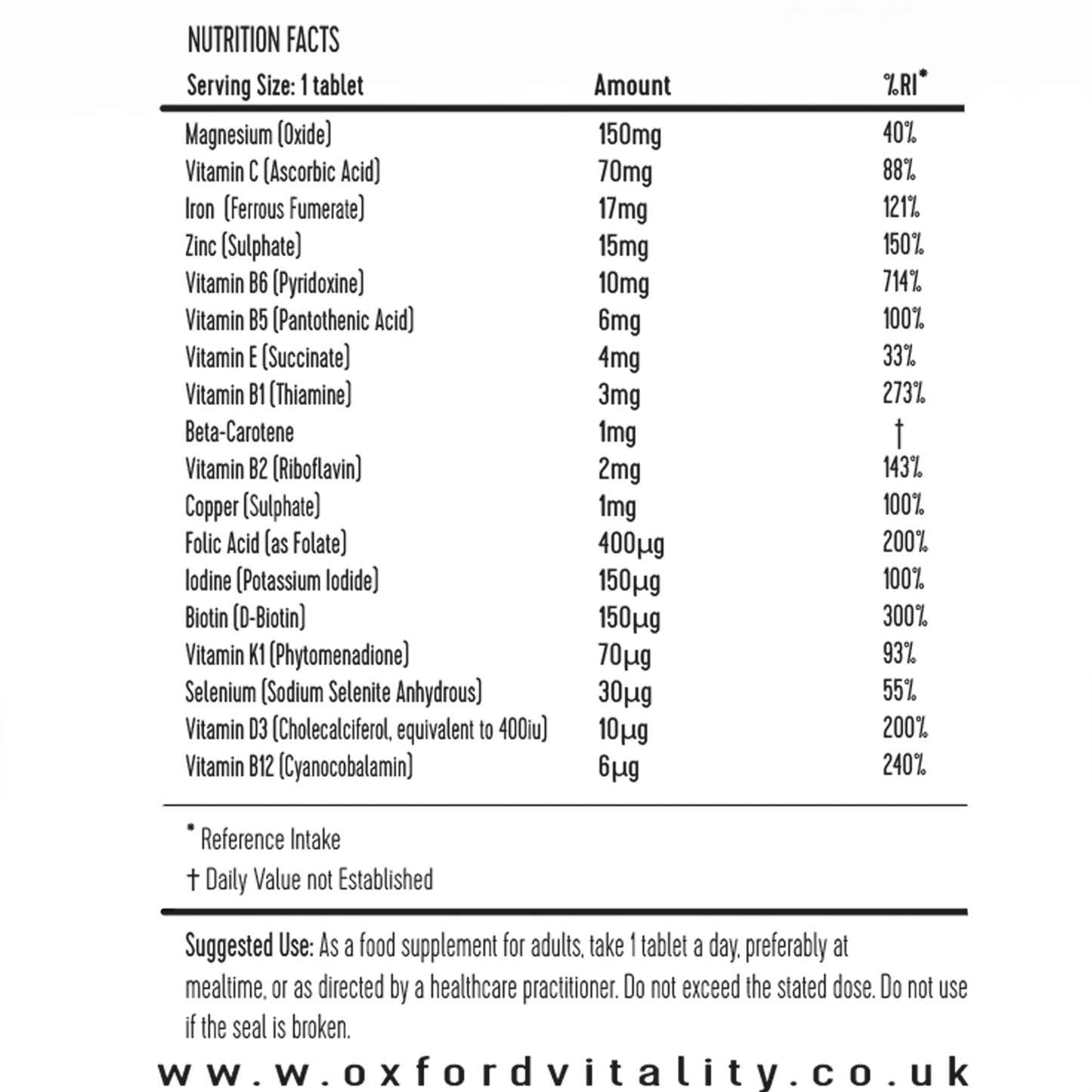 Collapsible content
Shipping & Returns

Shipping is via Royal Mail 1st Class We dispatch orders on weekdays up to 5 pm. Royal mail quote delivery times 1-2 days for 1st class and 2-3 days for 2nd class. Delays can happen, If delivery takes more than 5 working days for a UK order - please contact us immediately. For Europe, orders can take 10-14 Days. We are sorry but we do not dispatch our products to the rest of the world. We apologise for this lengthy period of time, unfortunately, express courier services are uneconomical to use with low priced products.

Please note, we DO NOT quote shipping. We will only make refunds where refunds are due. We apologise this process can not be more simple. Customs Declarations: We declare the value of all products as £15 - This is our average order cost and should not cause import duties or tax by your customs. All orders will be labelled generically as "Dietary Supplements".

To return an item, please dispatch it in its original wrapping and accompanied by a note outlining your name, address and reason for return. If you do decide that you would like to return your item, please have a look under the " terms and condition" page.