Regular price
Sale price
$10.74 USD
Unit price
per
Sale
Sold out
Turmeric and Black Pepper are cleverly formulated together in one tablet to achieve the benefits of both ingredients, mainly their anti-oxidative and digestive potential.
Turmeric
Turmeric is extracted from the root of the Curcuma longa plant, which grows in subtropical climates. Over the centuries it has been used in cooking, as a dye, and in natural aids. As a dye it has been used to colour the robes of monks and priests. The earliest recorded uses of Turmeric were in India and Israel in the 2nd Millenium BC. It was noted as a dye plant in the Assyrian Cuneiform medical texts from Ashurbanipal's library at Nineveh from 7th century BC. The root is cut, dried and powdered which provides access to the active compound, Curcuma. Turmeric is traditionally used in therapeutic practices, particularly in Asia where it is known as the 'warming plant'.
Black Pepper
Black Pepper originates from the berries of the Piper nigrum plant, which is native to South India. The word pepper derives from Old English pipor, Latin piper, and Sanskrit pippali for "long pepper". Although the peppercorns are black, the berries are initially green before they are left to dry and develop flavour. Ground, dried and cooked peppercorns have been used since antiquity for flavour, traditional therapy, and sometimes as currency. Black Pepper is colloquially known as the 'king of spices', as it is the world's most traded spice, and is one of the most common spices added to cuisines around the world. Its spiciness is due to the chemical compound piperine, which is a different kind of spicy from the capsaicin characteristic of chilli peppers.
Our Turmeric and Black Pepper tablets
Our Turmeric and Black Pepper tablets are sold in four quantities to suit both your nutritional needs and purchasing requirements. 
Turmeric is often used as a food dye and has the ability to stain, please take care when handling.
We recommend that both the 500 and 1,000 product options are more suitable for use by more than one person. This is to ensure that you are receiving full use of the product before its expiry date. For one person's use, we recommend the 120 or 240 tablet options.
Safety Note: Keep out of sight and reach of children. Certain medications interact with Turmeric. If you are pregnant, breastfeeding, have any medical condition or are taking medication, please consult your healthcare practitioner before use. Not intended for use by persons under the age of 18. Discontinue use and consult a doctor if adverse reactions occur. This product should not be used as a substitute for a varied and balanced diet or a healthy lifestyle. Do not exceed the stated dose. This product is not intended to treat, diagnose, cure or prevent any kind of illness.

It is our biggest priority to ensure that the information on this page is accurate at the time of its latest edits. We are constantly reviewing and developing our products to meet our customers' needs, so consumers (especially those who suffer from allergies and intolerances) should always check product labelling, warnings, and directions provided with the product prior to use.
View full details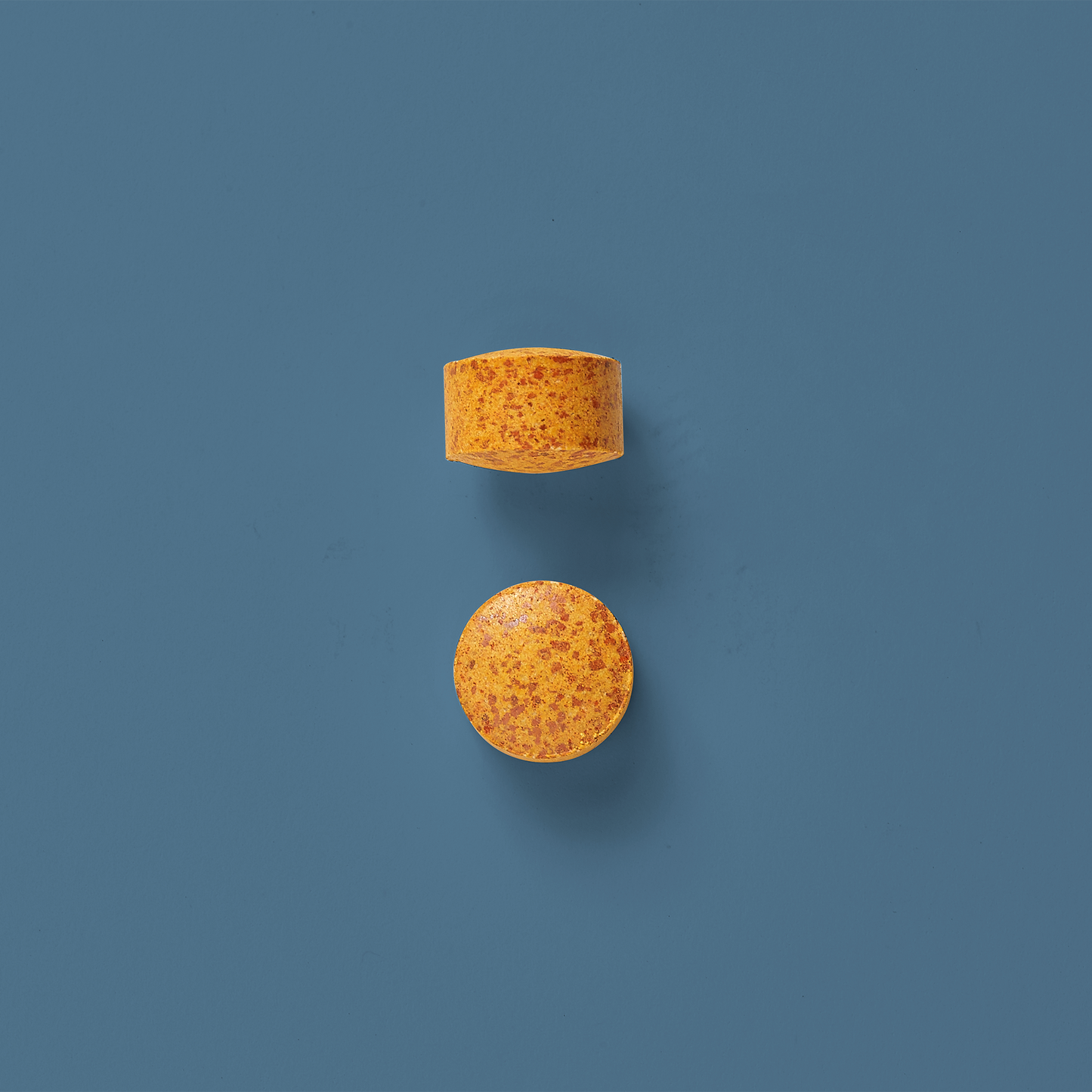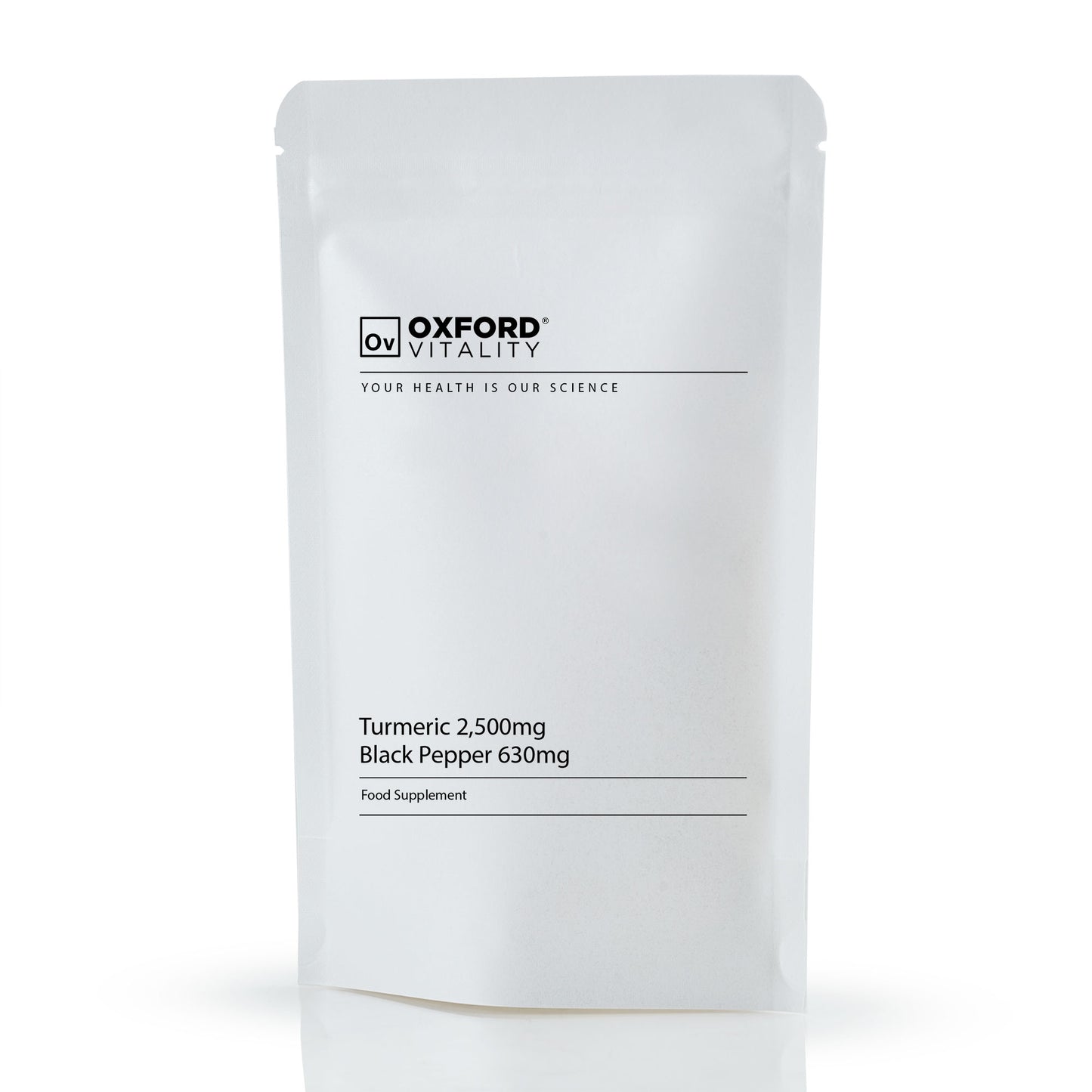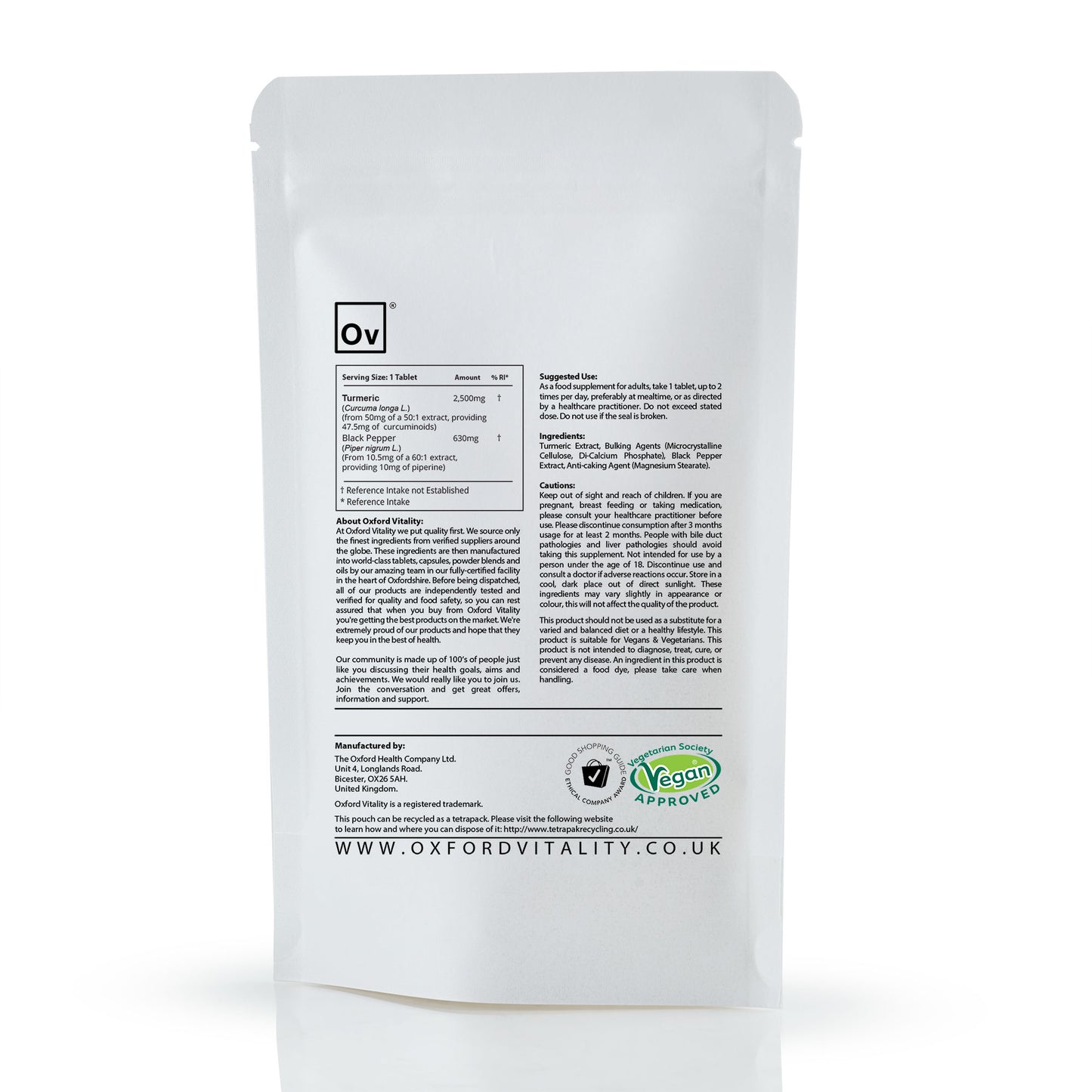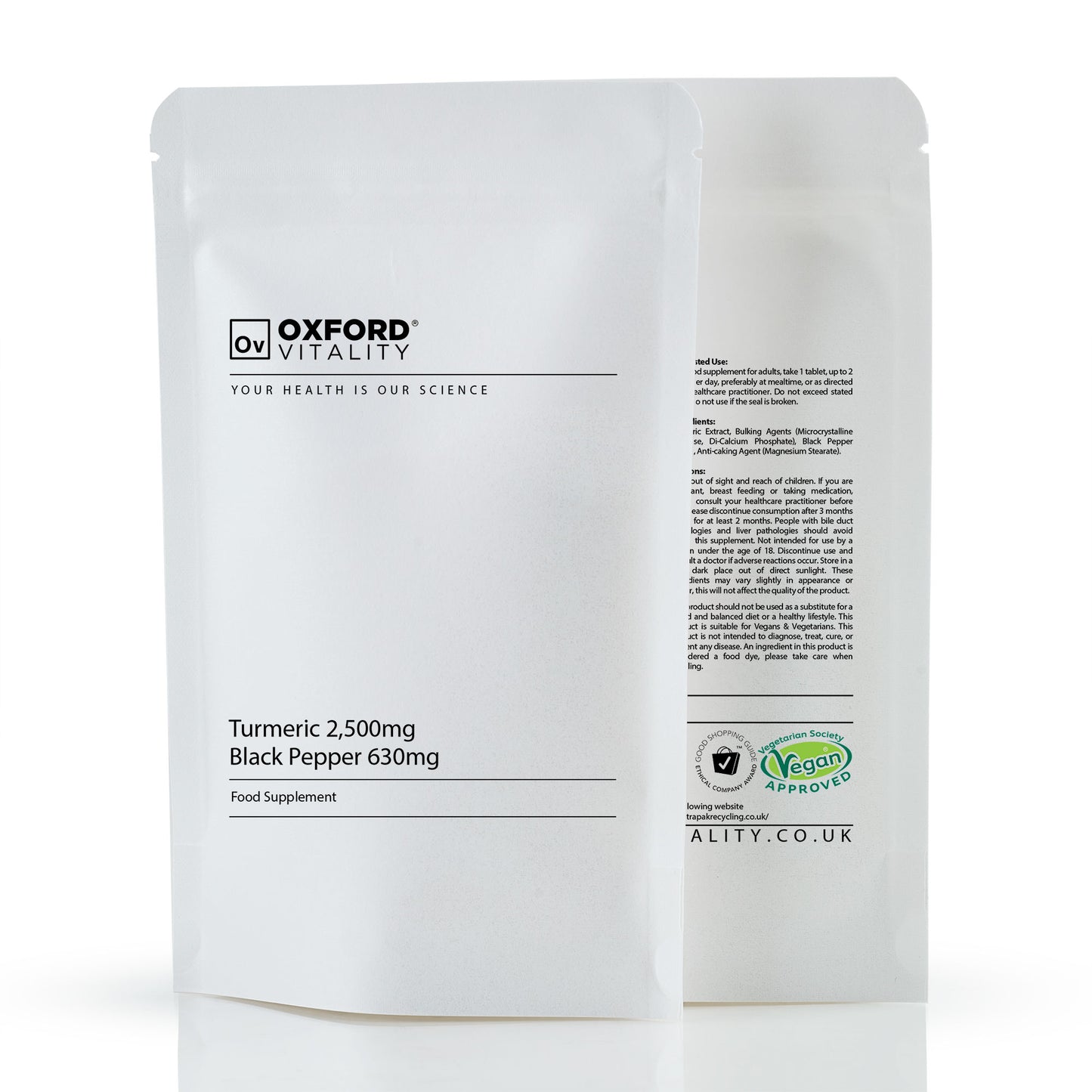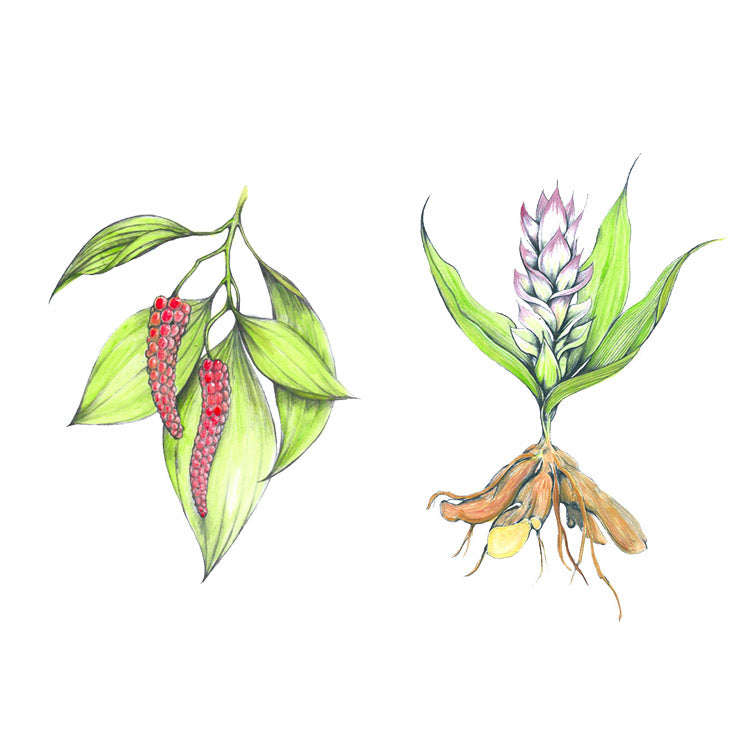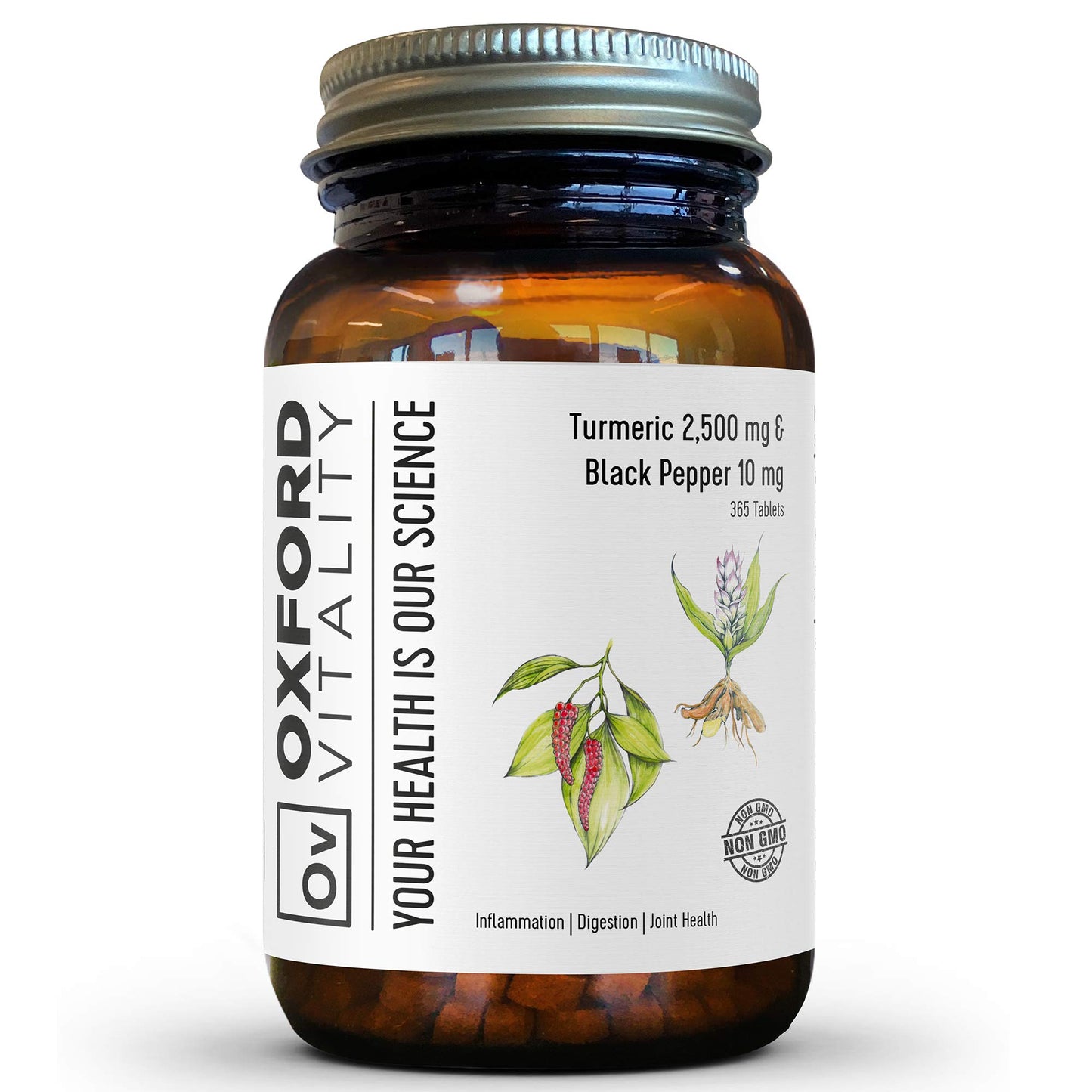 Turmeric and black pepper tablets
Excellent suffered pain for years and after taking tablets pain free
Turmeric with Black Pepper
Purchased for my mother. Along with Cod Liver Oil and Glucosamine, it's a powerful supplement 👍
Need clarification
I have been taking these for a couple of years and find they are benficial for my hip pain, but I am still confused as to the dosage of circumin in them. Oxford Vitality stated in one customer response that these tablets contain 2,500 mg, being a 50:1 tumeric extract. I am not sure if this means the tablets contain 2,500 mg of Tumeric and supplies 47.5 mg of circuminoids (per tablet) OR does it mean that each tablet contains 50mg Tumeric extract and therfore supplies 50 x 47.5 mg = 2,375 mg of curcuminoids per tablet? Please help me work this out! I also use other Oxford Vitality products which I am extremely happy with.
Really helps
Use for my back and has helped. Not as painful. When I run out I have noticed the difference as the pain increases. Definitely recommend
To early to say really, not noticed any benefit yet
Not found any benefit yet, i would think it would take months not a couple of weeks.
Collapsible content
Shipping & Returns

Shipping is via Royal Mail 1st Class We dispatch orders on weekdays up to 5 pm. Royal mail quote delivery times 1-2 days for 1st class and 2-3 days for 2nd class. Delays can happen, If delivery takes more than 5 working days for a UK order - please contact us immediately. For Europe, orders can take 10-14 Days. We are sorry but we do not dispatch our products to the rest of the world. We apologise for this lengthy period of time, unfortunately, express courier services are uneconomical to use with low priced products.

Please note, we DO NOT quote shipping. We will only make refunds where refunds are due. We apologise this process can not be more simple. Customs Declarations: We declare the value of all products as £15 - This is our average order cost and should not cause import duties or tax by your customs. All orders will be labelled generically as "Dietary Supplements".

To return an item, please dispatch it in its original wrapping and accompanied by a note outlining your name, address and reason for return. If you do decide that you would like to return your item, please have a look under the " terms and condition" page.