Regular price
Sale price
$12.88 USD
Unit price
per
Sale
Sold out
Our Vitamin B Complex
A complex normally contains a mixture of Vitamins and/or Minerals. In the case of our Vitamin B complex, each tablet contains a mix of the 8 essential B Vitamins. This includes Vitamin B1, B2, B3, B5, B6, B7, B9 and B12, as well as Inositol. The following are the main health benefits of the vitamins in this complex:
Contribution to a normal energy yielding metabolism and to the reduction of fatigue and tiredness.
Contribution to the maintenance of normal nervous system function and to normal psychological function.
Contribution to the maintenance of normal blood flow.
The maintenance of normal skin, mucous membranes, vision and hair.
Contribution to normal Iron metabolism and red blood cell production.
Supporting the maintenance of a normal immune system.
Playing a role in the prevention of oxidative stress.
 Please note that these tablets will slightly dye whatever they come into contact with.
Components of Our Vitamin B complex

Vitamin B1

Vitamin B1 (Thiamine) is naturally found in white and brown bread flour as the vitamin is legally required to be added. Thiamine can also be found in whole grains, nuts, fruit and vegetables. The vitamin contributes to the maintenance of a normal energy yielding metabolism.

Vitamin B2

Vitamin B2 (Riboflavin) can be found in milk, eggs, fortified breakfast cereals and rice. Vitamin B2 also plays a role in the normal functioning of the nervous system and maintenance of the mucous membranes.

Vitamin B3

Vitamin B3 (Niacin) was first used in photography in 1867. It naturally occurs in certain foods, such as meat, fish, eggs, milk and wheat products, including bran flakes, oats and bread. Vitamin B3 contributes to normal psychological function and normal functioning of the immune system.

Vitamin B5

Vitamin B5 (Pantothenic Acid) is commonly found in potatoes, oats, tomatoes, eggs, broccoli and whole grains, including brown rice and wholemeal bread. Vitamin B5 is also found in meat sources like chicken and beef, as well as lesser eaten kidney. Pantothenic Acid contributes to a normal energy yielding metabolism, as well as normal mental performance. Vitamin B5 also contributes to the normal synthesis of steroid hormones, Vitamin D and some neurotransmitters.

Vitamin B6

Vitamin B6 (Pyridoxine) may also be called Pyridoxal-5-phosphate and Pyridoxamine. The vitamin is found in a wide array of foods, including pork, poultry, fish, eggs and milk. Plant-based sources of Vitamin B6 include whole-grain cereals, soya beans, peanuts, potatoes, oatmeal, wheat germ, and brown rice. Vitamin B6 contributes to normal protein and glycogen metabolism, as well as regulation of hormonal activity.

Vitamin B7

Vitamin B7 (Biotin) is found in small quantities in several foods. Biotin is also produced naturally by some bacteria in the gut. Good food sources of Biotin include eggs, pork, dairy products, oats, rice, mushrooms and apples. Biotin contributes to normal macronutrient metabolism, as well as the maintenance of normal hair and skin.

Vitamin B9

Vitamin B9 (Folate) is found in green leafy vegetables such as spinach, kale, Brussels sprouts, cabbage and broccoli. Folate is also found naturally in beans and legumes, yeast, oranges and orange juice, wheat bran, poultry, pork and shellfish, and certain fortified foods. Folate contributes to maternal tissue growth during pregnancy and supports normal homocysteine metabolism.

Vitamin B12

Vitamin B12 (Cobalamine) is only available in animal products including meat, milk, cheese, eggs and fish, such as cod and salmon. Some fortified breakfast cereals and plant-based milk contain a vegan form of B12, which is not naturally found in food. Vitamin B12 contributes to normal energy production, functioning of the immune system and red blood cell formation.

Inositol

Inositol is also known as Vitamin B8 although it technically isn't a vitamin, rather a type of sugar. It naturally occurs in fruits, beans, grains and nuts and our body can produce Inositol from the carbohydrates we eat.
This product is suitable for vegetarians and vegans.
We recommend that both the 500 and 1,000 tablet options are more suitable for use by more than one person. This is to ensure that you are receiving full use of the product before its expiry date. For one person's use, we recommend the 120 or 240 tablet options.
Safety Information: Keep out of sight and reach of children. If you are pregnant, breastfeeding, or taking medication[s] please consult your healthcare practitioner before use. Not intended for use by persons under the age of 18. Discontinue use and consult a doctor if adverse reactions occur. This product should not be used as a substitute for a varied and balanced diet or a healthy lifestyle. Do not exceed stated dose. This product is not intended to treat, diagnose, cure or prevent any kind of illness. Taking more than 200 μg/day of Folic Acid is not recommended for people over the age of 50 or who have a history of colorectal adenomas. If over the age of 50 or have a history of colorectal adenomas do not exceed a dose of 1 tablet a day. Long term intakes of Vitamin B6 over 10mg may lead to mild tingling and numbness.
View full details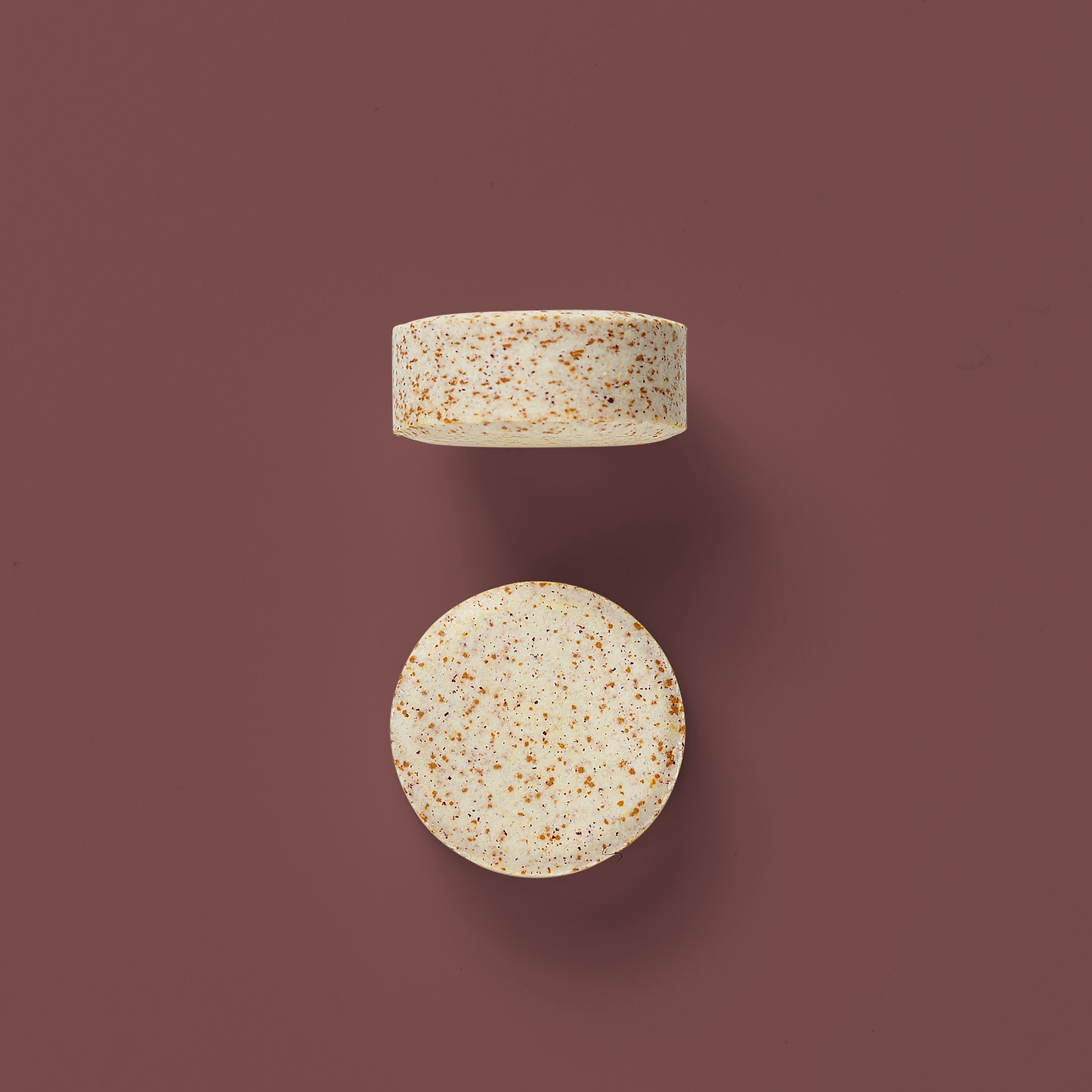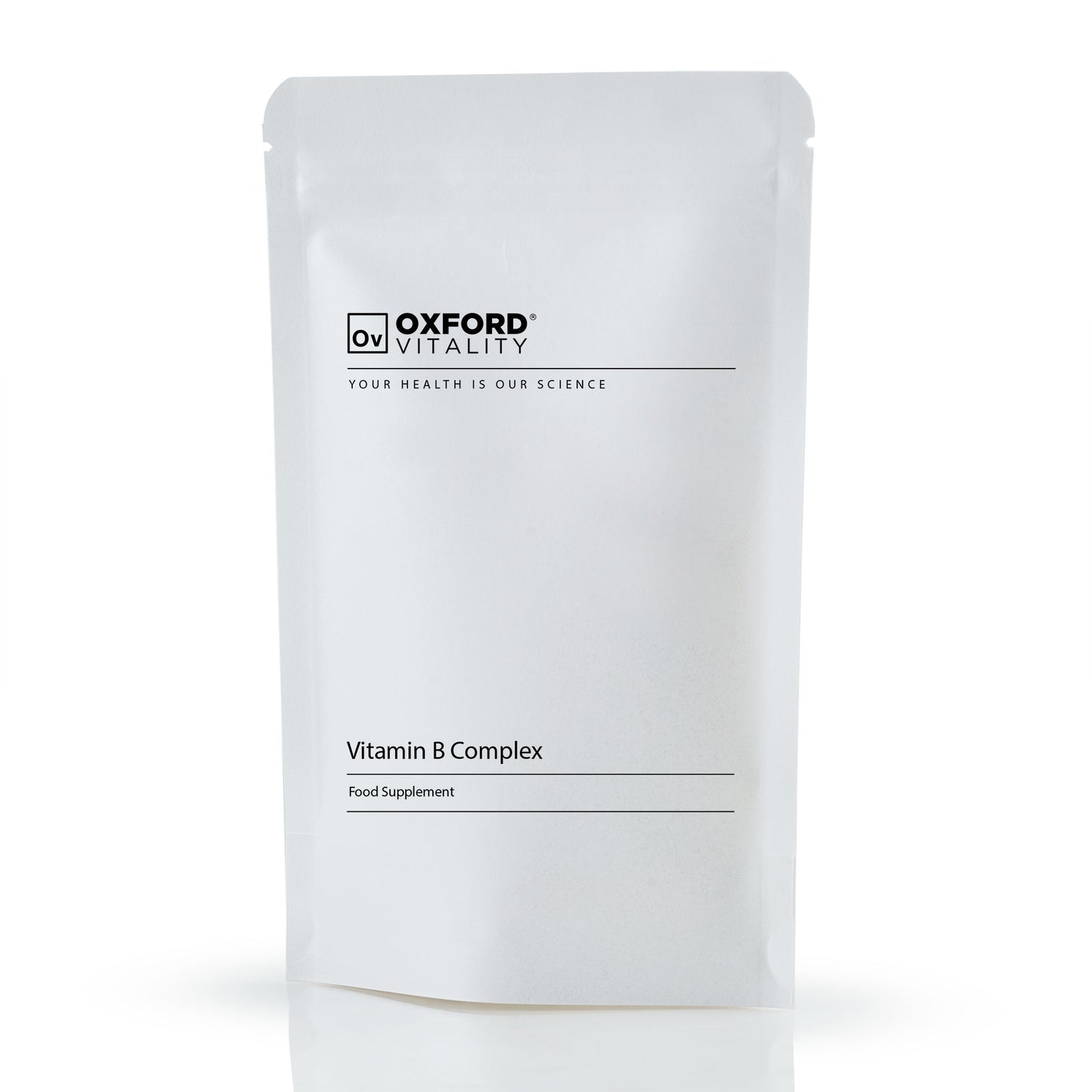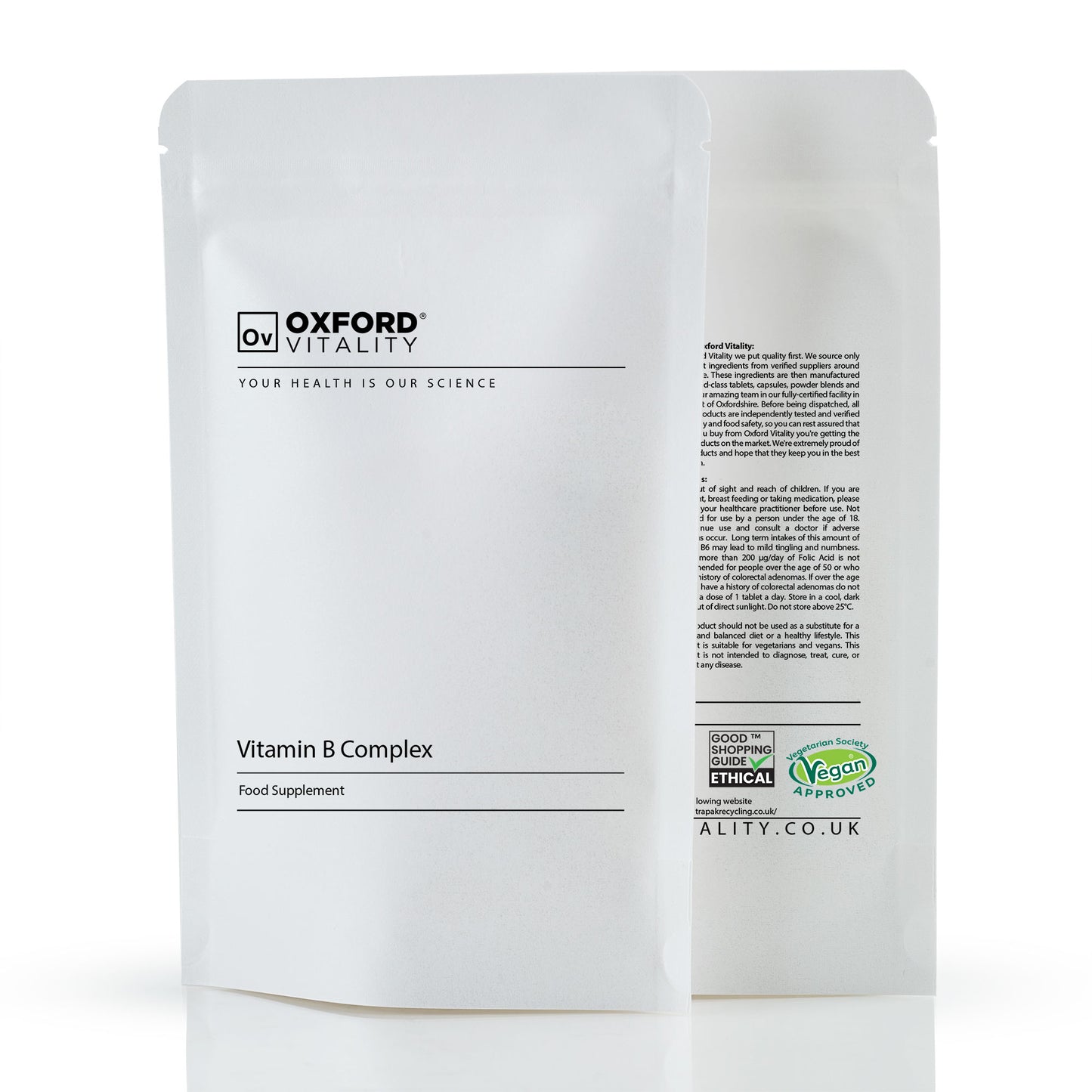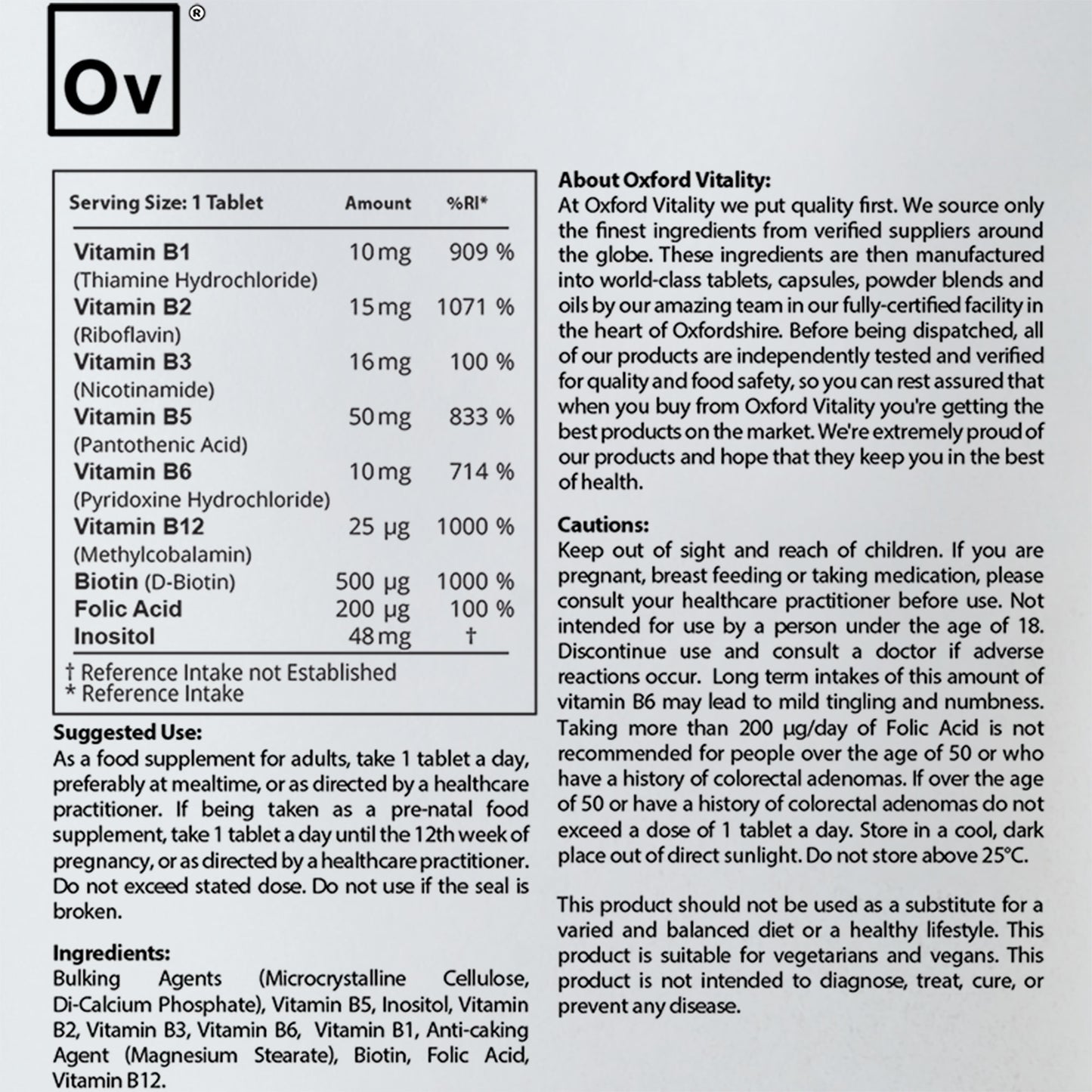 Well pleased.
Excellent delivery, with no wasteful packaging.
Vitamin B
Great service from Oxford Vitality.
Order arrived on time.
Thank You.
Xtra Vit B
The supplement was Supplied quickly and efficiently- I have started a course of Vit B complex and hope to feel the benefits soon
Vitamins at reasonable price simply packaged thank you
I take these and other vitamins daily. Best value I have found.
5 Stars
Quality and Value with swift service
Collapsible content
Shipping & Returns

Shipping is via Royal Mail 1st Class We dispatch orders on weekdays up to 5 pm. Royal mail quote delivery times 1-2 days for 1st class and 2-3 days for 2nd class. Delays can happen, If delivery takes more than 5 working days for a UK order - please contact us immediately. For Europe, orders can take 10-14 Days. We are sorry but we do not dispatch our products to the rest of the world. We apologise for this lengthy period of time, unfortunately, express courier services are uneconomical to use with low priced products.

Please note, we DO NOT quote shipping. We will only make refunds where refunds are due. We apologise this process can not be more simple. Customs Declarations: We declare the value of all products as £15 - This is our average order cost and should not cause import duties or tax by your customs. All orders will be labelled generically as "Dietary Supplements".

To return an item, please dispatch it in its original wrapping and accompanied by a note outlining your name, address and reason for return. If you do decide that you would like to return your item, please have a look under the " terms and condition" page.