Regular price
Sale price
$8.59 USD
Unit price
per
Sale
Sold out
Origins of Vitamin B1
Vitamin B1, otherwise known as Thiamine (or Thiamin), is a water-soluble vitamin that is added to white and brown bread flour by law. Thiamine also naturally occurs in whole grains, nuts, fruit and vegetables, and meat - particularly pork. 
Our bodies don't readily store Thiamine, especially if vomiting occurs. This produces a high risk of Vitamin B1 deficiency, often leading on to beriberi. Beriberi became a highlighted issue in the 19th century in Asia when white rice was introduced. When the deficiency first came to light, it became apparent that rich people didn't suffer as severely as those who had less money. This was because those with more money had access to a wider range of foods, and could, therefore, eat a more varied diet. White rice is a refined product where parts of the grain containing fibre and vitamins within are removed, including the husks, bran and germ. As rice is a staple food in Asia, those who ate a variety of foods could consume their Thiamine from other products, whereas those who ate a limited diet consisting mainly of rice couldn't achieve the recommended amount of Thiamine.
Another common deficiency as a result of a lack of Vitamin B1 is the Wernicke-Korsakoff syndrome. This comes about when absorption of the vitamin is impaired, causing a brain disorder. 
Public Health England advises a minimum daily intake of 1mg for women and 0.8mg for men, although intake of 100mg per day is recommended.
Benefits of Vitamin B1
Supplementing with Vitamin B1 helps with the prevention of beriberi and Wernicke-Korsakoff syndrome. Vitamin B1 also contributes to normal energy metabolism and psychological functioning, helping to keep the brain alert and preventing fatigue. Thiamine is also responsible for the normal functioning of the heart and nervous system to keep illness at bay.
Our Vitamin B1 tablets
We offer our tablets in four quantities to suit your requirements. Our tablets have an aesthetic appearance with a white colouring in 9mm diameter. 
Please note - we recommend that both the 500 and 1,000 tablet options are more suitable for use by more than one person. This is to ensure that you are receiving full use of the product before its expiry date. For one person's use, we recommend the 120 or 240 tablet options.
View full details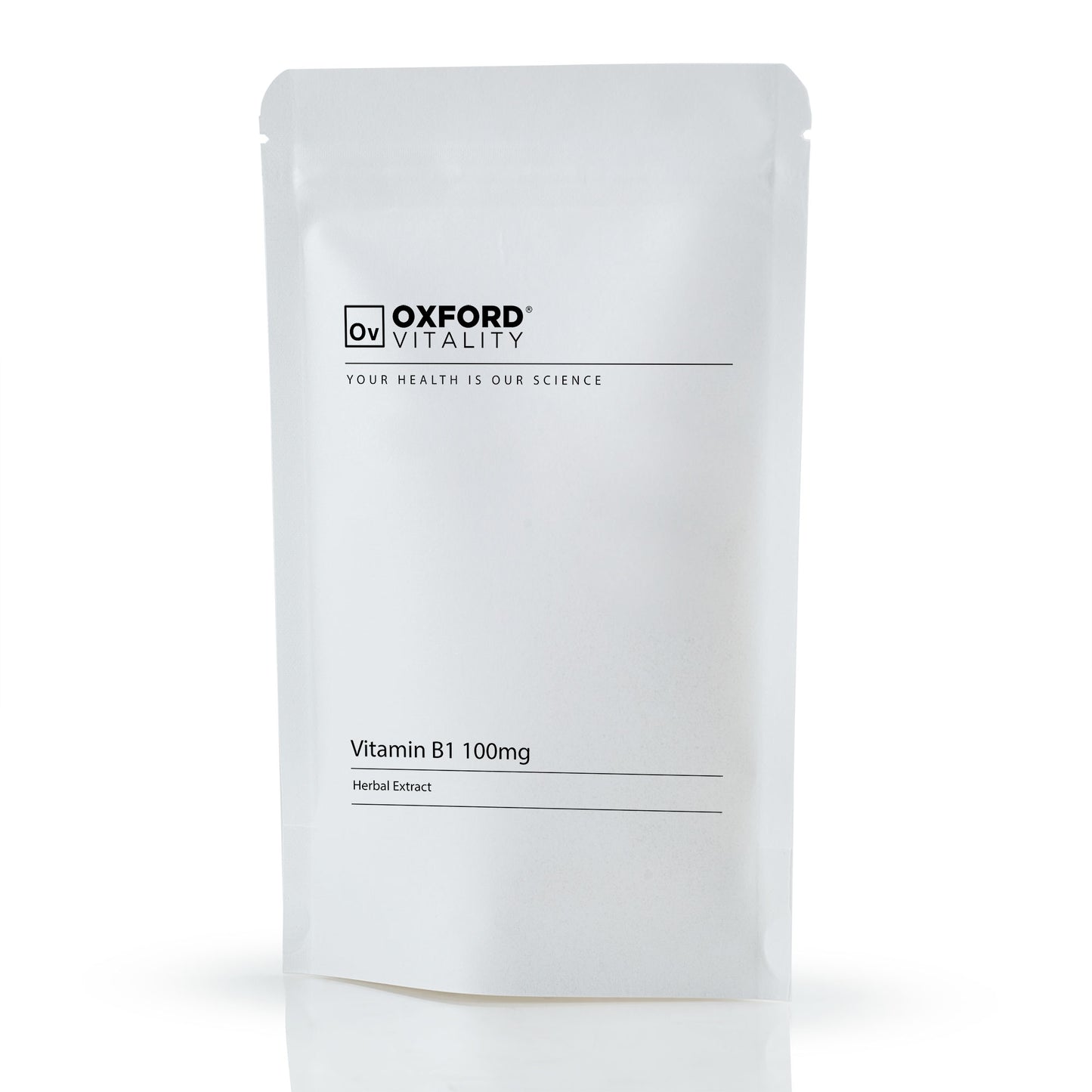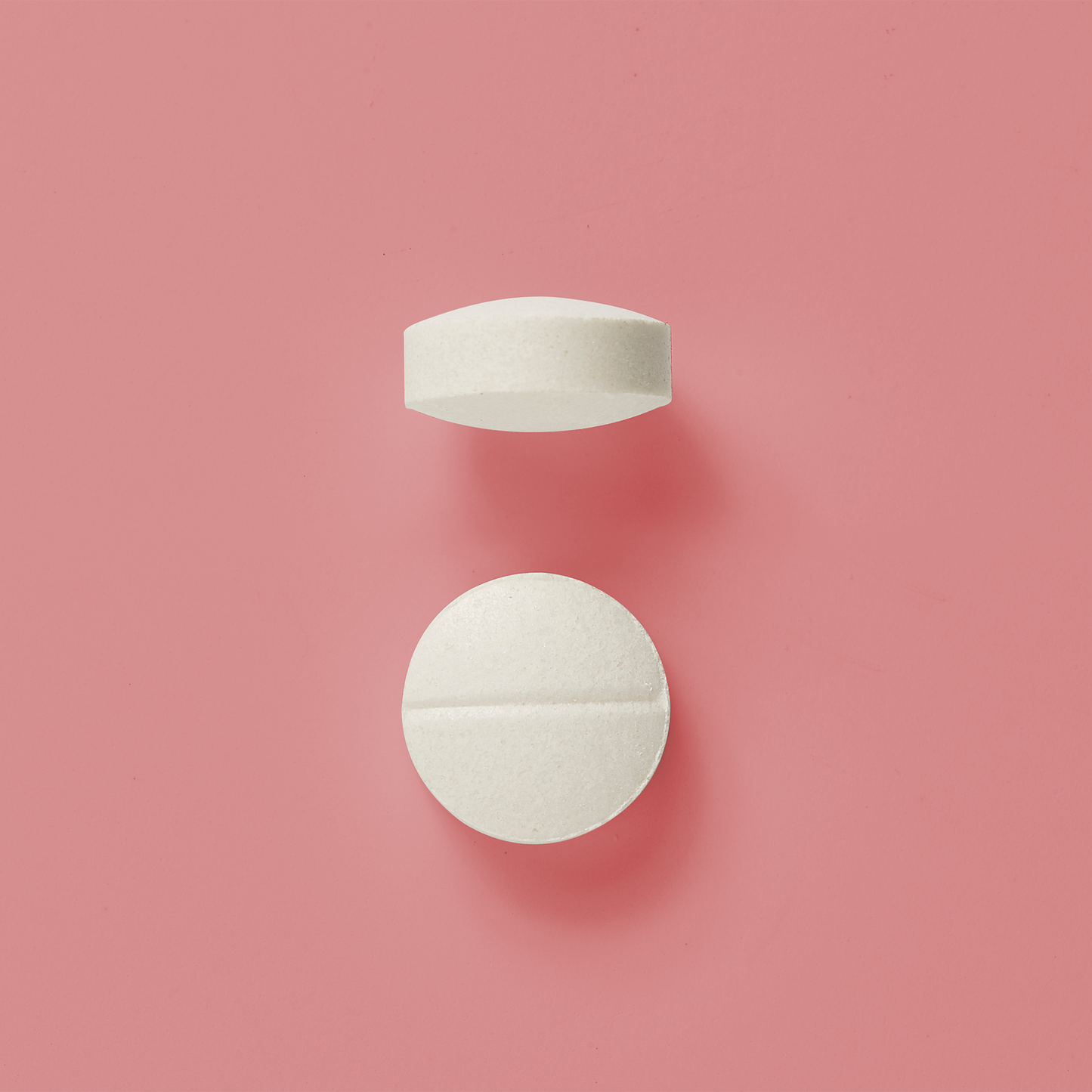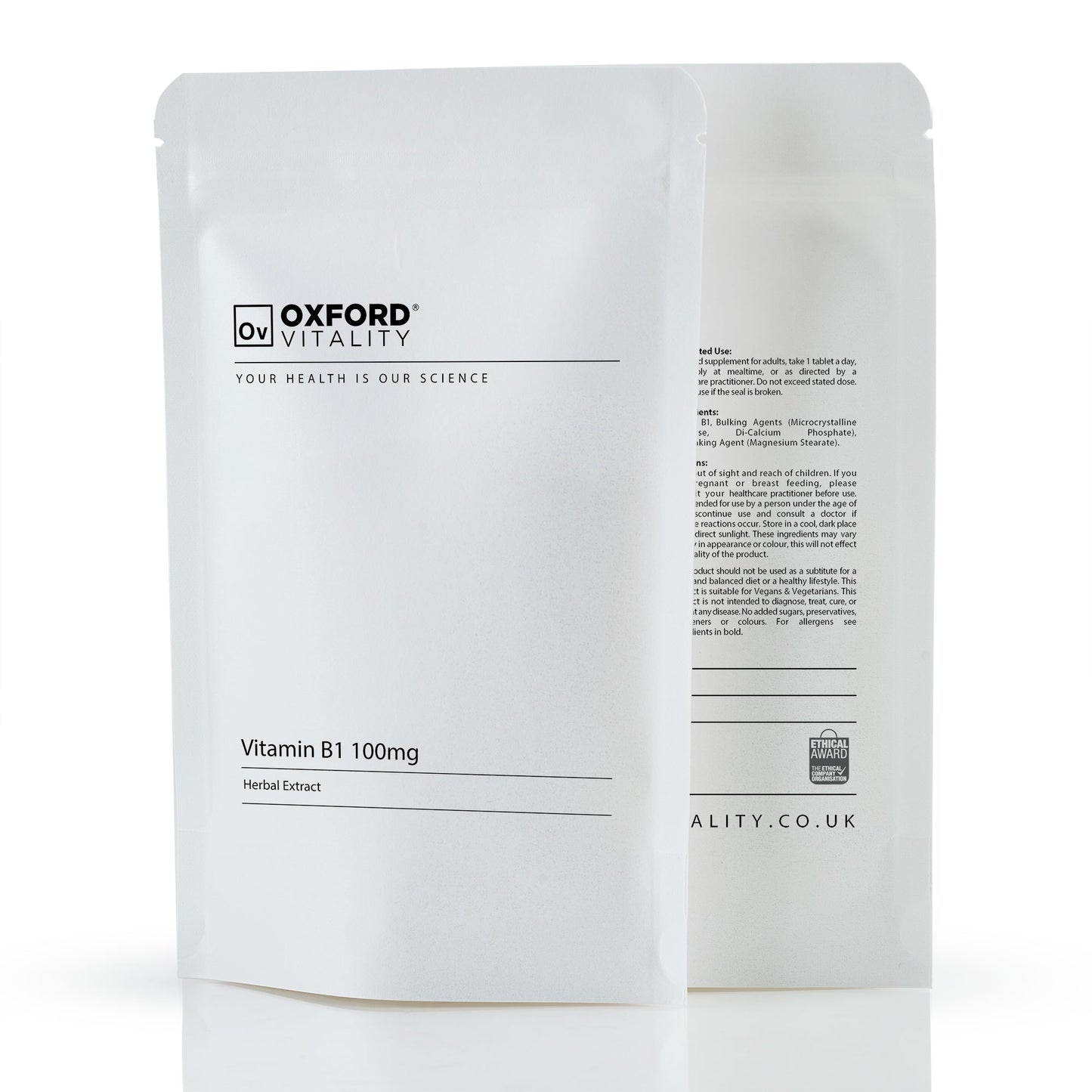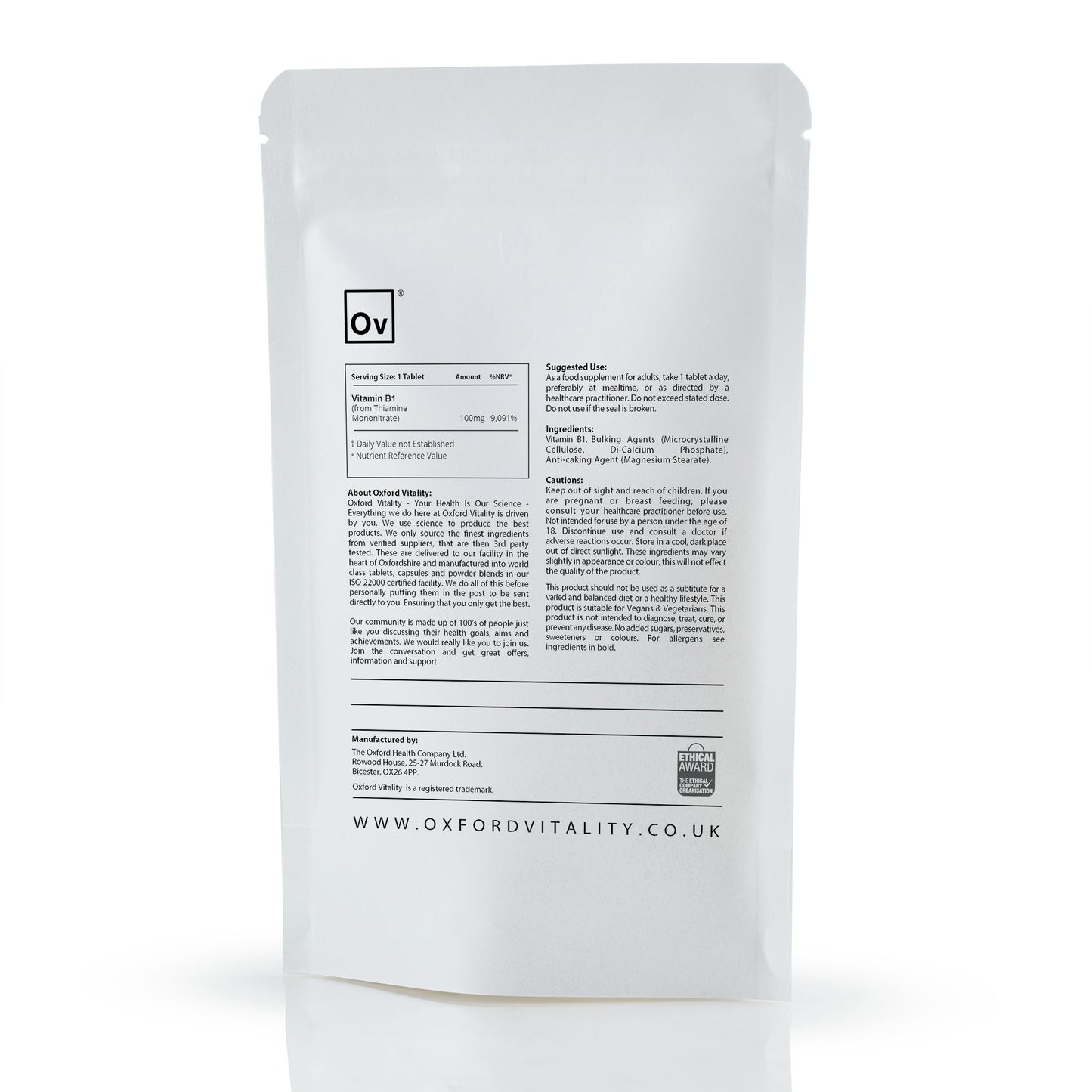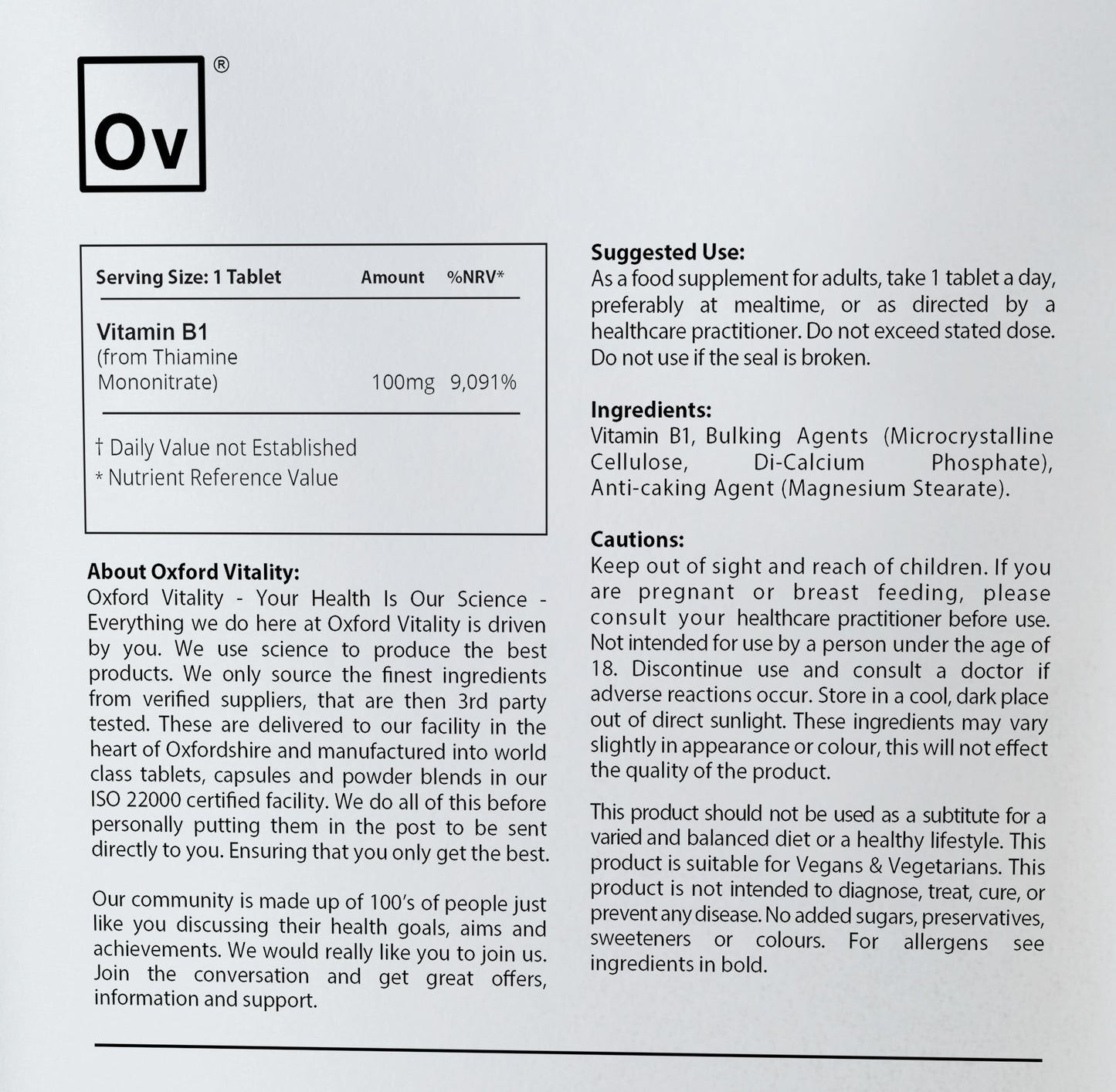 B1 does seem to give more energy
My only advice is that taking these in the morning seems to be key as you will otherwise have a little too much energy when trying to go to sleep
A necessity for Diabetics.
Many years ago, the university of Warwick diabetic research unit, discovered that all diabetics are highly deficient in vitamin B1.
You'd think that the foolish health ministry would have jumped on that and prescribed B1 to diabetics throughout the land, especially given that the long term complications of diabetes are identical to the long term effects of vitamin B1 deficiency.
So
I've been taking 100 mg a day for the last 10 years and my original eye problems vanished.
Research this and make your own mind up.
Oxford vitality are without question, the best supplier for this type of product and usually half the price of the high Street bandits.
Recommended.
Very good
Received all vitamins in time in this lockdown.
Bonjour Capucine,Je
Bonjour Capucine,Je salue cette initiative, c'est une très bonne idée de faire intervenir d&t1827;au#res blogueuses ici !En revanche la personne en question est signalée comme arnaqueuse sur certains forums… Il vaut mieux le savoir !Longue vie à  ce blog !
Collapsible content
Shipping & Returns

Shipping is via Royal Mail 1st Class We dispatch orders on weekdays up to 5 pm. Royal mail quote delivery times 1-2 days for 1st class and 2-3 days for 2nd class. Delays can happen, If delivery takes more than 5 working days for a UK order - please contact us immediately. For Europe, orders can take 10-14 Days. We are sorry but we do not dispatch our products to the rest of the world. We apologise for this lengthy period of time, unfortunately, express courier services are uneconomical to use with low priced products.

Please note, we DO NOT quote shipping. We will only make refunds where refunds are due. We apologise this process can not be more simple. Customs Declarations: We declare the value of all products as £15 - This is our average order cost and should not cause import duties or tax by your customs. All orders will be labelled generically as "Dietary Supplements".

To return an item, please dispatch it in its original wrapping and accompanied by a note outlining your name, address and reason for return. If you do decide that you would like to return your item, please have a look under the " terms and condition" page.