Regular price
Sale price
$7.52 USD
Unit price
per
Sale
Sold out
What is Vitamin K2?
Vitamin K2 can be traced back to the 1600s, back to when the Samurai warriors in Japan began to consume a fermented soybean dish called natto. Historical diets provided enough Vitamin K2 to prevent deficiencies, however commercial changes in food preparation and storage have likely reduced the amount of Vitamin K2 accessible in our diets. It wasn't until 1935 when the Danish scientist Henrik Dam noticed that feeding chicks with bleeding gums an extremely low-fat diet could be counteracted by supplying the animals with a fat-soluble factor. Edward Adelbert Doisy discovered and synthesised the chemical structure of Vitamin K a few years later, giving cause for both Dam and Doisy to share the Nobel Prize in 1943 in medicine. 
The chemical name of Vitamin K2 is Menaquinone, a fat-soluble vitamin that is stored in the liver. Vitamin K2 exists in nine forms (MK-1 to MK-9) with the most important forms being MK-4, MK-7 and MK-9. Natural dietary sources of Vitamin K2 include dairy, eggs, yoghurt, cheese, spinach, green leafy vegetables, and the previously mentioned Japanese natto.
Benefits of Vitamin K2
Vitamin K plays a role in the contribution to normal blood clotting, essential for blood coagulation to close wounds and prevent excessive blood loss. The fat-soluble vitamin also aids the maintenance of normal bones, keeping bones healthy by helping the body to absorb Calcium.
Our Vitamin K2 tablets
Our tablets are sold in two strengths dependant on your needs: 100mcg and 500mcg. We also provide four product sizing options and each tablet has a diameter of 6mm.
Please note- we advise you to contact your health professional if you are pregnant, breastfeeding or taking any medication before use. Certain medications may interact with Vitamin K2, including those for diabetes and anti-coagulants, and Vitamin K2 supplements should not be taken alongside these medications.
We recommend that both the 500 and 1,000 tablet options are more suitable for use by more than one person. This is to ensure that you are receiving full use of the product before its expiry date. For one person's use, we recommend the 120 or 240 tablet options.
View full details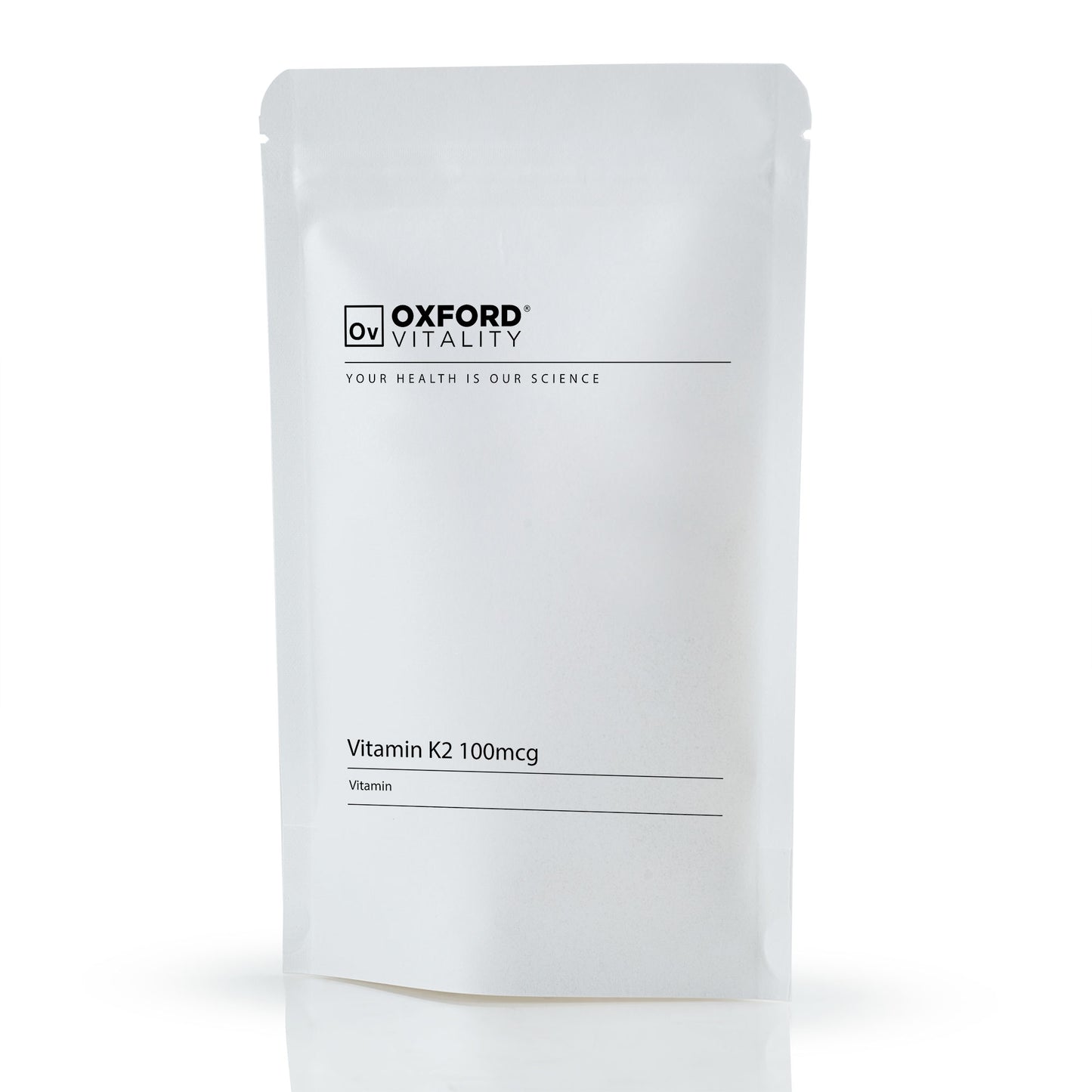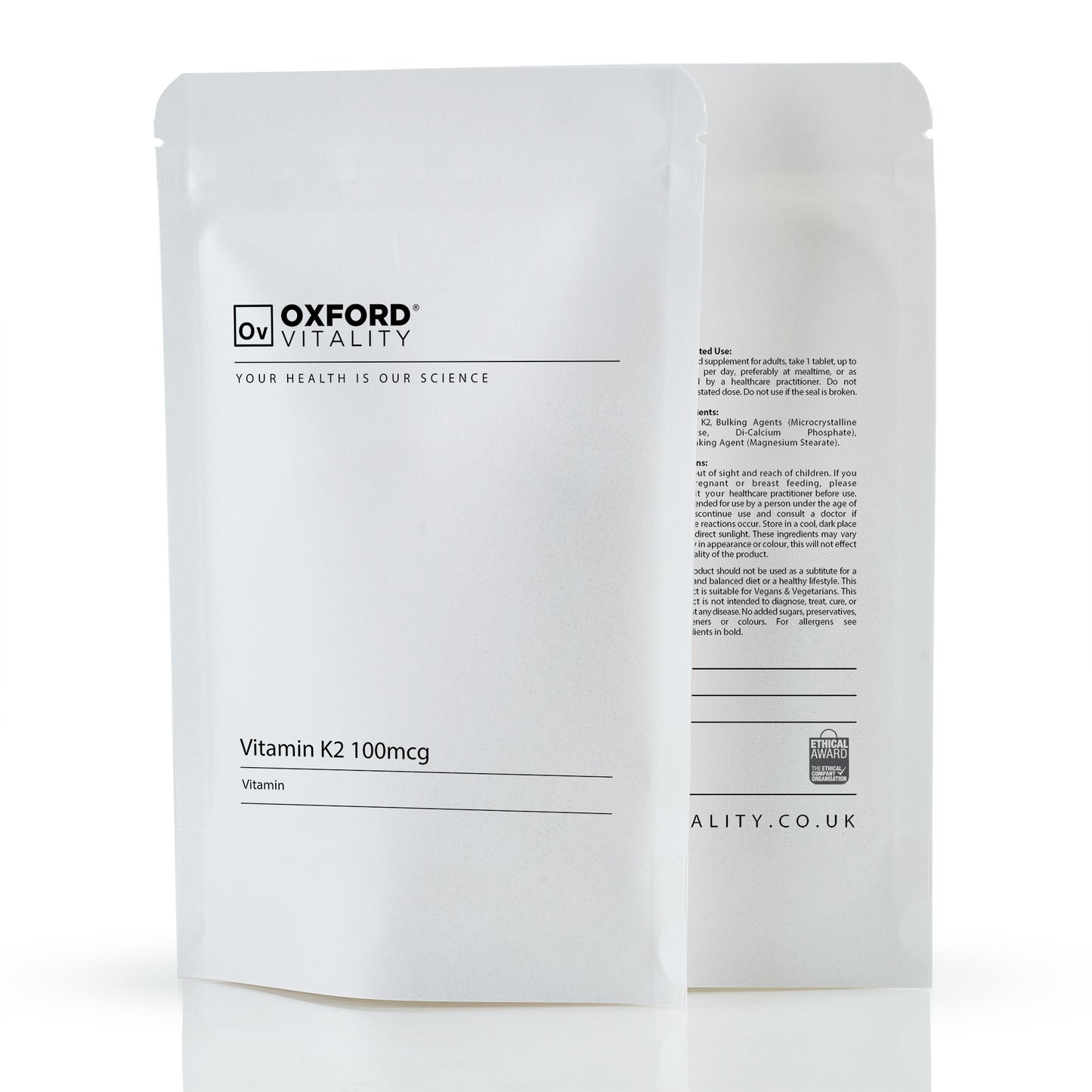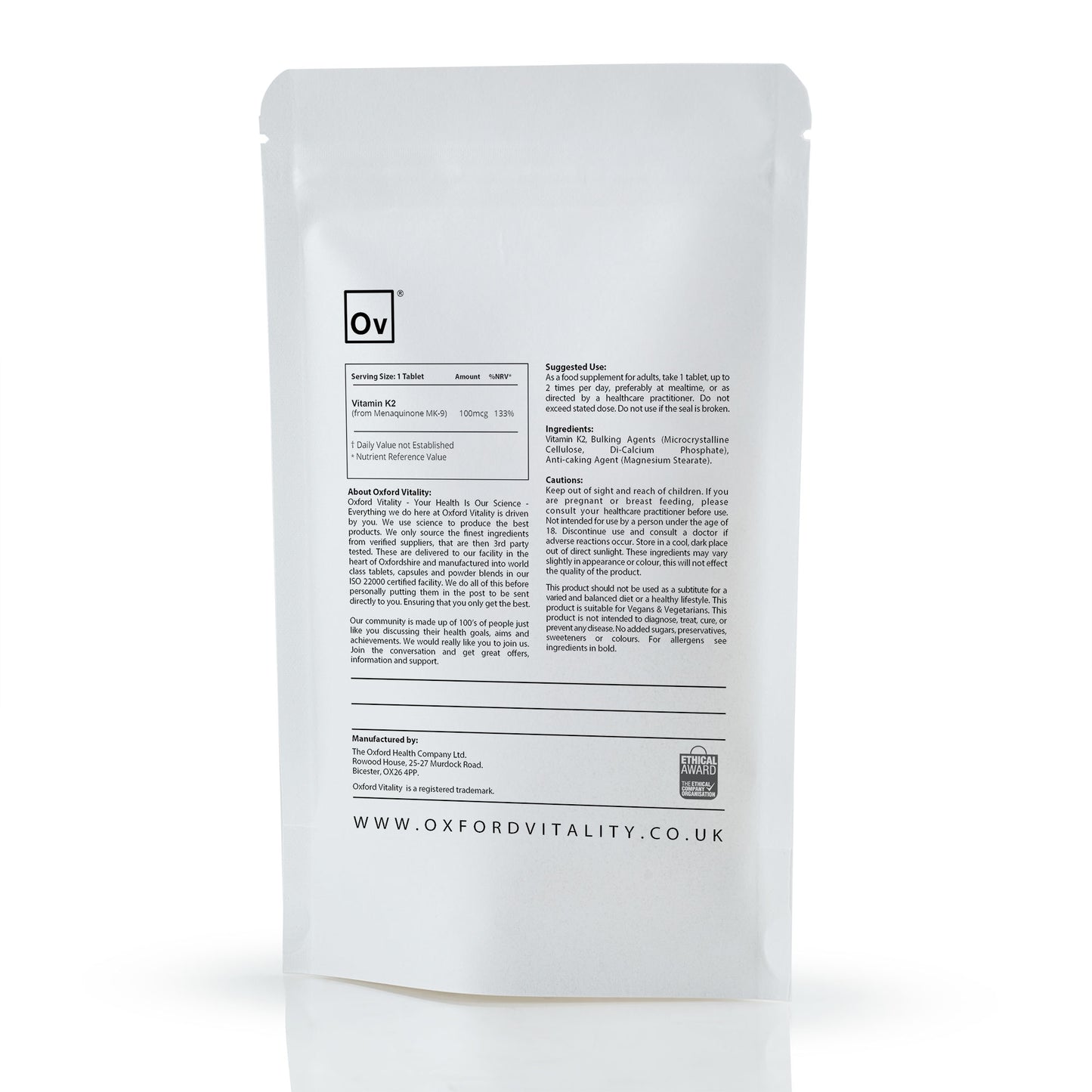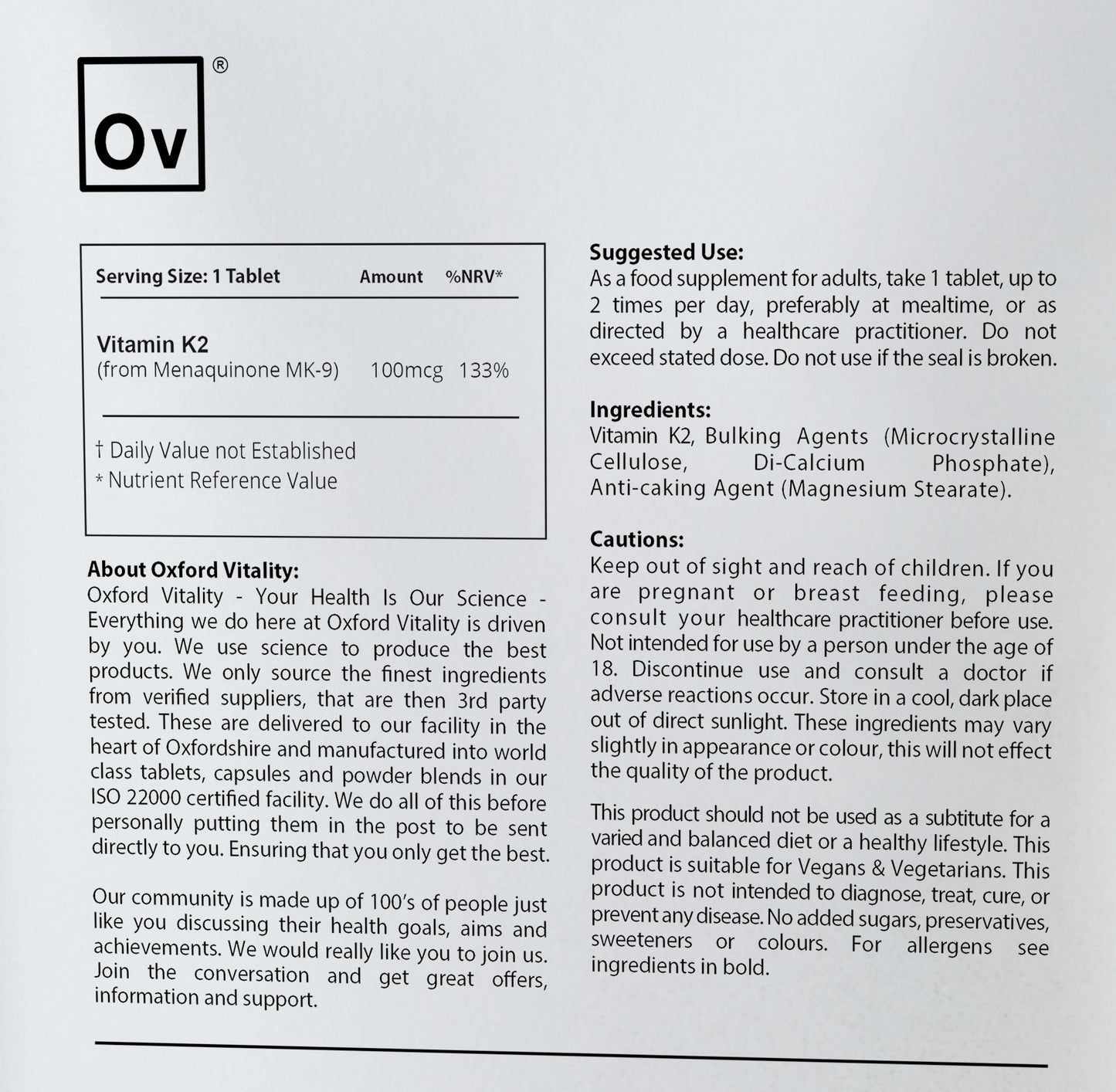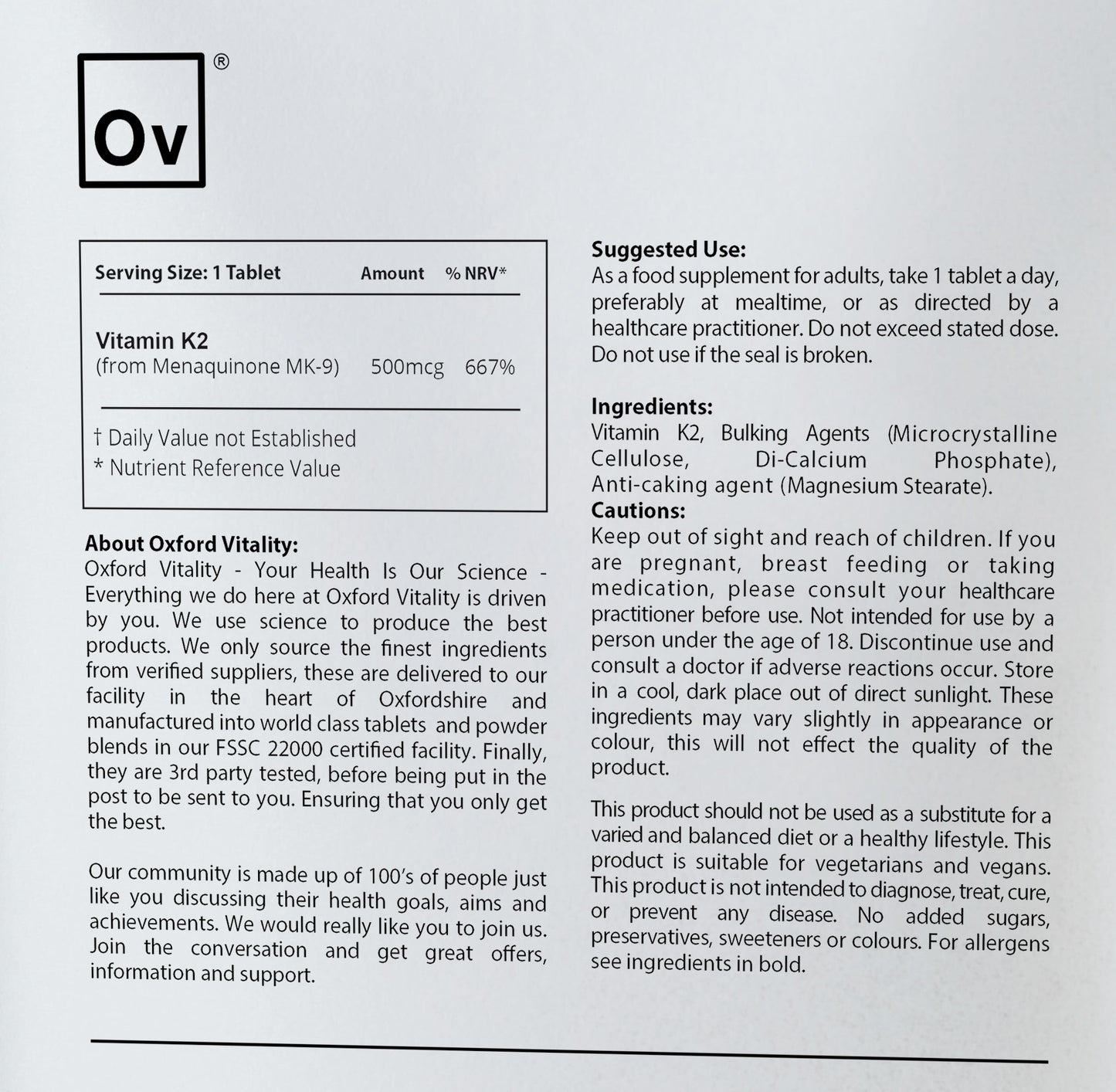 Vit K order
Excellent! Reliable in every way. Delivered promptly. Loose one star - sorry guys! - because not in robust container. But maybe that is wise - easier and cheaper postage and I can easily use a small jar if I want. Get with it Eddy?!
great service
great tablets to help with osteoarthritis
Collapsible content
Shipping & Returns

Shipping is via Royal Mail 1st Class We dispatch orders on weekdays up to 5 pm. Royal mail quote delivery times 1-2 days for 1st class and 2-3 days for 2nd class. Delays can happen, If delivery takes more than 5 working days for a UK order - please contact us immediately. For Europe, orders can take 10-14 Days. We are sorry but we do not dispatch our products to the rest of the world. We apologise for this lengthy period of time, unfortunately, express courier services are uneconomical to use with low priced products.

Please note, we DO NOT quote shipping. We will only make refunds where refunds are due. We apologise this process can not be more simple. Customs Declarations: We declare the value of all products as £15 - This is our average order cost and should not cause import duties or tax by your customs. All orders will be labelled generically as "Dietary Supplements".

To return an item, please dispatch it in its original wrapping and accompanied by a note outlining your name, address and reason for return. If you do decide that you would like to return your item, please have a look under the " terms and condition" page.