Regular price
Sale price
$7.52 USD
Unit price
per
Sale
Sold out
Caffeine is naturally found in tea, coffee, guarana and cacao plants. Coffee was reportedly discovered by an Ethiopian shepherd who noticed the extra energy the coffee bushes gave his goats after they grazed on them. In the modern day, billions of people consume caffeine when they wake up in the mornings or to get through an afternoon slump.
B Vitamins are essential water-soluble vitamins which play a role in many important functions within the body. B vitamins are mostly found in meat and dairy products, but they can also be found in pulses, whole grains and nutritional yeast. B3 and B12 support normal metabolism, normal functioning of the nervous system, and reduction of tiredness and fatigue. B12 also contributes to normal psychological function and red blood cell formation.
Ginseng is a root that is native to East Asia. The English 'ginseng' comes from the Chinese 'jîn-sim', which literally means 'person, plant root'. This describes its slightly human-like appearance. In China it has traditionally been used as a tonic for people with chronic illnesses. Arabian merchants introduced it to Europe in the middle ages. It thrives in shady mountain forests.
Creatine is a chemical which is produced in the muscles and brain. It was discovered in 1832. Creatine reuses energy in muscles and the brain. The name comes from the Greek for flesh, 'kreas', because the compound is found in red meat and seafood. Creatine is absorbed into the bloodstream and goes to big muscle groups, like quadriceps and biceps. This is why it's so popular in the sports industry, and sometimes amongst Olympic athletes.
Beetroot was first cultivated in the ancient Middle East. The Romans were the first to use the root like we do today. During the 19th Century, women used its bright red pigment (betalain) as a cheek and lip stain. Today, beetroot is a common garden vegetable, and its name comes from bettl, a Celtic word for red. Beetroot contains geosmin, which makes it taste earthy (and contributes to the smell of soil after rain).
Citrulline is an amino acid. Its name comes from citrullus, which is the latin word for watermelon. This is because it was first isolated from a watermelon in 1914 by Japanese researchers. Citrulline forms an essential part of the urea cycle, which removes ammonia from the body. Showing proper citrulline circulation is a way of showing that the intestines function as they should.
Beta-alanine is another amino acid. It helps with the production of carnosine, which features in the endurance of muscles during high-intensity exercise. In our diets, we can receive beta-alanine through meat and poultry, particularly chicken breast. It's also a component of vitamin 5 (pantothenic acid). It features in the diet of many bodybuilders.
Suitable for Vegetarians and Vegans. 
Please note - Before taking this supplement if you have any medical conditions such as low blood pressure, please consult your healthcare practitioner. This product contains an ingredient that can stain, please be aware when handling. These tablets come in our classic torpedo shape and are not recommended for those who have swallowing difficulties.
Safety Information: Keep out of sight and reach of children. If you are pregnant, breastfeeding, or taking medication[s] please consult your healthcare practitioner before use. Not intended for use by persons under the age of 18. Discontinue use and consult a doctor if adverse reactions occur. This product should not be used as a substitute for a varied and balanced diet or a healthy lifestyle. Do not exceed stated dose. This product is not intended to treat, diagnose, cure or prevent any kind of illness.
It is our biggest priority to ensure that the information on this page is accurate at the time of its latest edits. We are constantly reviewing and developing our products to meet our customers' needs, so consumers (especially those who suffer from allergies and intolerances) should always check product labelling, warnings, and directions provided with the product prior to use.
View full details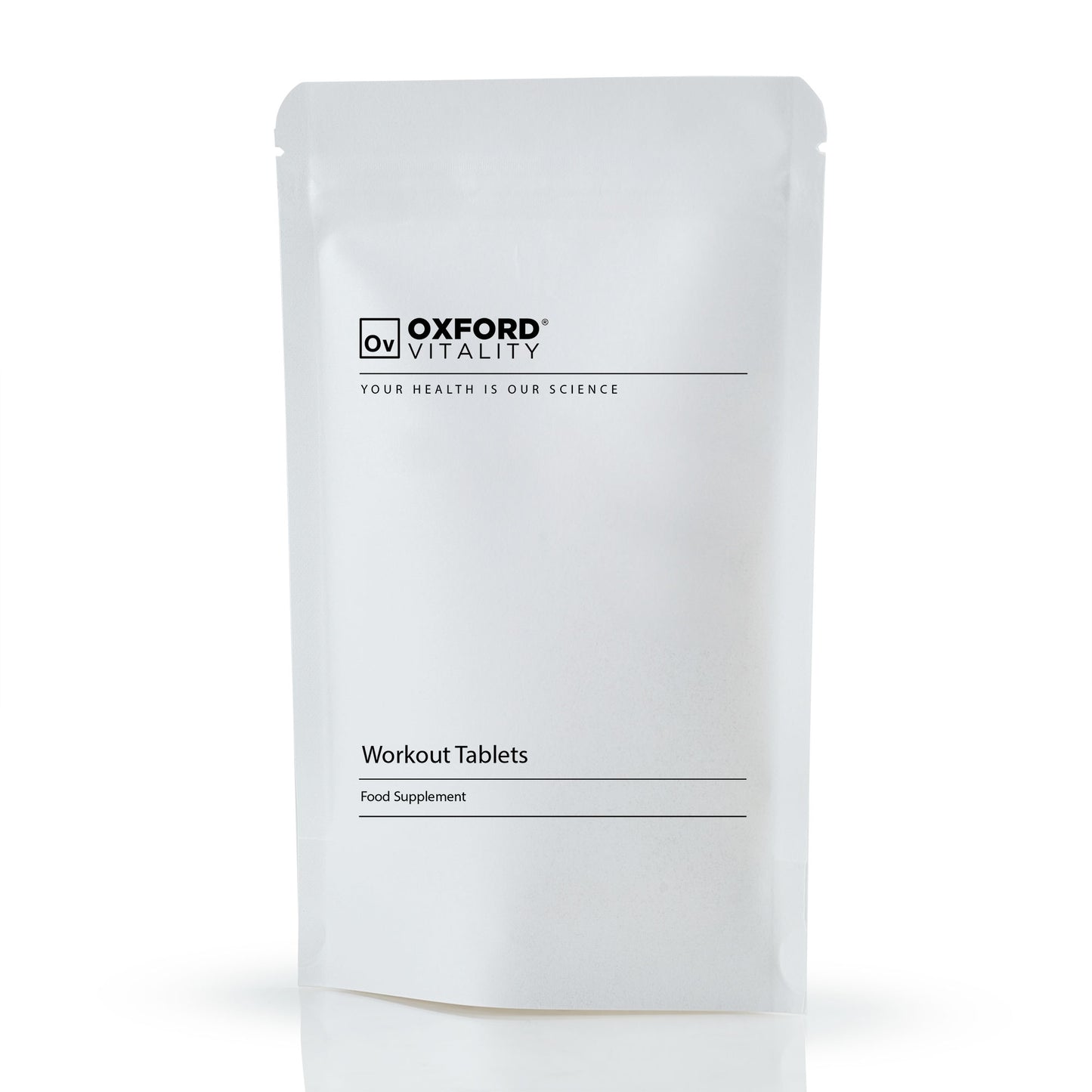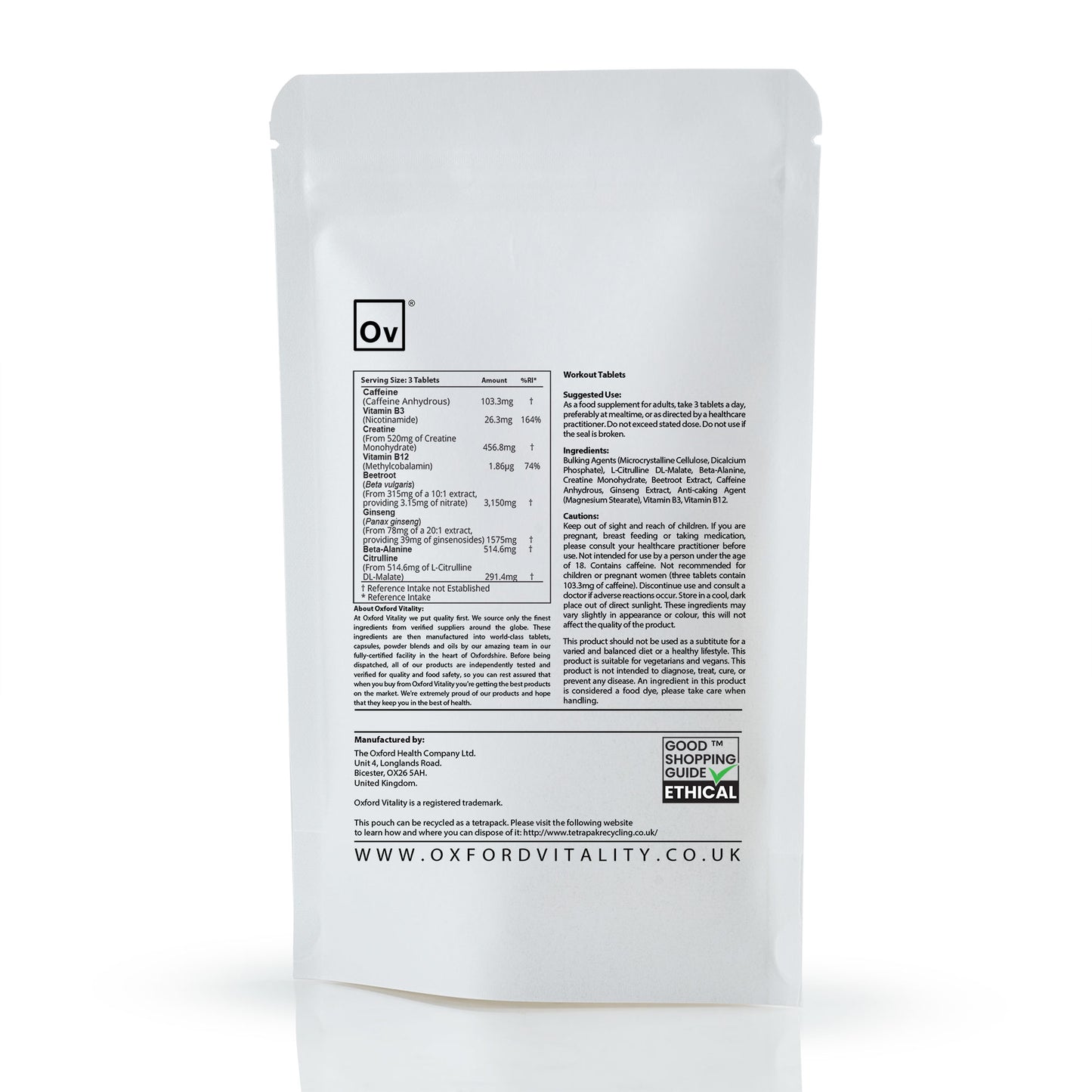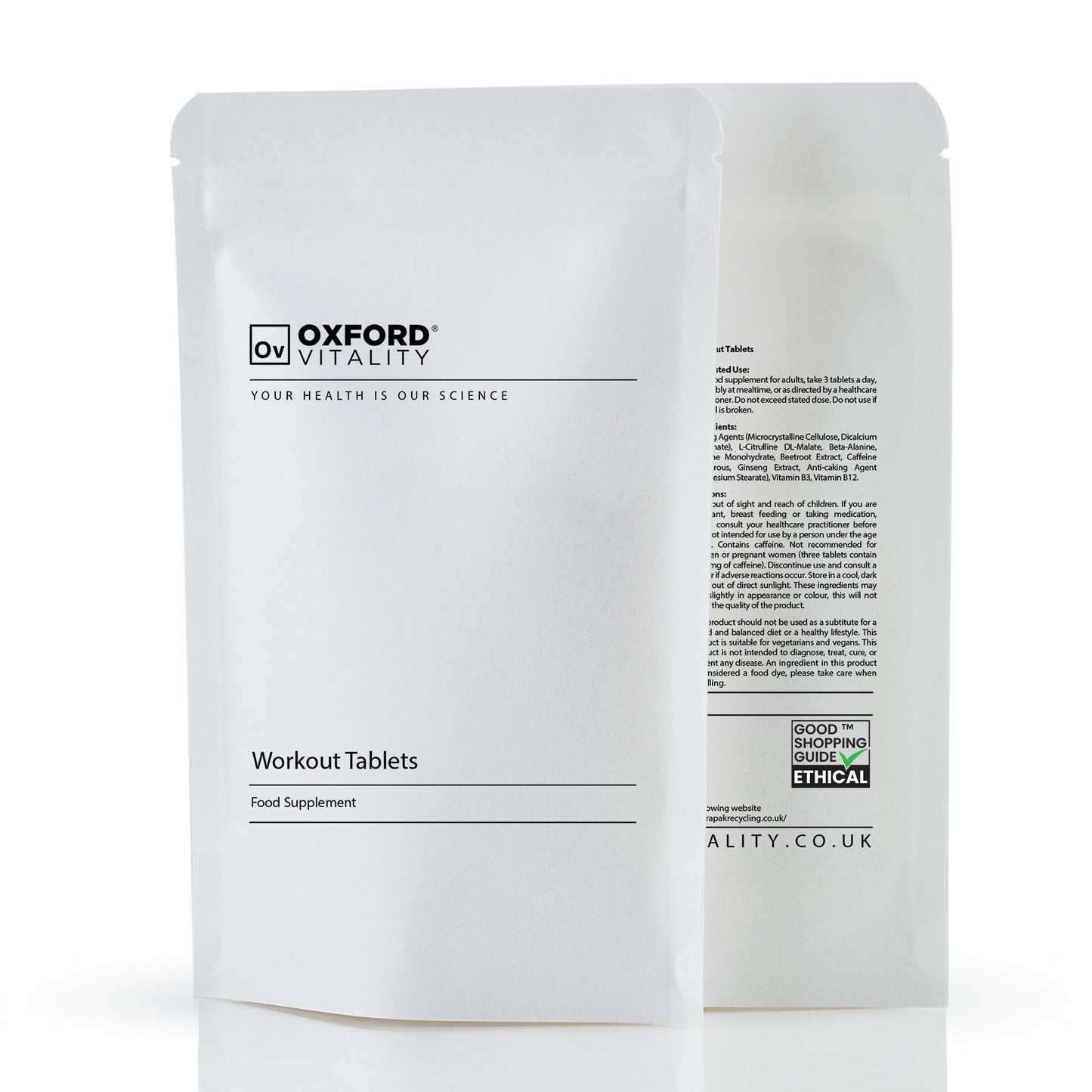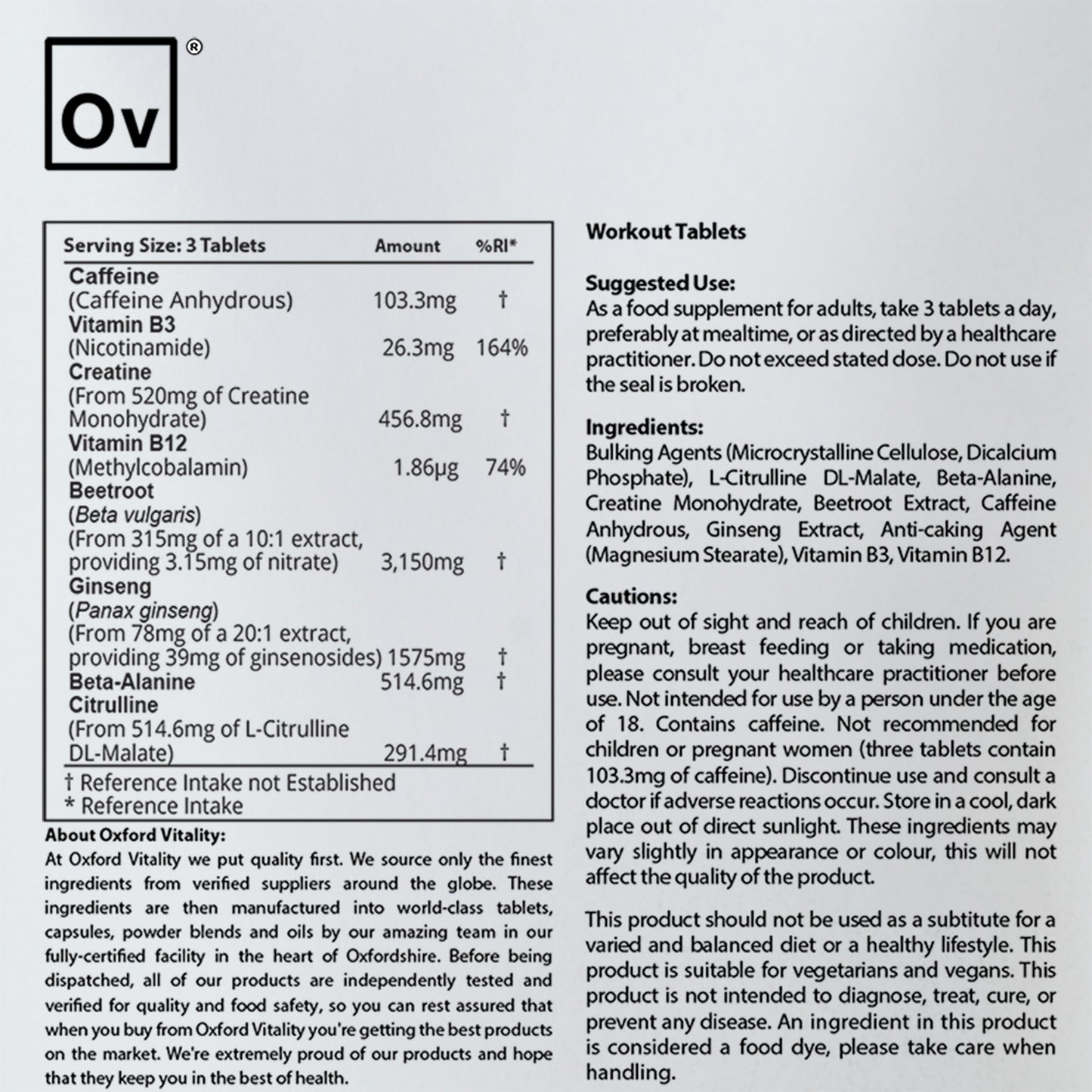 Mind your mind!
I started to take these, 3 a day as suggested. After about 3 days I felt anxious, couldn't think properly, had no patience with any thing, short fuse and angry! Couldn't think why, until I was talking to a colleague about how I felt and said, I've started taking these "workout tablets" and the penny dropped. It was the only thing in my diet and lifestyle I had changed / introduced. I immediately stopped taking them and after a few days was back to my normal level headed self.
This is quite probably only how they affected me and my stage of life but I'll stick to beetroot to oxygenate my blood for gym performance from now on!!! I have gone on to buy the beetroot supplements and my usual vitamin D.
The service is always excellent and I like their recyclable packaging too. Just not these particular supplements!
Collapsible content
Shipping & Returns

Shipping is via Royal Mail 1st Class We dispatch orders on weekdays up to 5 pm. Royal mail quote delivery times 1-2 days for 1st class and 2-3 days for 2nd class. Delays can happen, If delivery takes more than 5 working days for a UK order - please contact us immediately. For Europe, orders can take 10-14 Days. We are sorry but we do not dispatch our products to the rest of the world. We apologise for this lengthy period of time, unfortunately, express courier services are uneconomical to use with low priced products.

Please note, we DO NOT quote shipping. We will only make refunds where refunds are due. We apologise this process can not be more simple. Customs Declarations: We declare the value of all products as £15 - This is our average order cost and should not cause import duties or tax by your customs. All orders will be labelled generically as "Dietary Supplements".

To return an item, please dispatch it in its original wrapping and accompanied by a note outlining your name, address and reason for return. If you do decide that you would like to return your item, please have a look under the " terms and condition" page.