Regular price
Sale price
$8.59 USD
Unit price
per
Sale
Sold out
The balance of Zinc, Copper and Vitamin C promote the health of the immune system and regulate the correct hormonal balance.
Zinc
Our Zinc is sourced from Zinc Citrate and our formula provides 15mg of elemental Zinc in each tablet. Zinc occurs naturally in herring, beef, lamb, sunflower seeds and cheese. Other sources include shellfish, other dairy products, bread and cereal products. The Recommended Nutrient Intake (or RNI) for men is 9.5mg, whereas women require 7mg per day. The average quantity of Zinc absorbed within the human body is 15mg per day, although the human body stores 2.5g total Zinc across all organs, tissues, fluids and secretions. The health benefits of Zinc include its contribution to the process of cell division, DNA synthesis, fertility and reproduction. In addition, Zinc acts as an antioxidant to protect cells from oxidative stress and aid the functioning of the immune system. Zinc is also well known for its properties in macronutrient metabolism, including carbohydrates, fatty acids and acid-base metabolism, as well as contributing to normal hair, skin, nails, vision and testosterone levels.
Copper
Copper exists in the body in two forms: cuprous and cupric. The element has been used for centuries, as early as 9000BC, mainly in the building industry. Our Copper is sourced from Copper Gluconate which is biologically available for absorption. Copper is largely available in foods such as Brazil nuts, pistachio nuts, oysters and shellfish. Copper has several uses, many of which are vital for the full functionality of the body. For starters, Copper contributes to the maintenance of normal connective tissues and protects cells from oxidative stress, as an antioxidant. Copper is also commonly used to benefit the normal function of the immune system, aid normal energy metabolism and functioning of the nervous system. Lastly, Copper is used for normal skin and hair pigmentation, as well as to support the transport of iron in the body.
Vitamin C
Vitamin C is a water-soluble antioxidant, also known as Ascorbic acid and Ascorbate. Vitamin C is best known for its history to cure scurvy. Public Health England recommends a minimum consumption of 40mg of Vitamin C a day as the vitamin can't be stored in the body. Vitamin C has several roles within the body but is most commonly known for its ability to maintain the normal function of the immune system during and after intense physical activity. Vitamin C also works in conjunction with Iron, aiding the absorption of non-haem Iron to increase absorption levels and prevent deficiency. Vitamin C is a potent antioxidant that helps to scavenge free radicals, reduce oxidative stress and reduce tiredness and fatigue. Vitamin C also contributes to the regeneration of the reduced form of Vitamin E, another common antioxidant. Additionally, Vitamin C is well known to contribute to the formation of bones, cartilage, gums, skin and teeth.
Our Zinc, Copper and Vitamin C tablets
We offer our tablets in an aesthetic and manageable 9mm size, in four product quantities. 
Please note- we advise you to contact your health professional if you are pregnant, breastfeeding or taking any medications before use. Certain medications may interact with Zinc, including those for diabetes and blood pressure, and Zinc supplements should not be taken alongside these medications.
We recommend that both the 500 and 1,000 tablet options are more suitable for use by more than one person. This is to ensure that you are receiving full use of the product before its expiry date. For one person's use, we recommend the 120 or 240 tablet options.
View full details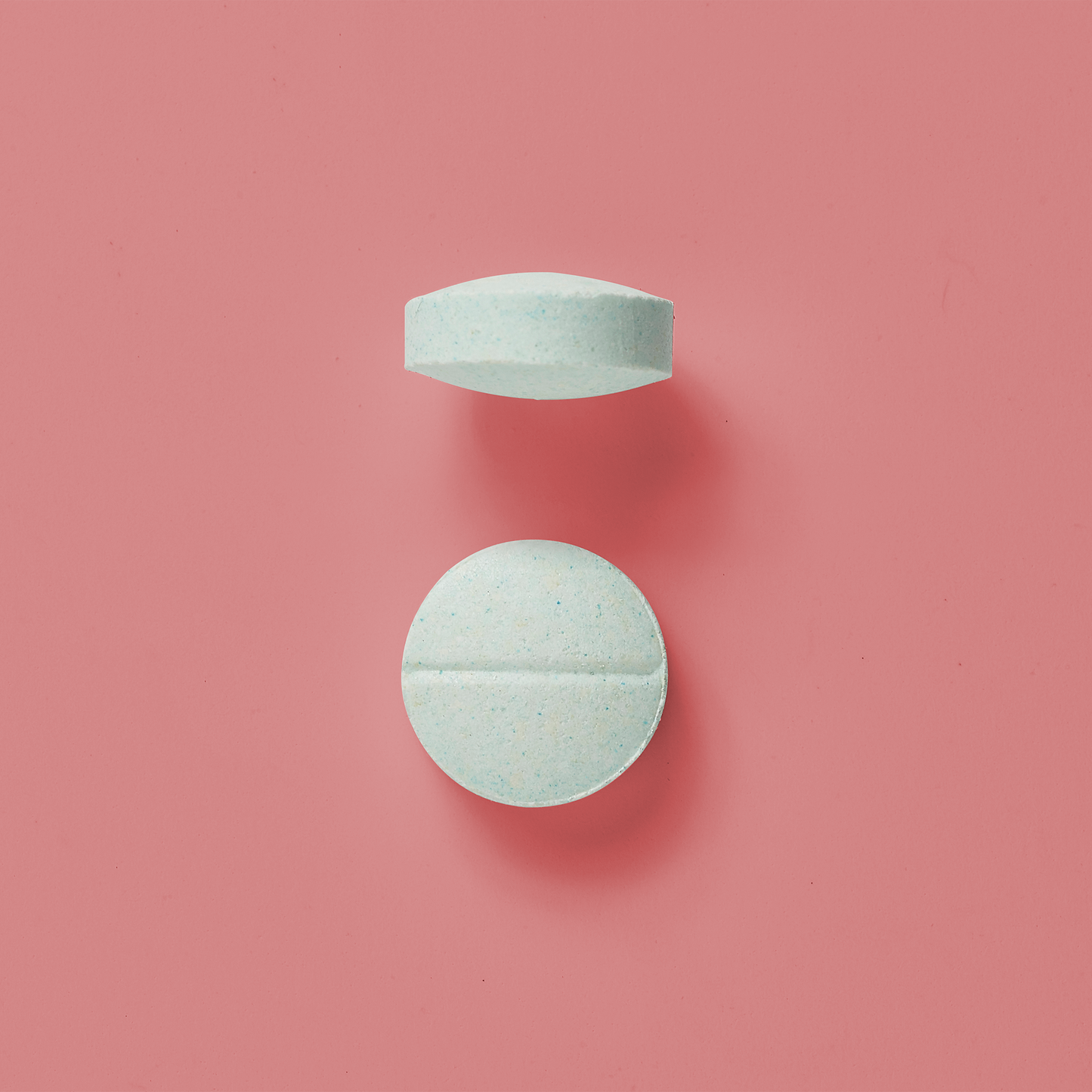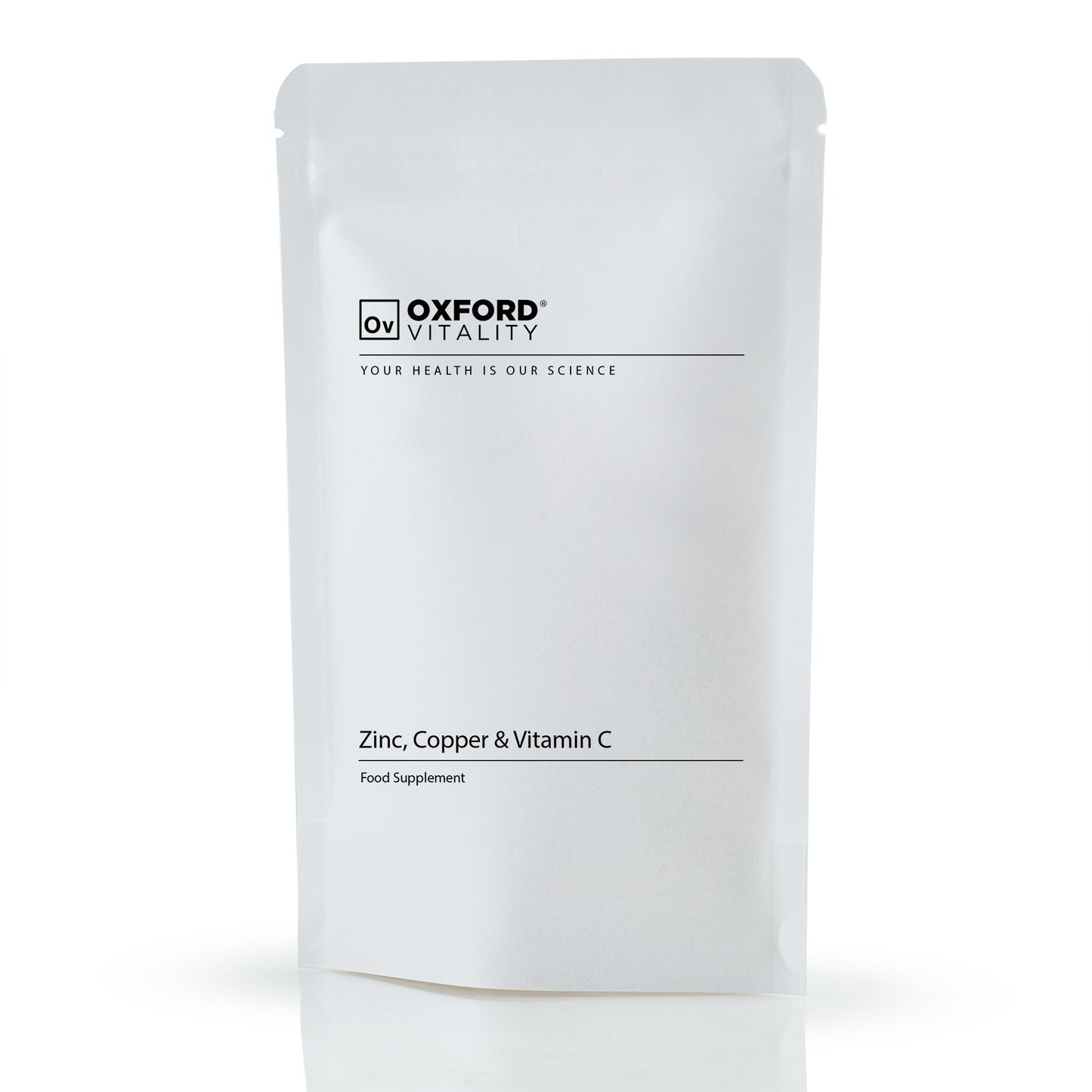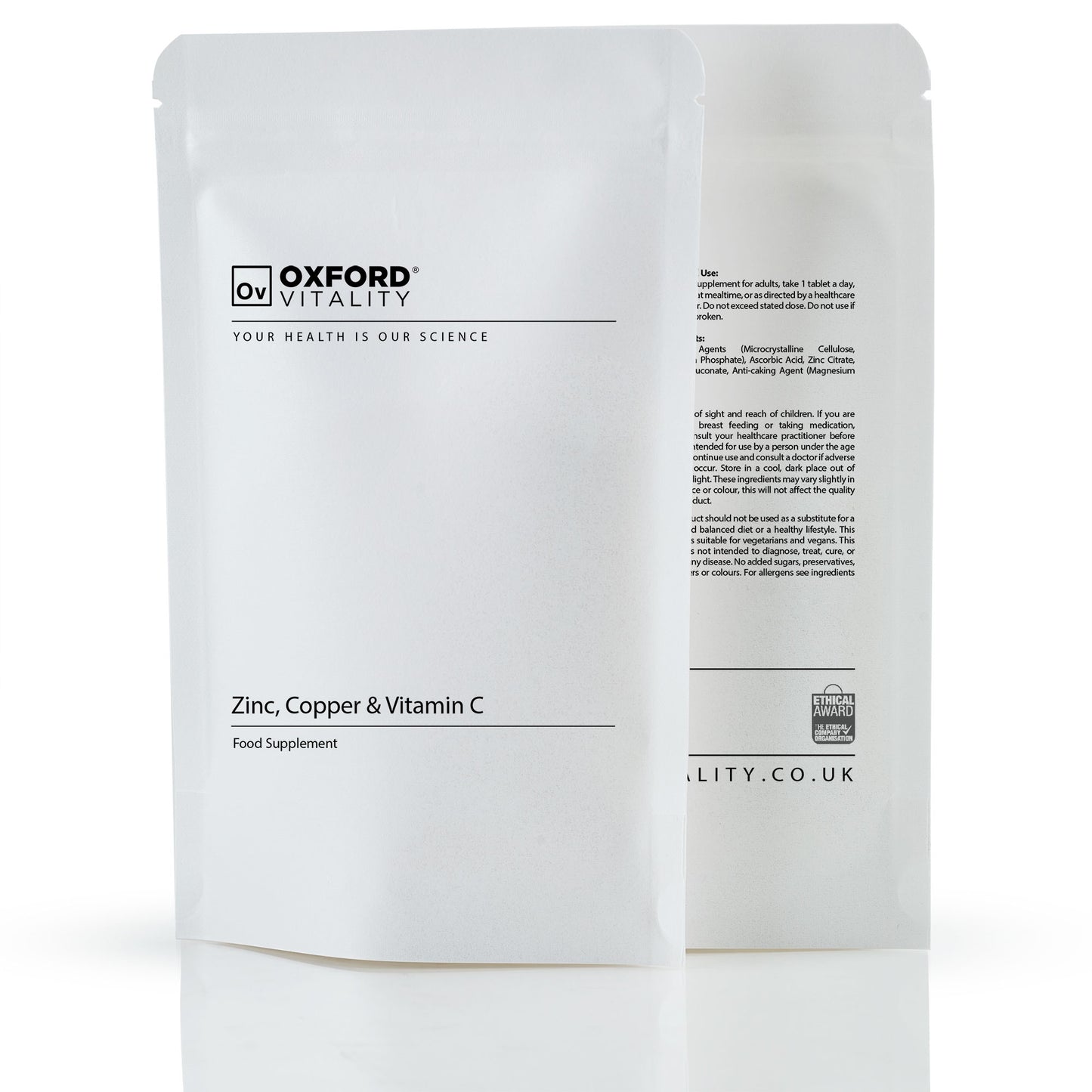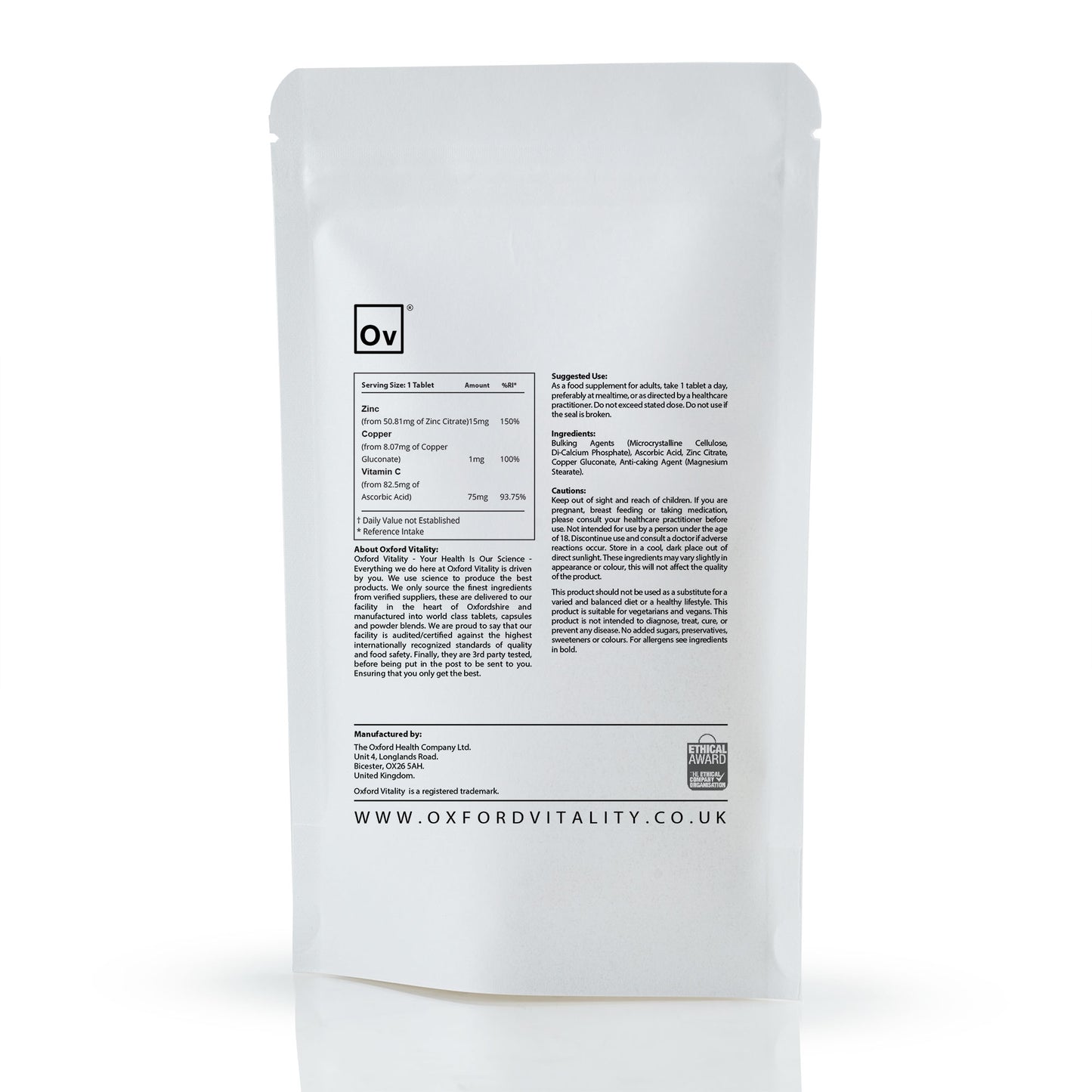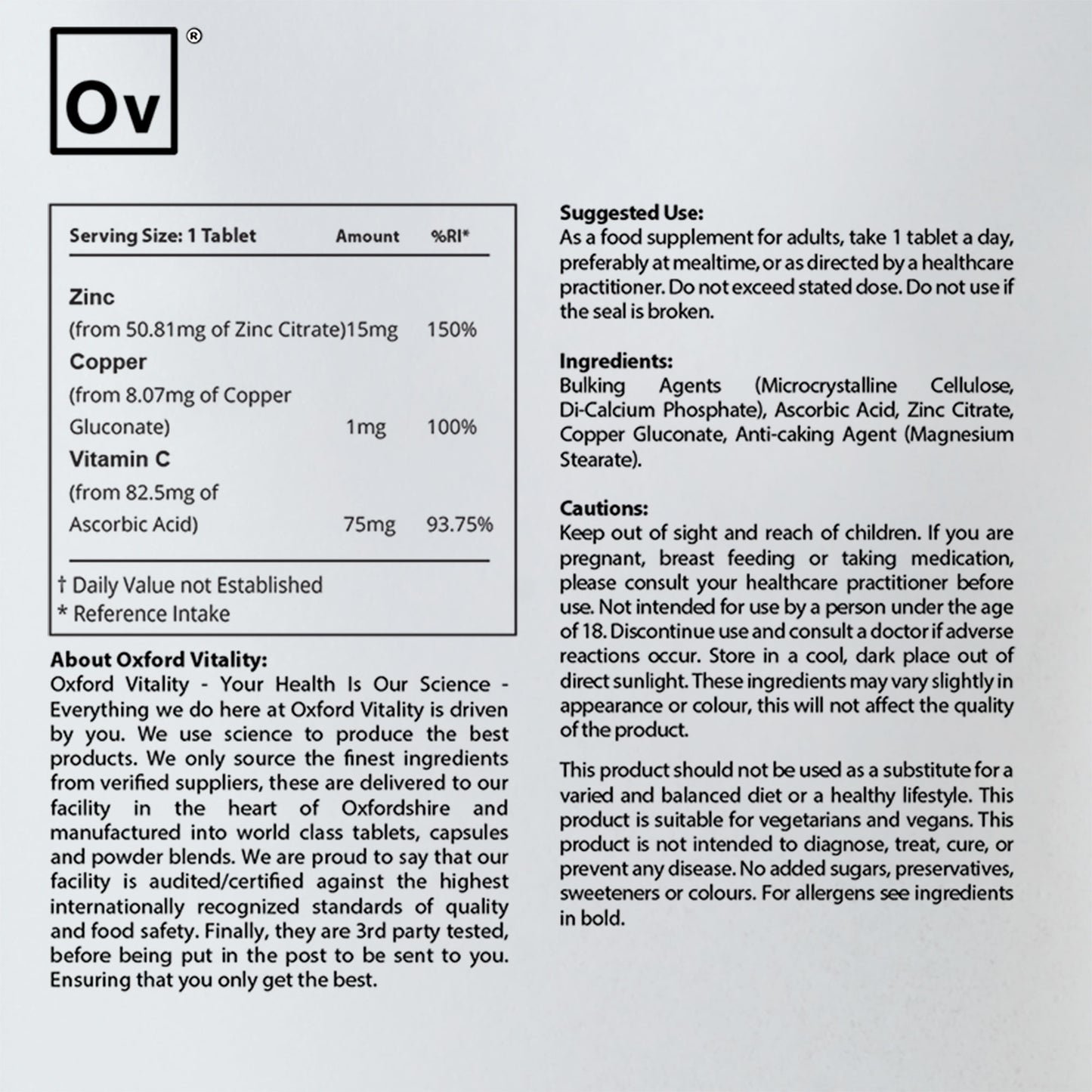 Good product
Right amount of ingredients. Good price, keep it low
I haven't received the parcel yet
I haven't received the parcel yet due to customs review.
Hope to withdraw it from post office tomorrow.
But products of your company are top quality. Thank you
Really good.
I am happy with delivery and quality.
Reliable company, efficient delivery service, quality product.
Reliable company, efficient delivery service and I believe reasonably priced effective product. I have bought them before without any problems.
Collapsible content
Shipping & Returns

Shipping is via Royal Mail 1st Class We dispatch orders on weekdays up to 5 pm. Royal mail quote delivery times 1-2 days for 1st class and 2-3 days for 2nd class. Delays can happen, If delivery takes more than 5 working days for a UK order - please contact us immediately. For Europe, orders can take 10-14 Days. We are sorry but we do not dispatch our products to the rest of the world. We apologise for this lengthy period of time, unfortunately, express courier services are uneconomical to use with low priced products.

Please note, we DO NOT quote shipping. We will only make refunds where refunds are due. We apologise this process can not be more simple. Customs Declarations: We declare the value of all products as £15 - This is our average order cost and should not cause import duties or tax by your customs. All orders will be labelled generically as "Dietary Supplements".

To return an item, please dispatch it in its original wrapping and accompanied by a note outlining your name, address and reason for return. If you do decide that you would like to return your item, please have a look under the " terms and condition" page.